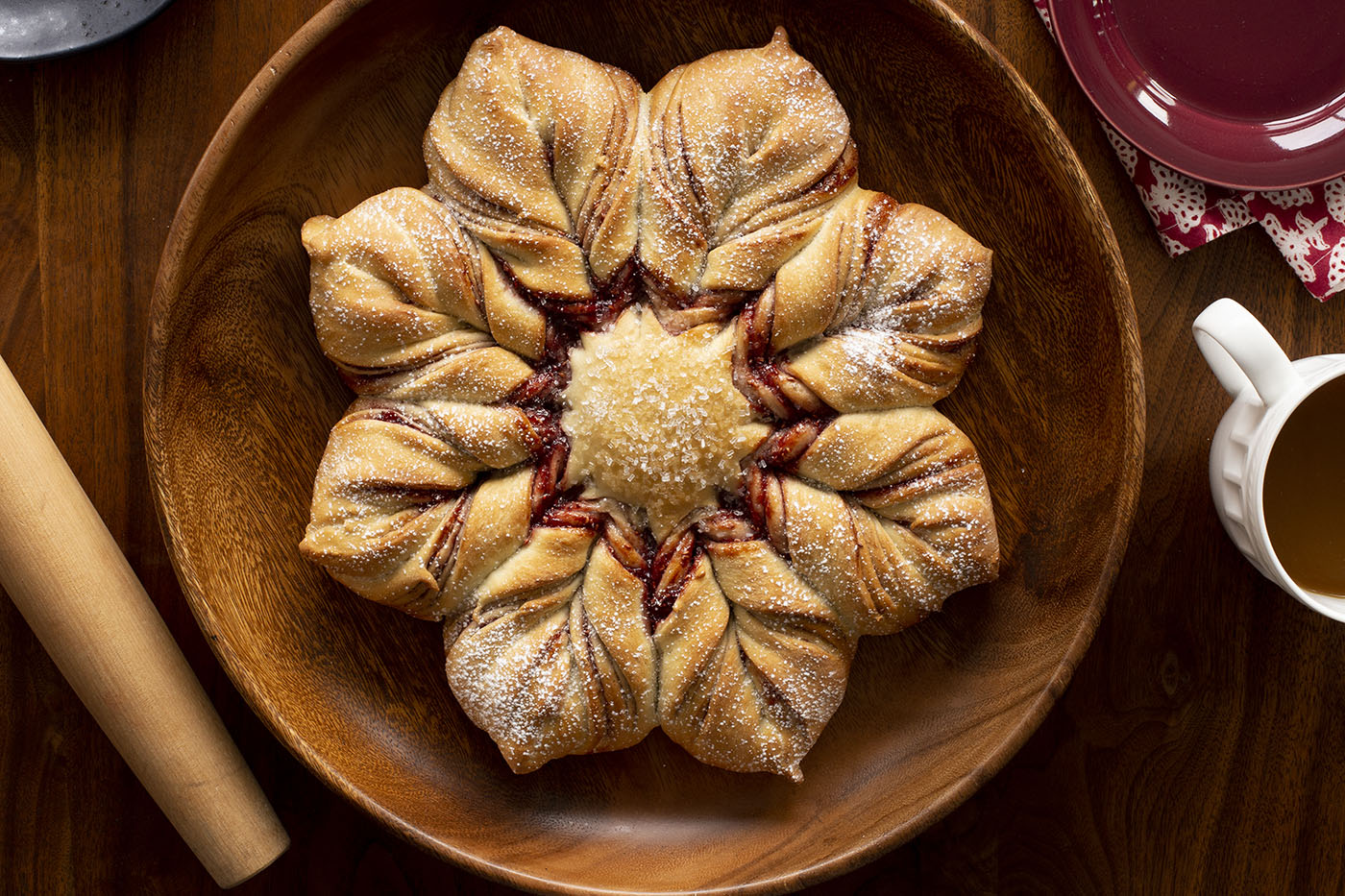 Star Bread
This lightly sweetened Star Bread is as delicious as it is beautiful.
Ingredients
12 Rhodes White Dinner Rolls, dough thawed but still cold
4-5 tablespoons jam or chocolate-hazelnut spread
1-2 tablespoons butter, melted
1 tablespoon coarse sugar
powdered sugar
Instructions
Spray counter with non-stick cooking spray. Combine 3 rolls together and roll them into a 10-inch circle. Let rest while you repeat this step to make 3 more 10-inch circles.
Carefully lift the first circle onto a sprayed baking sheet. Spread a heaping tablespoon of jam or chocolate hazelnut spread thinly on the circle leaving a clean, 1/2-inch edge. Carefully lift the second circle of dough on to the top of the first, press the edges together firmly. Repeat the layering process with remaining circles, leaving the top circle bare.
Leaving a 2-inch circle in the center uncut, cut 16 equal strips from the center to the edge through all the layers.
Take two adjacent strips by the ends and twist them away from each other 2 ½ times. Pull the two edges together and pinch making one point on the star. Repeat to make 7 more points.
Cover with sprayed wrap and let rise 30 minutes in a warm place. Uncover and re-pinch points. Brush with butter and sprinkle coarse sugar.
Bake for 25-30 minutes at 350⁰F. Cover with foil after 20 minutes to prevent over browning. Let cool slightly before sprinkling with powdered sugar over the entire star.