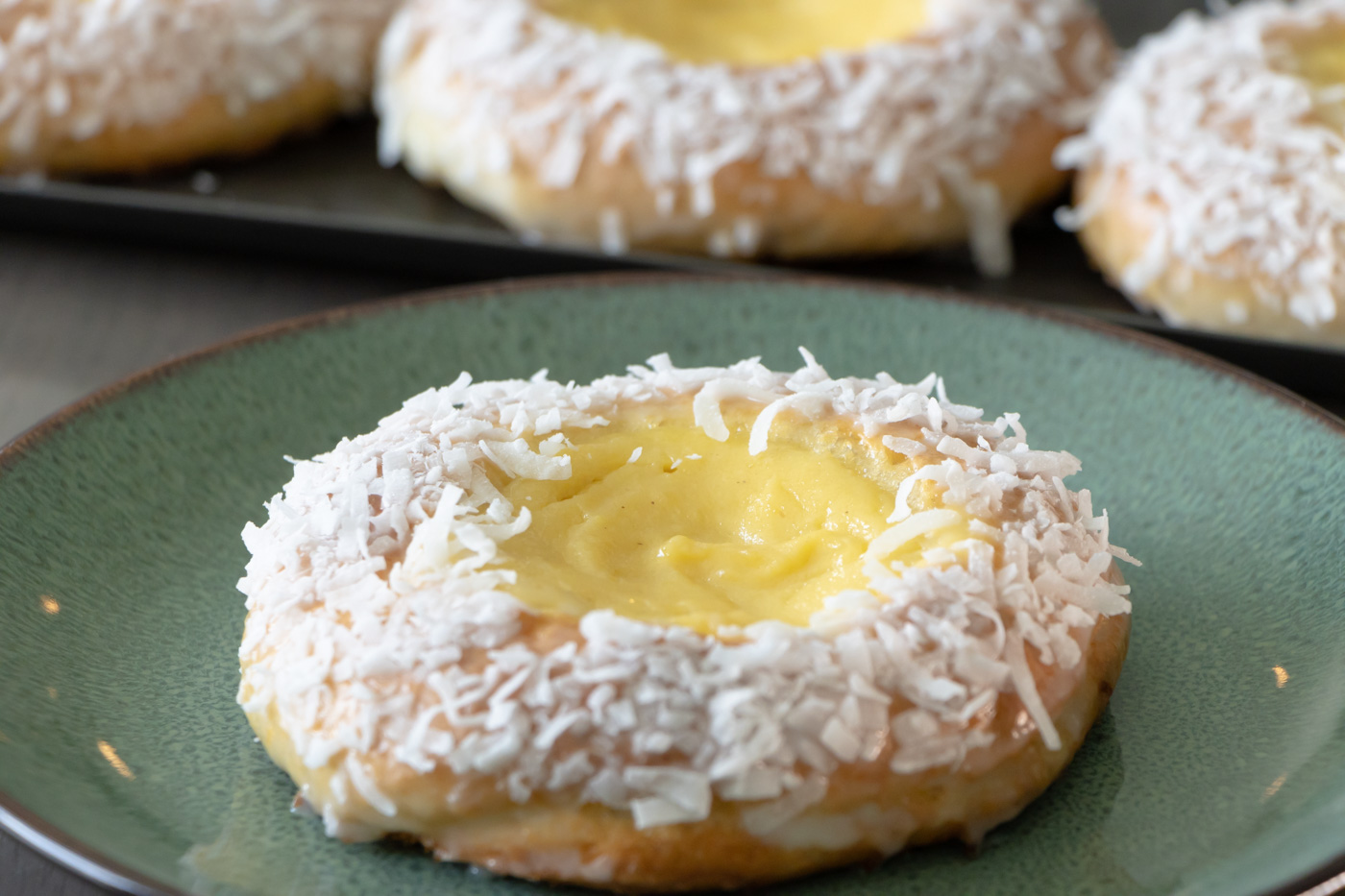 Norwegian Custard Buns
Sweet vanilla custard baked into a sweet dough and coated with coconut! This recipe comes from Norwegian Skolebrod.
Ingredients
12 Rhodes White Dinner Rolls, dough thawed to room temperature
1 cup sugar
For the Custard
1 1/4 cup whole milk
1/3 cup sugar
2 Tbsp corn flour
1/2 tsp vanilla extract
4 egg yolks
For the Egg Wash
1 egg yolk
1 1/2 Tbsp sugar
For the Icing
1/2 cup powdered sugar
1 Tbsp milk
1/2 cup shredded sweetened coconut
Instructions
Combine two rolls into a three inch circle. Press into a plate of sugar, coating the dough completely. Repeat with the remaining rolls and place them on a sprayed baking sheet. Cover with sprayed plastic wrap and let rise for at least 30 minutes.
While the dough is rising: For the vanilla cream, place milk in a pan over medium-high heat. Whisk remaining ingredients together until smooth. As soon as milk bubbles, pour into yolk mixture, whisking constantly. Transfer mixture to pan and place over medium heat. Stir with a wooden spoon for 1-2 minutes until thickened.
Make deep indentations in each bun. Combine 1 egg yolk and 1 1/2 Tbsp of sugar. Brush over each bun.
Spoon vanilla cream into the center of each buns deep indentation.
Bake at 350ºF for 20-25 minutes or until golden and risen. Cool slightly on wire racks.
Combine powdered sugar and milk until smooth, this is your icing.
Brush buns with icing glaze, then roll in coconut to serve.