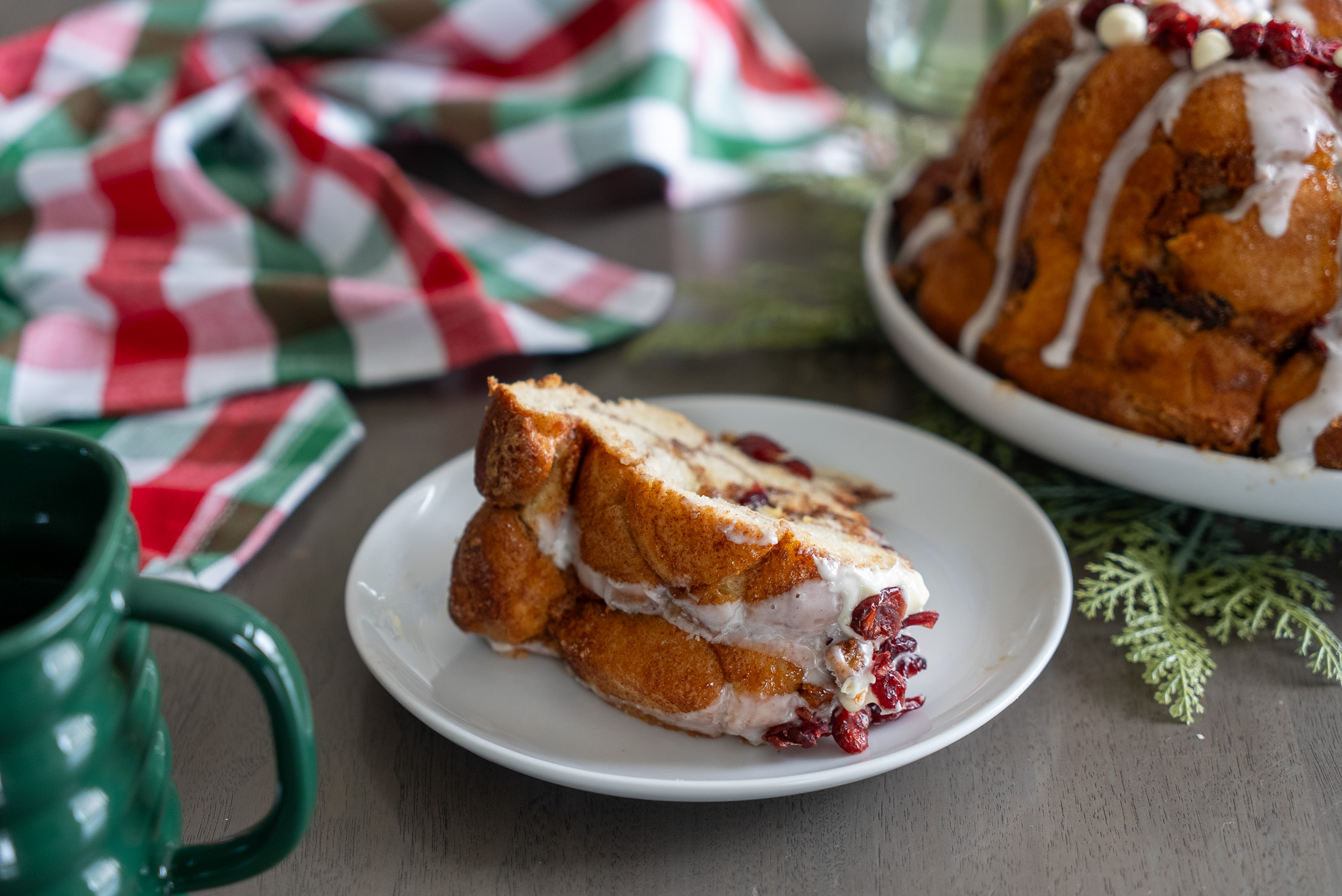 White Chocolate Cranberry Monkey Bread
A White Chocolate Cranberry Bundt will have family circling the table this Holiday season.
Ingredients
24 Rhodes White Dinner Rolls, dough thawed but still cold
3/4 cup sugar, divided
4 teaspoons ground cinnamon
1/2 cup white baking chips
1/2 cup dried cranberries
1/4 cup chopped walnuts or pecans
1/4 cup butter, cubed
1/2 cup eggnog
glaze:
1 cup confectioners' sugar
1/2 teaspoon rum or vanilla extract
2 to 3 tablespoons eggnog
Optional toppings: Additional dried cranberries, white baking chips and chopped nuts
Grease a 10-inch Bundt pan or tube pan. Sprinkle a Tablespoon of baking chips, cranberries and walnuts in the bottom of the pan.

In a large bowl, mix 1/2 cup sugar and cinnamon. Cut each roll into quarters; add to the sugar mixture and toss to coat.

 Arrange half of the rolls in your prepared pan. Sprinkle with remaining baking chips, cranberries and walnuts. Top with remaining rolls coated in cinnamon sugar, pour any extra sugar on top.

In a medium size microwave-safe bowl, melt butter. Stir in eggnog and 1/4 cup sugar until blended; pour over the rolls in your pan.

Cover with sprayed plastic wrap and let rise until the tops of some of the rolls are level with the bundt pan. Preheat oven to 350ºF while the monkey bread rises.

Carefully remove the wrap and place the bundt pan on a cookie sheet.

Bake 40-45 minutes or until golden brown, covering with foil the final 10 minutes. Cool in pan for 5 minutes before inverting onto a serving plate.

For the glaze, in a small bowl, mix confectioners' sugar, extract and enough eggnog to reach a drizzling consistency. Spoon over warm monkey bread. Sprinkle with toppings as desired.
Baking Notes:
If you can't find eggnog you can make it from scratch or replace with heavy cream.