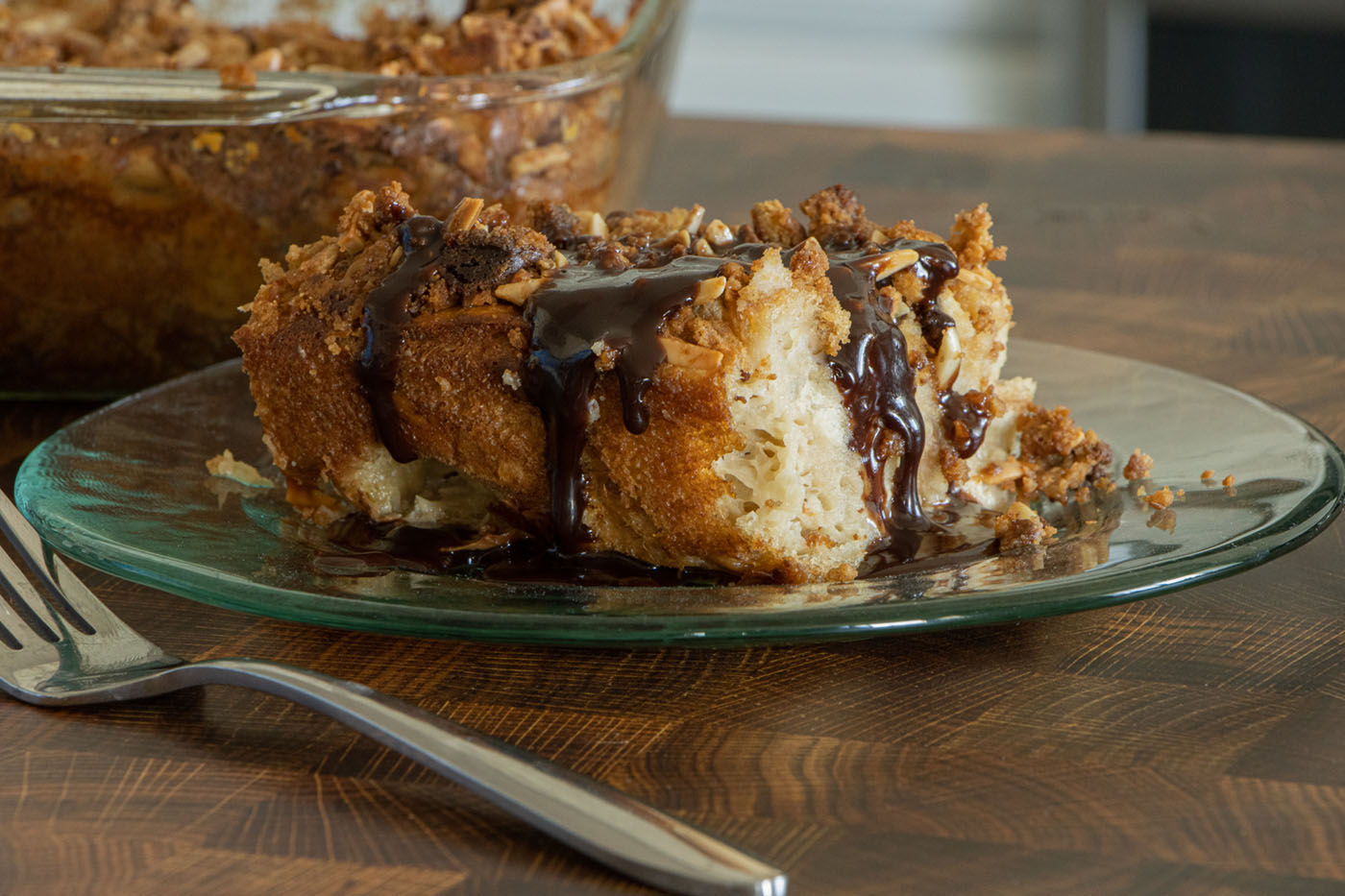 Rum and Cola Bread Pudding
Adding rum flavoring and cola make classic bread pudding amazing! Then the chocolate sauce and crumble take it to an all new level.
Ingredients
6 Rhodes Artisan French Rolls, thawed to room temperature
2 cups half and half
1 Tablespoon rum extract
2 eggs
1/2 cup brown sugar
1 cup Cola soft drink
Crumble Topping:
2 Tablespoons butter, melted
1/2 cup graham cracker crumbs
1/3 cup toffee bits
1/3 cup slivered almonds
Chocolate Cola Sauce:
1/4 cup unsalted butter
2 Tablespoons unsweetened cocoa
1/2 cup cola soft drink
1/2 cup powdered sugar
1/2 teaspoon rum extract
Instructions
Cut each roll into 12 pieces. Place bread cubes into a sprayed 9×9 inch pan.
In a large mixing bowl, combine half and half, eggs, brown sugar, cola, rum extract. Pour over bread cubes, letting it gently soak into the bread.
Cover with plastic wrap and let rest for at least 30 minutes or place it in the fridge overnight.
Before baking, combine the crumble topping ingredients and distribute the topping over the bread pudding.
Bake at 350°F 50-60 minutes, or until a knife inserted in pudding comes out clean.
While baking, place all the chocolate cola sauce ingredients in a sauce pot on the stove, combine at a low heat until simmering. Remove from heat and serve on top a bread pudding piece.