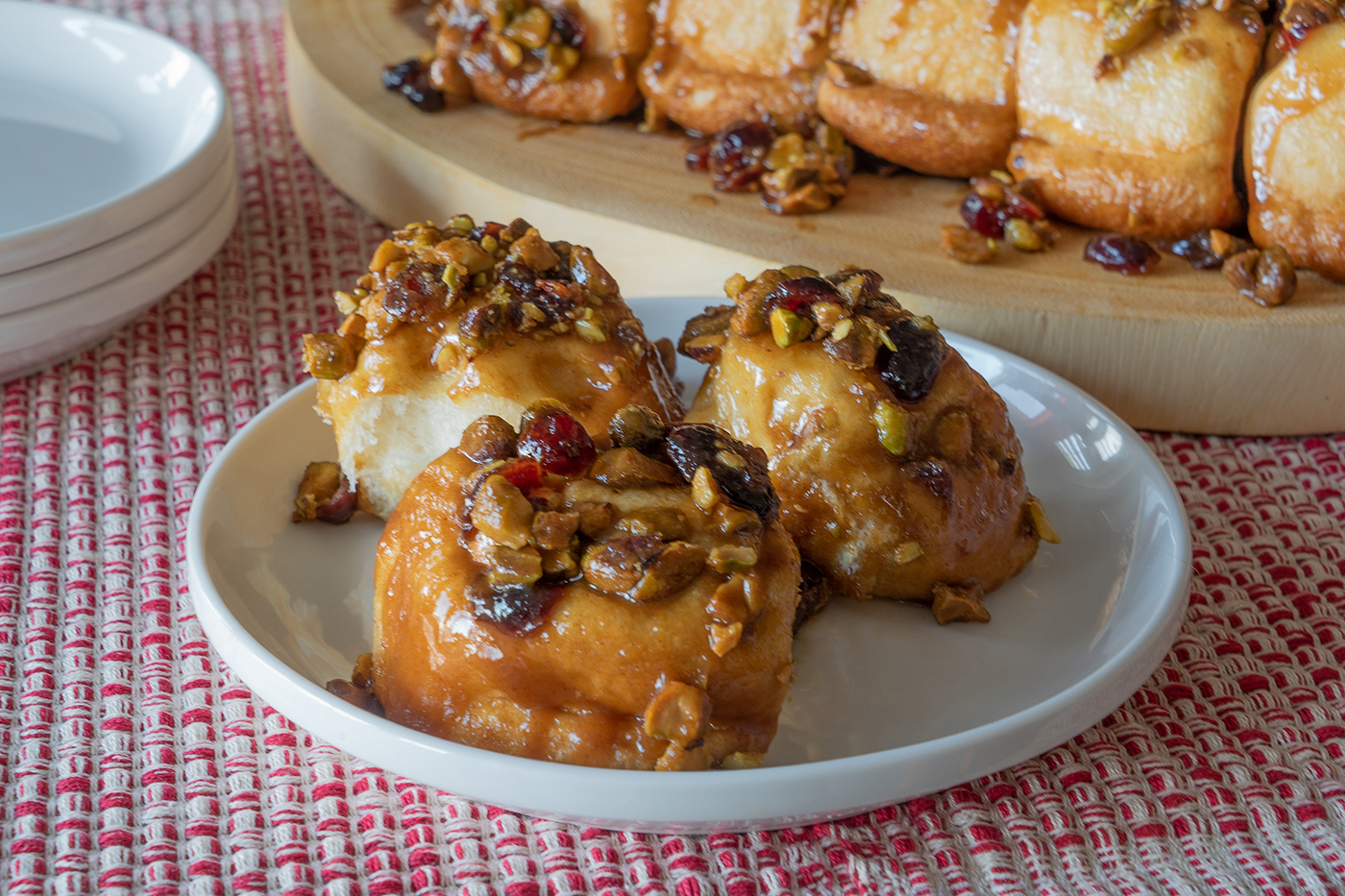 Cranberry Pistachio Sticky Buns
The colors and taste of this unique sticky bun make it perfect for your next holiday party.
Ingredients
24 Rhodes White Dinner Rolls, still frozen
1 1/2 cup chopped pistachios
1 cup dried cranberries
1/2 cup butter, melted
1 cup packed brown sugar
1 teaspoon ground cinnamon
1 package (4.6 ounces) cook-and-serve vanilla pudding mix
1/8 cup milk
1/2 teaspoon orange extract or rum extract
Instructions
Sprinkle pistachios and dried cranberries evenly on the bottom of a 9 x 13 pan, sprayed with nonstick spray.
Arrange rolls on top of the pistachios and dried cranberries.
Combine butter, brown sugar, cinnamon, pudding mix, milk, and extract.
Pour the mixture evenly over all the rolls.
Cover with a sprayed plastic wrap. Let rise 3 to 5 hours, until rolls double in size.
Remove wrap and place pan on a baking sheet to catch any drippings. Bake at 350ºF 20-30 minutes or until golden brown and the sauce is bubbling.
Immediately after baking, carefully invert onto a serving plate
OVERNIGHT METHOD: Complete steps 1 and 4 with frozen rolls and cover with plastic wrap. Place pan in the refrigerator overnight. Take the pan out of the refrigerator. Make sure dough does not exceed the top of the pan. You may need to let it continue to rise slightly at room temperature until double in size. This is a great time to preheat your oven. Follow regular baking instructions on steps 6 and 7.