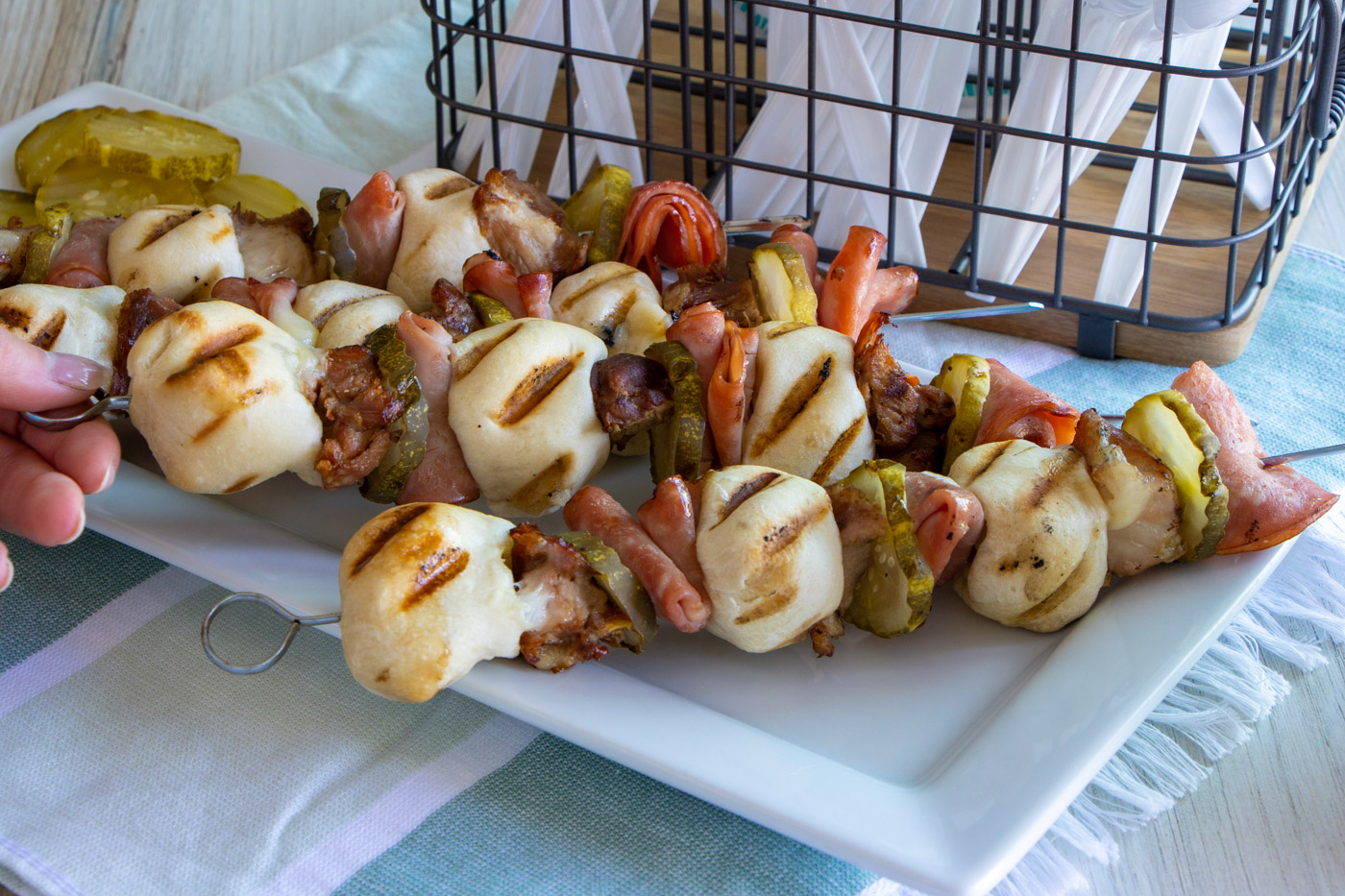 Cuban Skewers
Your favorite cuban sandwich, but perfected for summer grilling! Cheese stuffed rolls elevate this recipe to the next level!
Ingredients
12 Rhodes White Dinner Rolls, dough thawed to room temperature
8 oz Swiss cheese, cubed into 24 pieces
1-2 lb Pork roast, pre-cooked, sectioned into 1/2-1 inch pieces.
Sliced deli ham, folded
Dill pickle chips
Instructions
Soak wooden skewers in water for 5-10 minutes to prevent burning on grill.
Cut each roll in half. Wrap each roll half around each cube of cheese. Make sure the dough is sealed over the cheese.
Alternate the items on the skewer (we did: cheese stuffed roll, pork roast, pickle chip, folded slice of ham, repeat.)
Grill on direct medium heat, closing the grill lid so the dough will cook through. Once the rolls are browned, remove the skewers from the grill.
Pork Roast
There are a few options for the pork roast you choose to use:
Store bought
Your own recipe
Our super easy pork roast recipe
Easiest Pork Roast Recipe
1 (3- to 5-pound) boneless pork loin roast, or 1 (4- to 5-pound) bone-in pork loin roast
2 cloves garlic, halved
1 teaspoon salt
Freshly ground black pepper, to taste
To roast a pork roast, brown both sides in a roasting pan on stove top. Add a cup of water and desired seasonings (garlic, oregano, cumin and citrus juice). Cover with lid and bake in oven at 250º for 5-6 hours depending on the size of roast. Check occasionally to make sure it still has liquid on the pan.