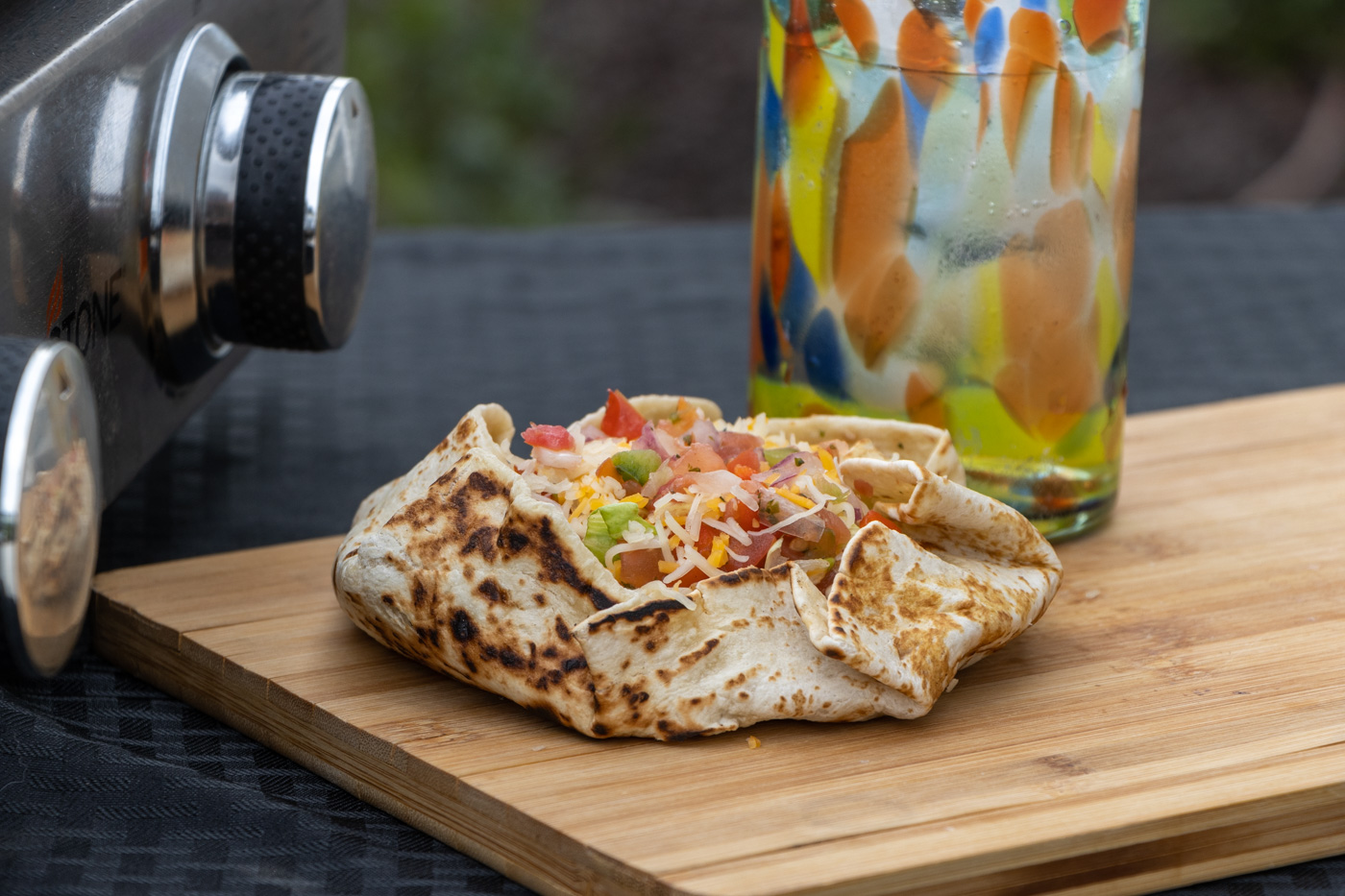 Crunchy Taco Wrap
This taco wrap gets it's crunch from a tostada in the middle of delicious taco fillings; and of course wrapped up in a delicious Rhodes grilled flatbread.
Ingredients
12 Rhodes Dinner Rolls, thawed (homemade tortillas)
6 tostada shells
1 pound lean ground beef
1 small yellow onion, chopped
2 Tablespoons taco seasoning
1/4 cup water
1 teaspoon garlic
1 jar nacho cheese or Queso cheese dip
1 cup sour cream (optional)
2 cups shredded lettuce
1 cup salsa
1 cup shredded Mexican cheese blend
Lightly spray counter or table with non-stick spray. Combine two dinner rolls and roll into an 8-inch circle. Repeat with remaining rolls. Cover with sprayed plastic wrap and let rest.
In a large skillet or griddle, over medium-high heat, brown ground beef and. Stir in taco seasoning, water and garlic. Reduce heat to low and let simmer for 5 more minutes.
Heat griddle to medium heat. Carefully remove plastic wrap from dough. Grill dough for 20-30 seconds on each side or until cooked through.
Lay one grilled flatbread on a flat surface. Spread 1/2 cup of taco meat onto the center of the flatbread. Spread queso over one side of the tostada and place it cheese side down on the meat.
Spread a thin layer of sour cream or more queso on top of the tostada shell. Top with lettuce, tomato and cheese.
To fold the taco wrap, start with the bottom of the tortilla and fold the edge up over the center. Continue to work your way around, folding the tortilla over the center fillings. There will be an open spot on the top in the center.
Repeat with all remaining flatbreads, tostadas and toppings.