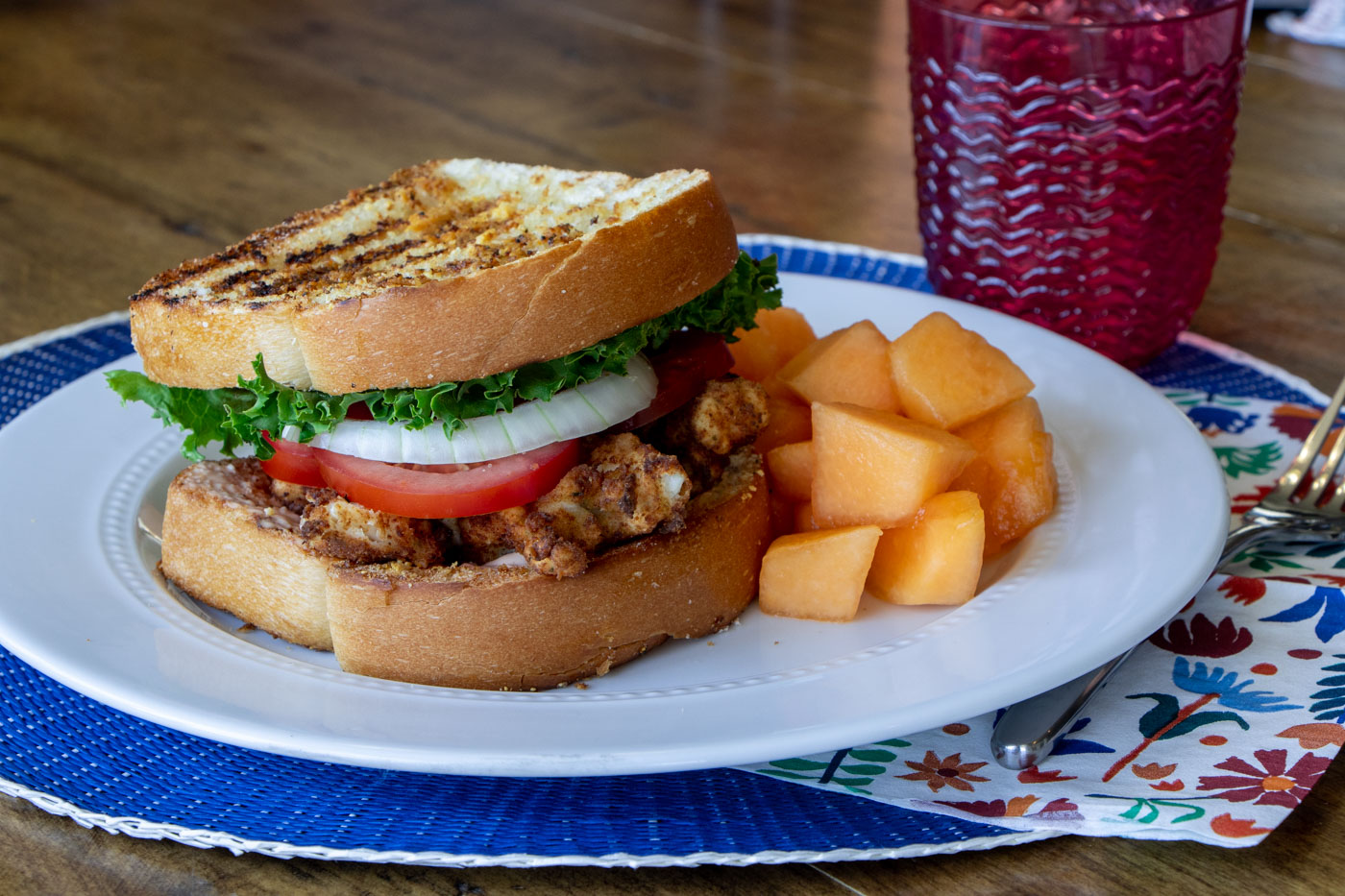 Best Ever Fried Chicken Sandwich
Loving the chicken sandwich trend? Try upping the game with homemade Texas Toast for the bun! It really does make it "The Best Ever Fried Chicken Sandwich!"
Ingredients
For the Toast:
1 loaf Rhodes Bread or 12 Rhodes  Dinner Rolls, baked
butter
freshly grated Parmesan or Asiago cheese
garlic salt
dried parsley
For the Chicken:
6 skinless, boneless chicken breast halves cut into 1/2 inch strips
1 egg, beaten
1 cup buttermilk
2 teaspoons garlic powder
1 cup all purpose flour
1 cup seasoned bread crumbs
1 teaspoon salt
1 teaspoon baking powder
1 quart peanut oil for frying
For the Sauce:
½ cup mayonnaise
¼ cup ketchup
¼ tsp Worcestershire Sauce
½ tsp freshly ground black pepper
½ tsp garlic powder
For the Fixings:
Tomato
lettuce
onion
pickles
Instructions
For the Toast:
Preheat electric skillet to 350°F degrees or heat a frying pan on the stove to medium. Cut loaf into 6-8 thick slices.
Spread one side of each bread slice with butter. Sprinkle with cheese, garlic salt and parsley. Press toppings onto slice with your hand and place cheese side down in frying pan. Spread remaining side with butter. Sprinkle with cheese, garlic salt and parsley.
Cook until golden brown and turn to cook remaining side.
For the Chicken:
Place the egg, buttermilk, and garlic powder in a large bowl or a plastic bag and shake or whisk to combine. Place the prepared chicken in the liquid and refrigerate for at least 1 hour.
When you're ready to start preparing the chicken, heat the oil in a large and deep skillet on the stovetop to 375ºF.
Place the flour, seasoned bread crumbs, baking powder and salt in a large plastic bag. Drain the chicken from the buttermilk mixture and discard the mixture. Place the soaked chicken in the bag filled with the flour mixture and seal and shake to coat.
Carefully place coated chicken in hot oil. Fry until golden brown and juices run clear. Drain on paper towels.
For the Sauce:
Combine all the ingredients.
Assemble your sandwich!