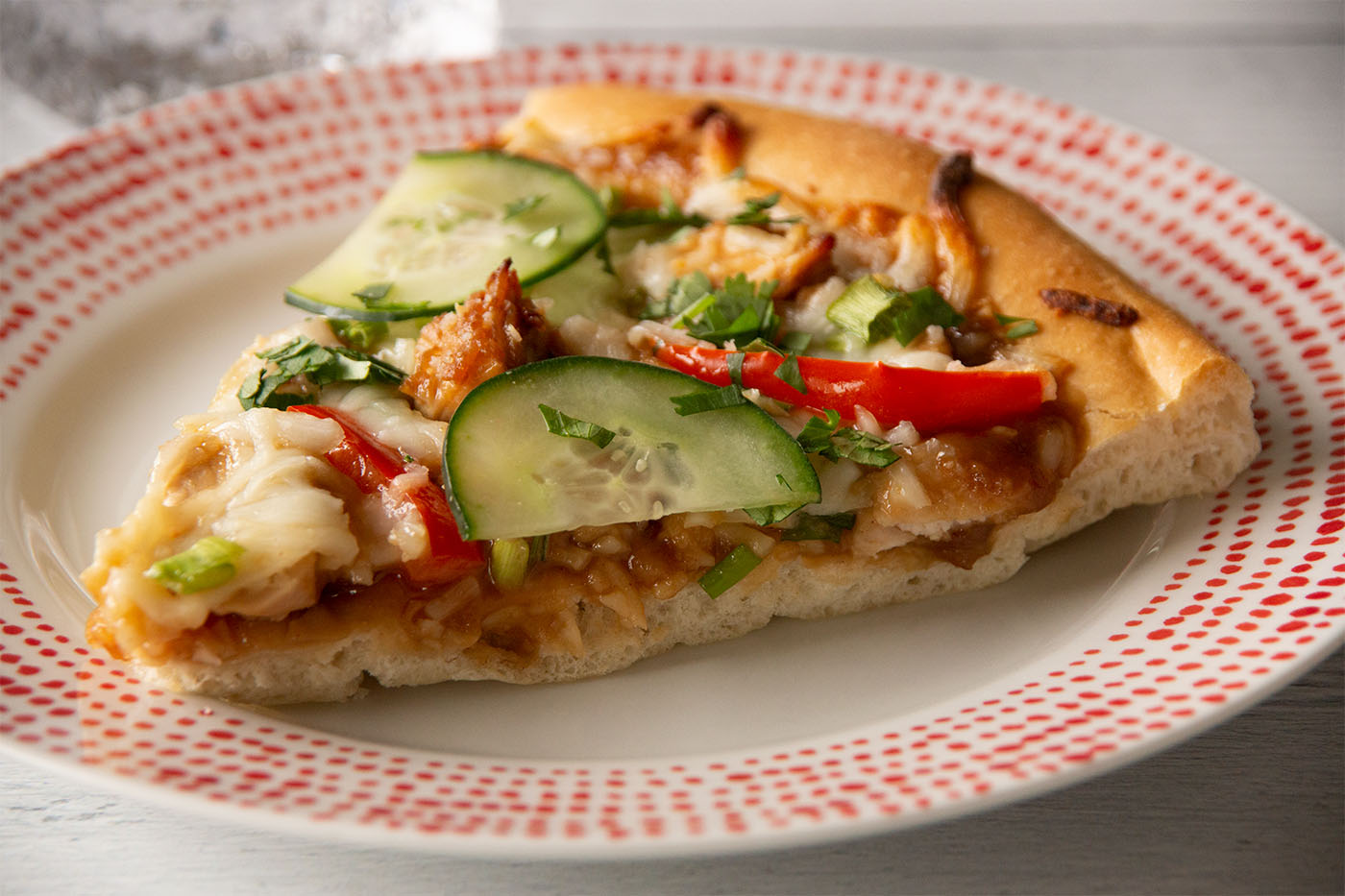 Thai Peanut Pizza
This deliciously unique recipe topped with spicy-sweet ingredients makes it a pizza with pizzazz!
Ingredients
9 Rhodes Yeast Dinner Rolls or 6 Rhodes Texas Rolls, thawed to room temperature
2 boneless skinless chicken breasts, cubed
1 tablespoon canola oil
1 tablespoon low sodium soy sauce
1 red bell pepper, cut into strips
3 green onions, chopped
2 cups mozzarella cheese
1 cucumber sliced
1/2 cup chopped cilantro
peanut sauce:
1/4 cup sugar
1/4 cup creamy peanut butter
3 tablespoons low sodium soy sauce
3 tablespoons water
2 tablespoons canola oil
2 teaspoons minced garlic
Instructions
Spray counter lightly with non-stick cooking spray. Combine Texas rolls or dinner rolls together and roll into a 13-inch circle.
Place on a sprayed 12-inch pizza pan. Cover with sprayed plastic wrap and let rise 30 minutes.
Remove wrap and poke several times with a fork to prevent bubbles from forming.
Bake at 400ºF 10-12 minutes or until lightly browned.
In a medium saucepan combine all the ingredients for the peanut sauce. Cook over medium-low heat, stirring constantly, 10-15 minutes or until thickened. Set aside to cool. Stir fry the chicken in canola oil and soy sauce until completely cooked. Spread peanut sauce over baked crust (peanut sauce can be made ahead and stored in the refrigerator). Top with red peppers, green onions, cooked chicken and cheese.
Bake at 400ºF 5-10 minutes or until cheese is melted. Remove from oven and top with cucumbers and cilantro.