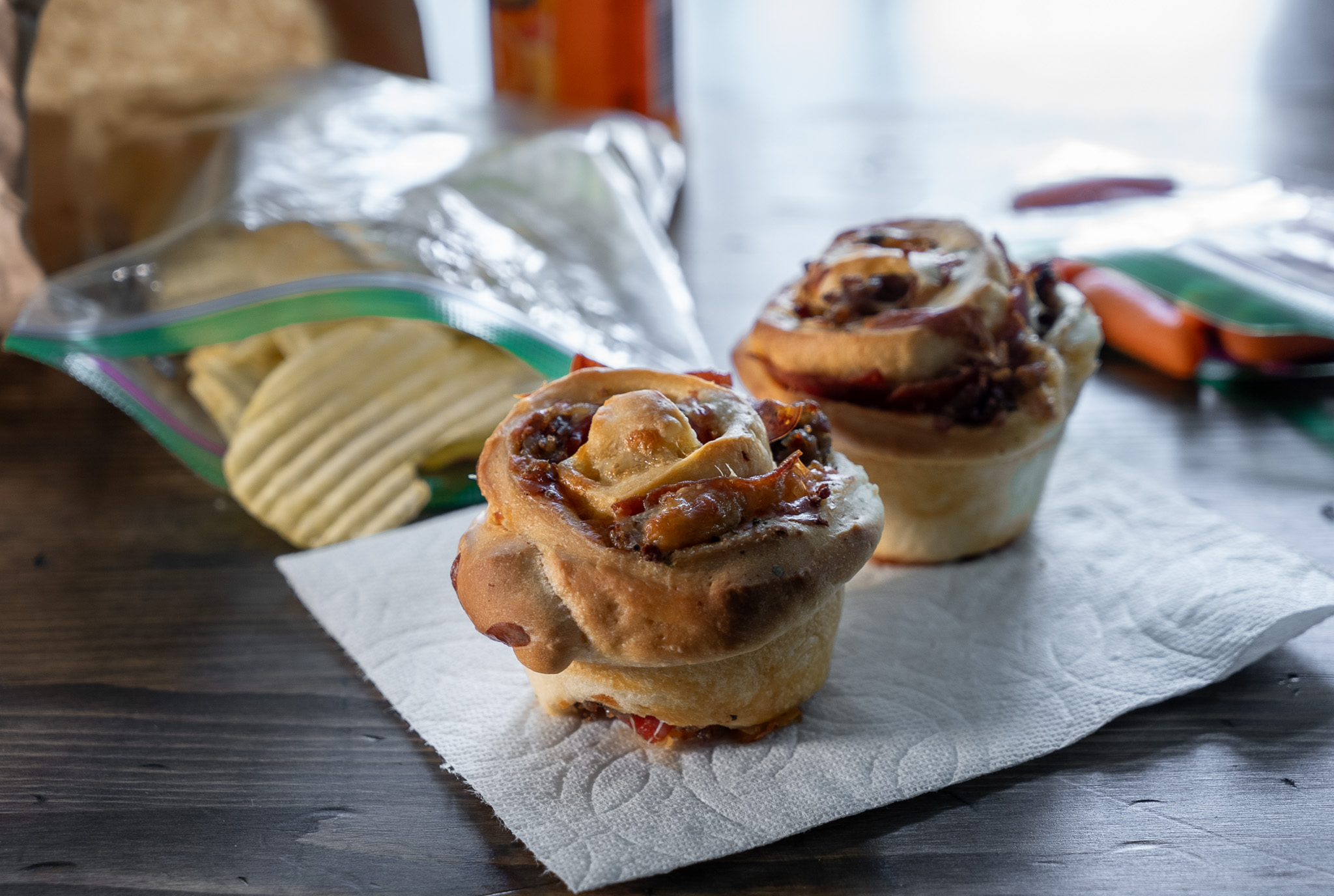 Hearty Pizza Muffins
Looking for a bake-ahead lunch that will fill the whole family? Hearty Pizza Cups can be baked then frozen. Simply add them to your family's lunches frozen and they will be thawed and delicious by lunchtime!
Ingredients
18 Rhodes White Dinner Rolls dough thawed to room temperature
1 ½ teaspoons Italian seasoning
1 teaspoon garlic salt
2 cups shredded mozzarella cheese
1 ¼ cup pepperoni (6oz)
1 cup cooked ground Italian sausage (4 oz)
Marinara sauce for dipping
Additional Topping Ideas:
olives, diced
mushrooms, sliced
ham, chopped
green onion, diced
pineapple
green peppers, diced
Instructions
Spray the counter with non-stick spray. Combine 18 dinner rolls, pressing out air bubbles. Press or roll the dough out to an 18×18-inch square. The shape doesn't need to be perfect.
Sprinkle dough with Italian Seasoning, garlic salt, cheese, sausage and pepperoni.
Roll up dough, jelly roll style.
Using a sharp knife, slice into 12 equal pieces. (Cut the jelly-rolled dough into four even pieces. Then cut each of the four pieces into thirds.)
Spray the muffin tin generously with non-stick spray.
Place each piece into the muffin cups. Cover with sprayed plastic wrap and let rise for 15-20 minutes.
Remove plastic wrap. Bake at 350ºF for 20-25 minutes or until golden brown.
Baking Notes
Freezer Option: Place each cooled Pizza Muffin in an air-tight freezer bag. You can reheat or just let them thaw to serve.
Baking Tip: You can thaw the dinner rolls in the refrigerator overnight.