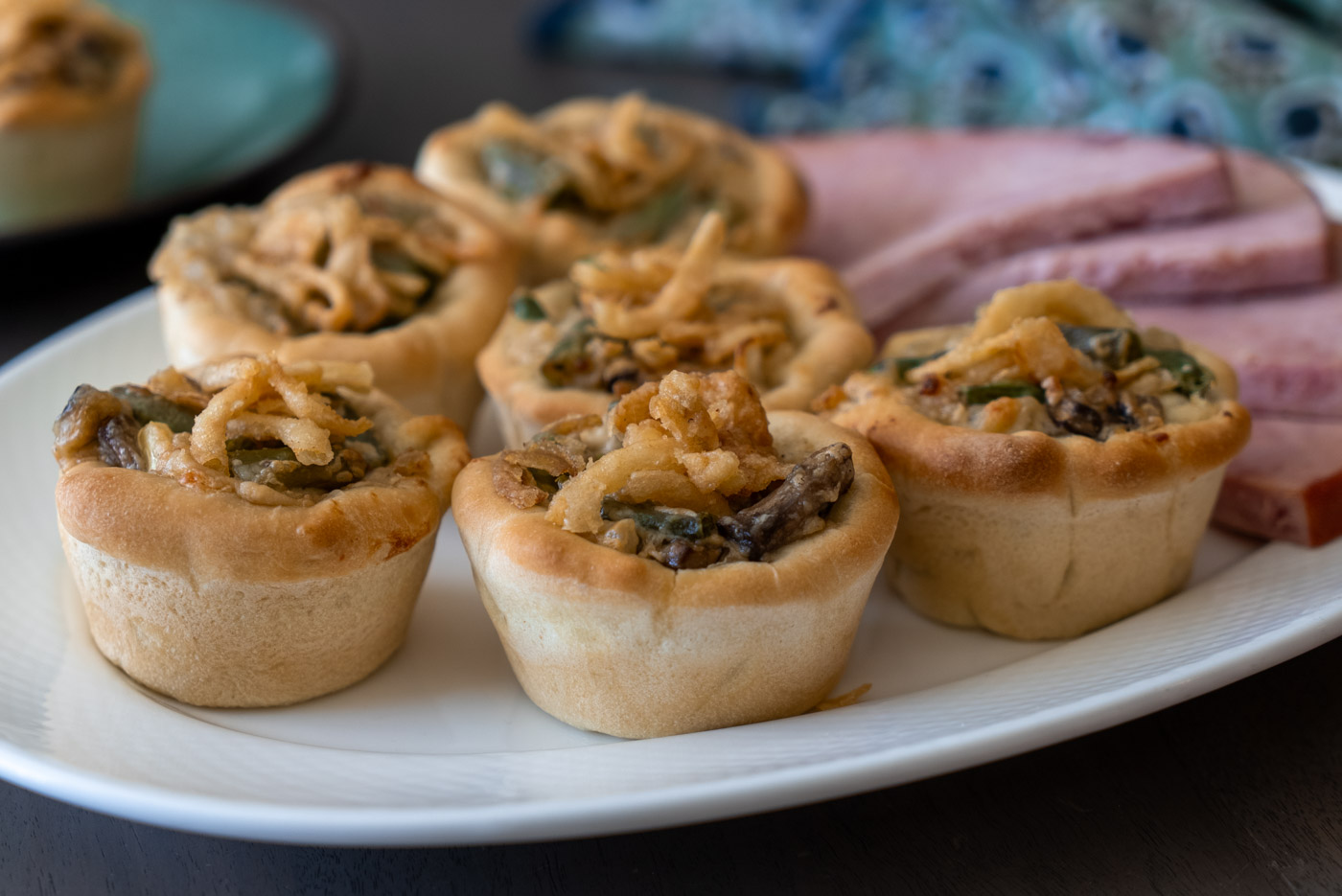 Green Bean Casserole Cups
An essential holiday side dish in a charming new way.
Ingredients
12 Rhodes Dinner Rolls, dough thawed but still cold
2 Tablespoons butter
1 medium yellow onion, diced
2 cloves of garlic, minced
1 cup chopped fresh mushrooms
1 1/2 Tablespoons flour
1 cup heavy cream
2 cup chopped frozen green beans (thaw before chopping)
1/4 cup grated Parmesan cheese
Salt and pepper, to taste
1/4 cup French fried onions
Instructions
Preheat oven to 350 degrees.
Melt butter in a skillet over medium heat. Add onions and saute until tender, about 10 minutes. Add mushrooms and stir, cover and cook for another five minutes before stirring. Remove the lid and continue cooking the mushrooms and onion until they are golden brown, about 5 more minutes. Add the garlic and stir. Saute until fragrant.
Sprinkle flour over mushrooms and onion. Cook and stir for 2 minutes.
Add 1 cup heavy cream to the skillet, stirring until smooth. Stir in chopped green beans. Add Parmesan cheese and stir until melted and smooth.
If needed, add up to 1/4 cup more cream until the sauce reaches desired consistency. Stir in salt and pepper, to taste.
Roll or stretch out each roll into a 5-inch circle. Spray a muffin tin well with nonstick spray. Press each stretched roll into a muffin cup, creating little bowls with the dough.
Spoon the green bean mixture into each dough-lined muffin cup.
Bake at 350ºF for 20-25 minutes. Once lightly browned and bubbling, remove from the oven.
Top with French fried onions. Bake for another 5 minutes, or until onions are golden brown. Serve warm.