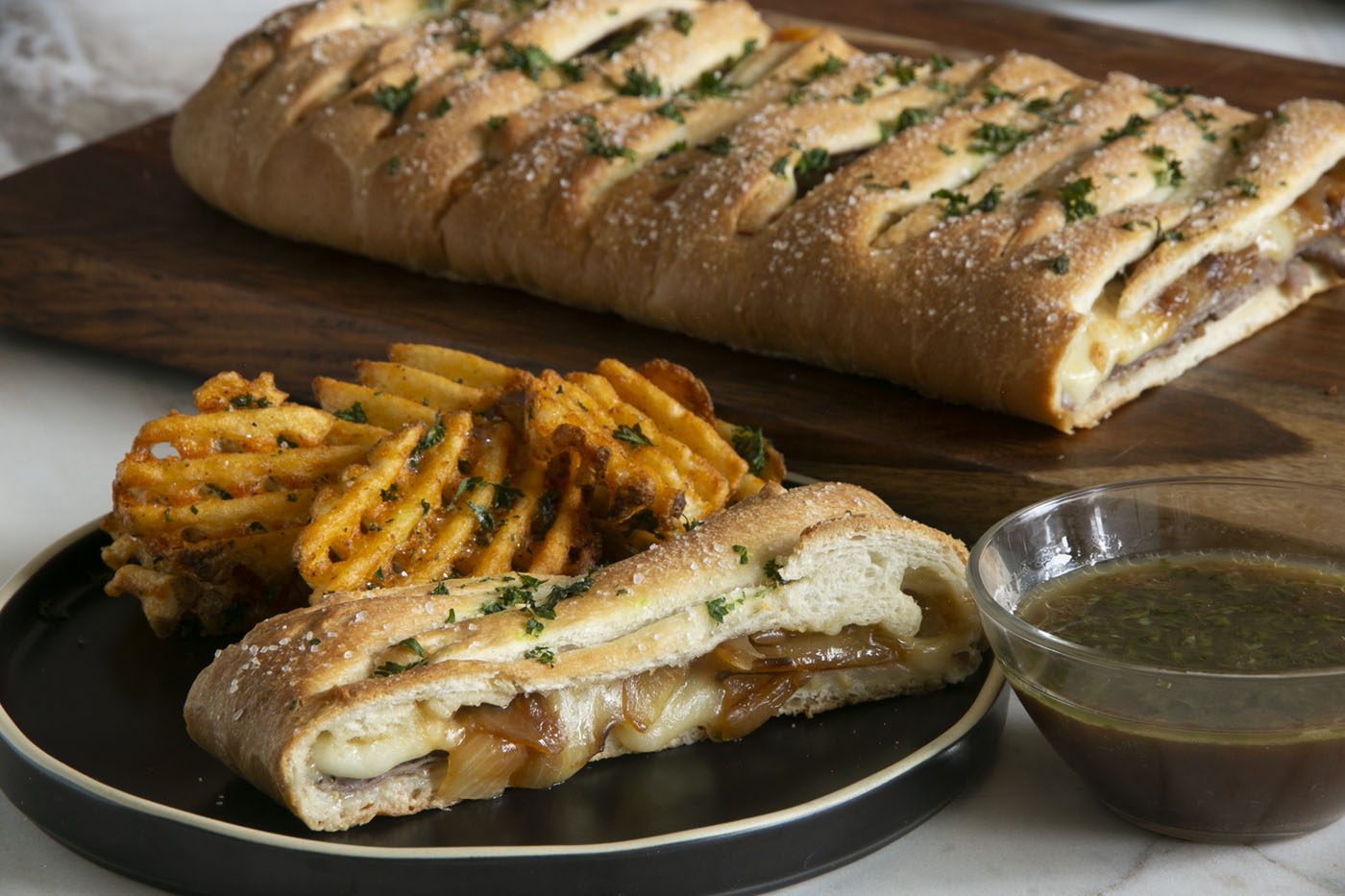 French Dip Braid
All your favorite French Dip fillings wrapped up in an easy to serve and dip braid.
Ingredients
12 Rhodes White Dinner Rolls, dough thawed to room temperature
12 oz sliced roast beef
8 oz sliced provolone
2 Tbsp whole grain mustard
1 large yellow onion, sliced into strips
3 Tbsp butter
salt to taste
2 Tbsp fresh chopped parsley
Au Jus ingredients:
1 cup beef broth
1 Tbsp butter
1 Tbsp Worcestershire sauce
2 tsp minced garlic, or 2 tsp garlic powder
2 Tbsp fresh chopped parsley
Instructions
1. Place a frying pan on the stove on medium to medium low heat. Melt 2 Tbsp of butter in the pan and then add the onion, stir the onion to coat it in butter. Cover the butter and onion with a lid. Let onions caramelize for 20-30 minutes stirring often until soft and golden brown. Remove from heat.
2. Spray counter lightly with cooking spray. Combine rolls and roll into a 13×18 inch rectangle.
3. Leaving 2 inches at the top and bottom clean, spread the mustard in an even 6-inch strip down the center of the dough. Layer the roast beef on top of the mustard, then layer the provolone over the beef, then layering the caramelized onions.
4. Make cuts 1 1/2 inches apart on long sides of dough to within 1/2-inch of filling.
5. Begin braid by folding top and bottom strips toward filling. Then braid strips left over right. Finish by pulling last strip over and tucking under braid.
6. Lift braid with both hands and place on a large sprayed baking sheet. Brush with 1 Tbsp melted butter and top with salt and fresh parsley.
7. Bake at 350ºF 30-35 minutes.
8. While baking, make au jus. Use the same pan used to caramelize the onions and place it on the stove on medium heat. Add beef broth, Worcestershire sauce, 1 Tbsp butter, 2 tsp garlic, and 2 Tbsp fresh parsley.
9. When the braid is finished baking and is golden brown on top, remove from oven, slice to serve and dip in au jus.