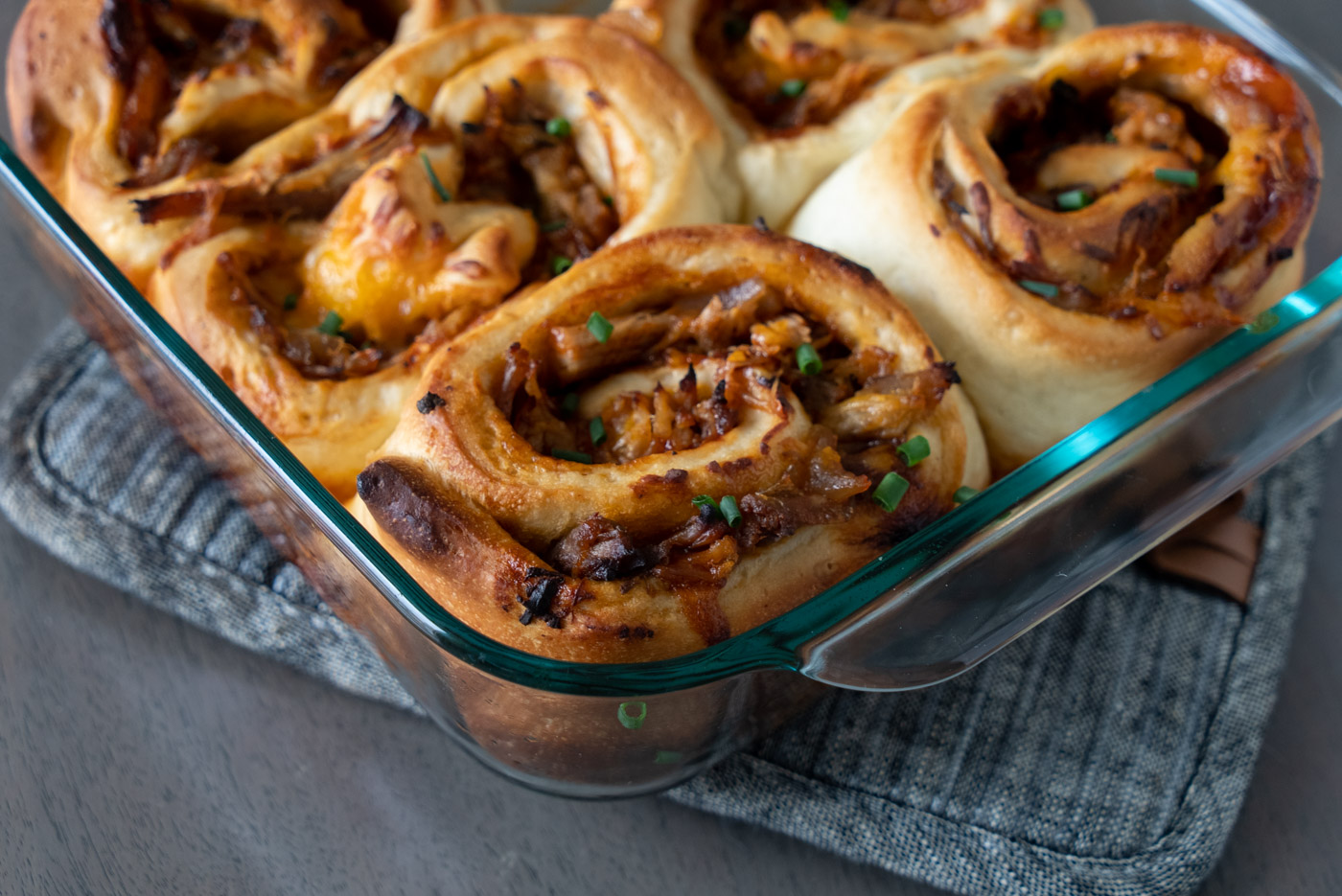 BBQ Pork Buns
A great way to make leftover pork roast not taste like leftovers!
Ingredients
12 Rhodes Dinner Rolls, dough thawed but still cold
2 cups leftover pork roast, shredded; or premade pulled pork; or follow the pork roast recipe in the baking notes
1/2 cup barbecue sauce
1 cup shredded colby jack or cheddar cheese
Thinly sliced green onion for garnish
Spray board or counter with non-stick cooking spray. Combine rolls together and roll into a 10×16-inch rectangle.
Spread 1/2 cup of barbecue sauce across the dough, leaving a 1-inch clean edge on one of the 16-inch sides. Top with pork and cheese.
Beginning with the longer side, roll the dough up jelly roll style and pinch the seam at the end to seal.
Cut into 6 equal pieces and place in a sprayed 9×9 pan or 9-inch cake or pie pan. Cover with plastic wrap and let rise for 1 hour.

Bake at 350°F 40-45 minutes, cover last 10 minutes to prevent over-browning. Until the barbecue sauce is bubbling. Top with green onions and serve warm.
Baking Notes
Pork Roast Instructions:

1 Boneless pork shoulder butt (2 1/2 lbs), 1-1/2 teaspoons ground mustard, 1 teaspoon salt, 1/2 teaspoon cayenne pepper, 1/2 teaspoon ground ginger, 1 cup thinly sliced red onion, 2 garlic cloves, peeled and crushed, 1/2 cup maple syrup, divided, 1/2 cup water, 3 tablespoons cider vinegar

Mix together the ground mustard, cayenne, salt, and ginger. Use this to rub all over the pork shoulder.
Heat 2 Tablespoons of oil in a large frying pan, and brown the pork shoulder on each side over medium-high heat. Once each side of the pork has been browned, move the pork to your slow cooker. Pour the juices from the frying pan over the pork in the slow cooker.
Add the onion and garlic to the slow cooker.
Combine water, 1/2 cup maple syrup, and apple cider vinegar. Pour over the top of the. pork in the slow cooker and cook covered, on low for 5-7 hours. Shred the meat when it is ready and discard the cooking liquid.