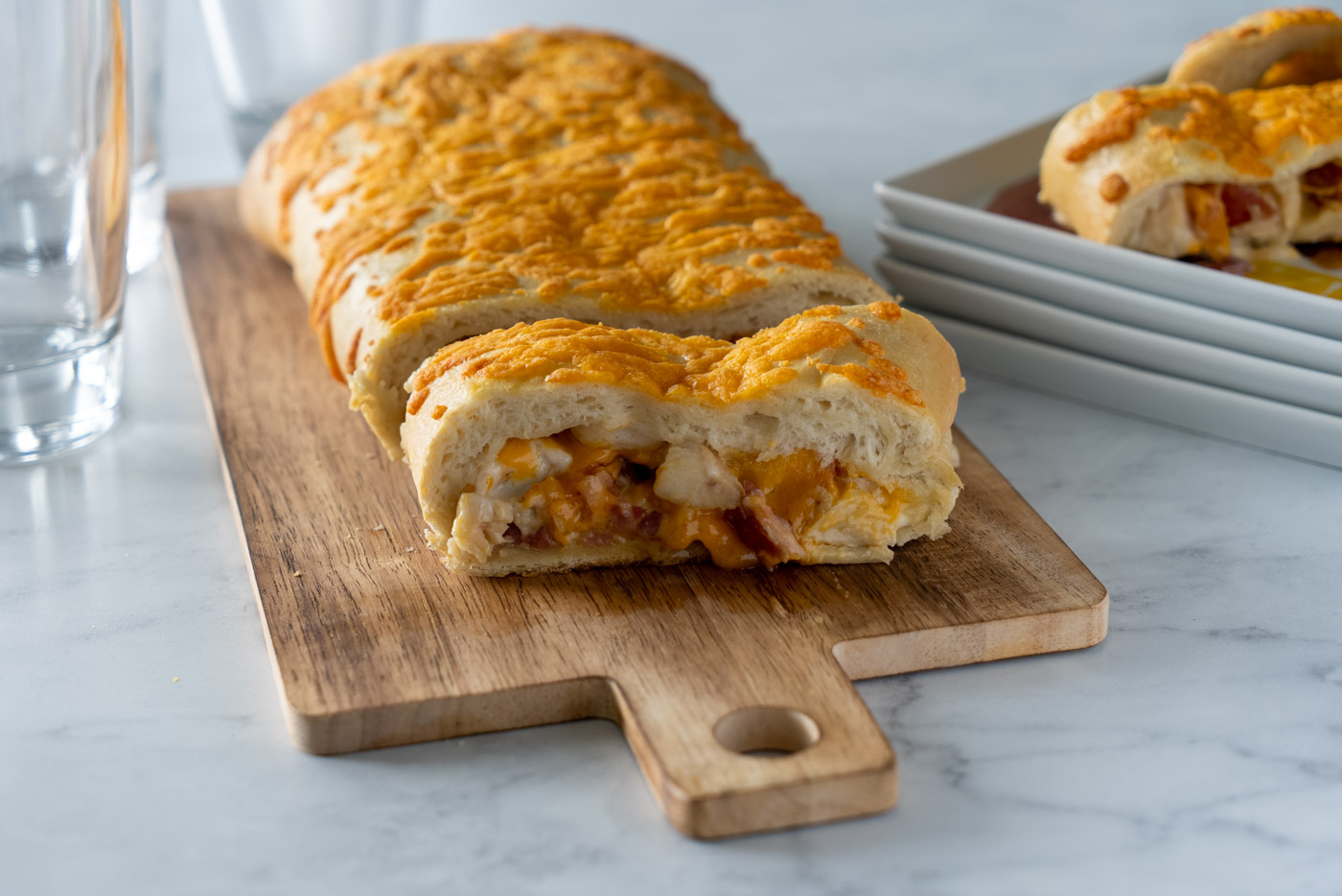 Chicken, Bacon and Ranch Bake
Add this Chicken Bacon Ranch Bake to your weeknight dinner schedule, with bacon, cheese and ranch it truly has it all!
Ingredients
12 Rhodes White Dinner Rolls (or 1 loaf Rhodes White Bread, dough thawed to room temperature
1/3 cup ranch dressing, divided
2 cups precooked chicken, shredded or diced
8 pieces of bacon, cooked and chopped
1 cup cheddar cheese, shredded and divided
Instructions
Spray counter lightly with cooking spray. Combine rolls and roll into an 18×12 inch rectangle.
Brush the dough with 1/4 cup of the ranch dressing down the long center of the dough leaving a 1/2-inch clean edge all the way around.
Place chicken on top of the ranch. Sprinkle the bacon over the top of the chicken and sprinkle with  3/4 cup of the cheese.
Fold one long side of the dough over the center mixture. Lift the other long side over the first and press to seal.
Lift the Chicken Bake onto a sprayed baking sheet and fold each end under. Brush with remaining ranch and sprinkle remaining cheese over the top.
Cover with sprayed plastic wrap and let rise 30-45 minutes.
Remove the wrap and bake at 375ºF for 20 minutes. Cover with foil and bake an additional 20 minutes.
For Freezer Meal
Prepare the Chicken Bake finishing at step 4. Place the entire meal, covered in plastic wrap into the freezer.
When you're ready to serve, preheat the oven to 350ºF and let the meal rest on the counter while preheating. Bake for 40 minutes to an hour, until the cheese is browned on top and dough is baked through.