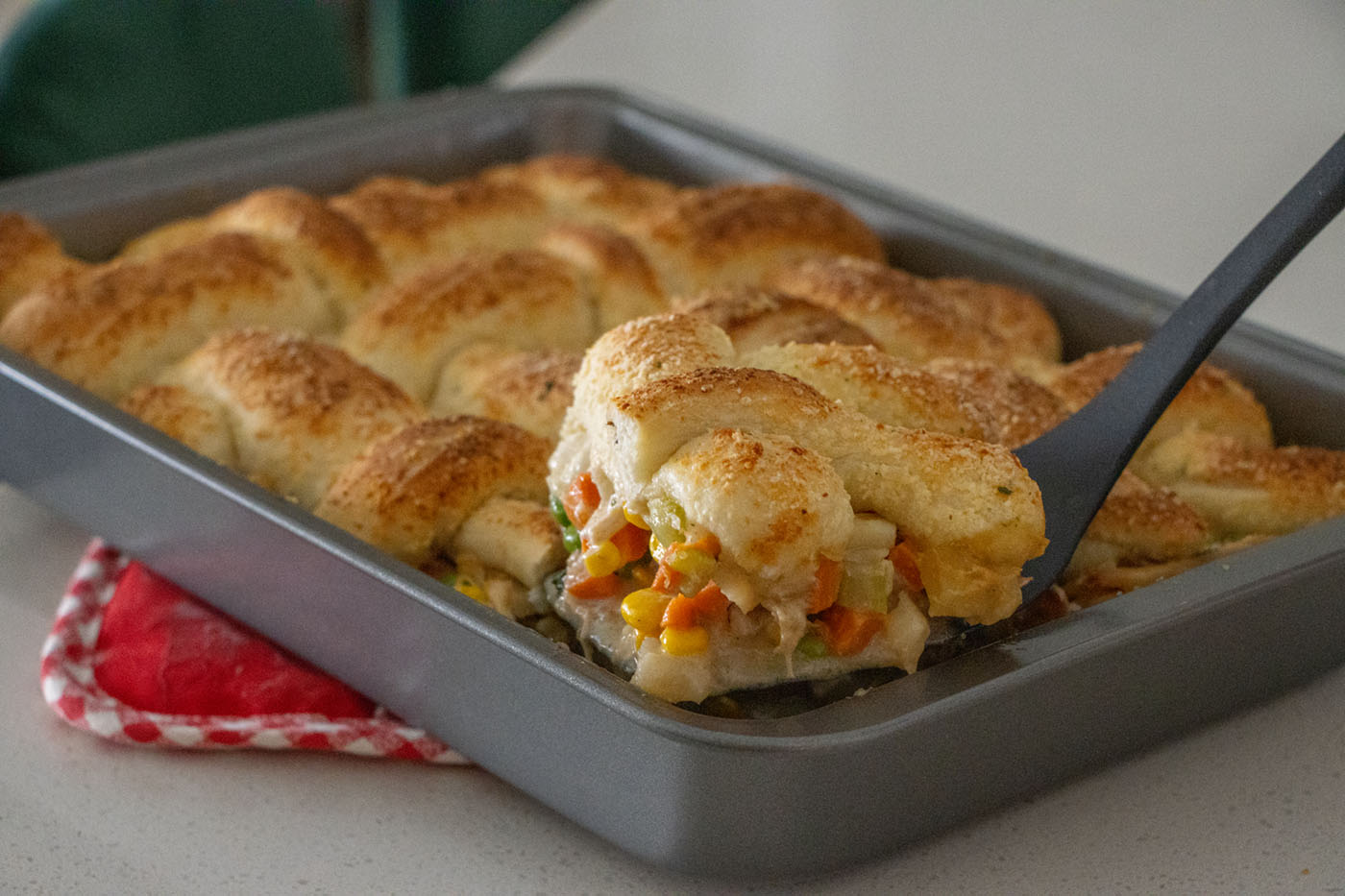 Breadstick Pot Pie Casserole
Looking for a delicious one dish meal,  you're in luck! Tasty breadsticks on top make it even better.
Ingredients
12 Rhodes White Dinner Rolls, dough thawed to room temperature
4 Tbsp melted butter
1/2 cup grated parmesan
1 Tbsp garlic salt
For Filling
1 Tbsp oil
4 Tbsp butter
2 Tbsp flour
1 cup 2% milk
1/2 yellow onion, diced
1/2 cup diced or shredded carrot
1/2 cup diced celery
2 cups shredded chicken
1/4 cup frozen peas
1/4 cup corn
1 cup diced frozen potatoes
1 Tbsp fresh thyme or 2 tsp dried thyme
salt and pepper to taste
Instructions
In a large pot on the stove, heat the oil and onions. Caramelize the onions lightly, cooking them on a low heat and stirring often for 10 minutes. They should be golden brown.
Add celery, 4 Tbsp butter, carrots, thyme, and garlic to the onions and stir to combine. Cook over medium heat until the butter is melted and bubbling, about 5 minutes.
Add the flour into the pot and stir so the flour absorbs the butter and there are no clumps.
Stir in the milk. Add in the peas, corn, potatoes, and chicken. Bring the mixture to a simmer and then remove from heat. Season the filling to taste with salt and pepper before continuing.
Spray a 9x13inch pan with nonstick spray. Evenly pour the chicken pot pie filling into the bottom of the pan. Set aside.
Cut four rolls in half. Combine 1 1/2 rolls, and roll out to a 9 inch breadstick. Create 3, 9 inch breadsticks and 5 , 13 inch breadsticks.
Combine parmesan and garlic salt in a plate. Roll each breadstick in butter, then in parmesan mixture.
Over the top of the chicken pot pie filling, arrange 5 of the breadsticks horizontally. Weave in the remaining breadsticks vertically between the horizontal breadsticks.
Let rise until doubled in size, at least 30 minutes. Bake at 350ºF for 30-35 minutes.