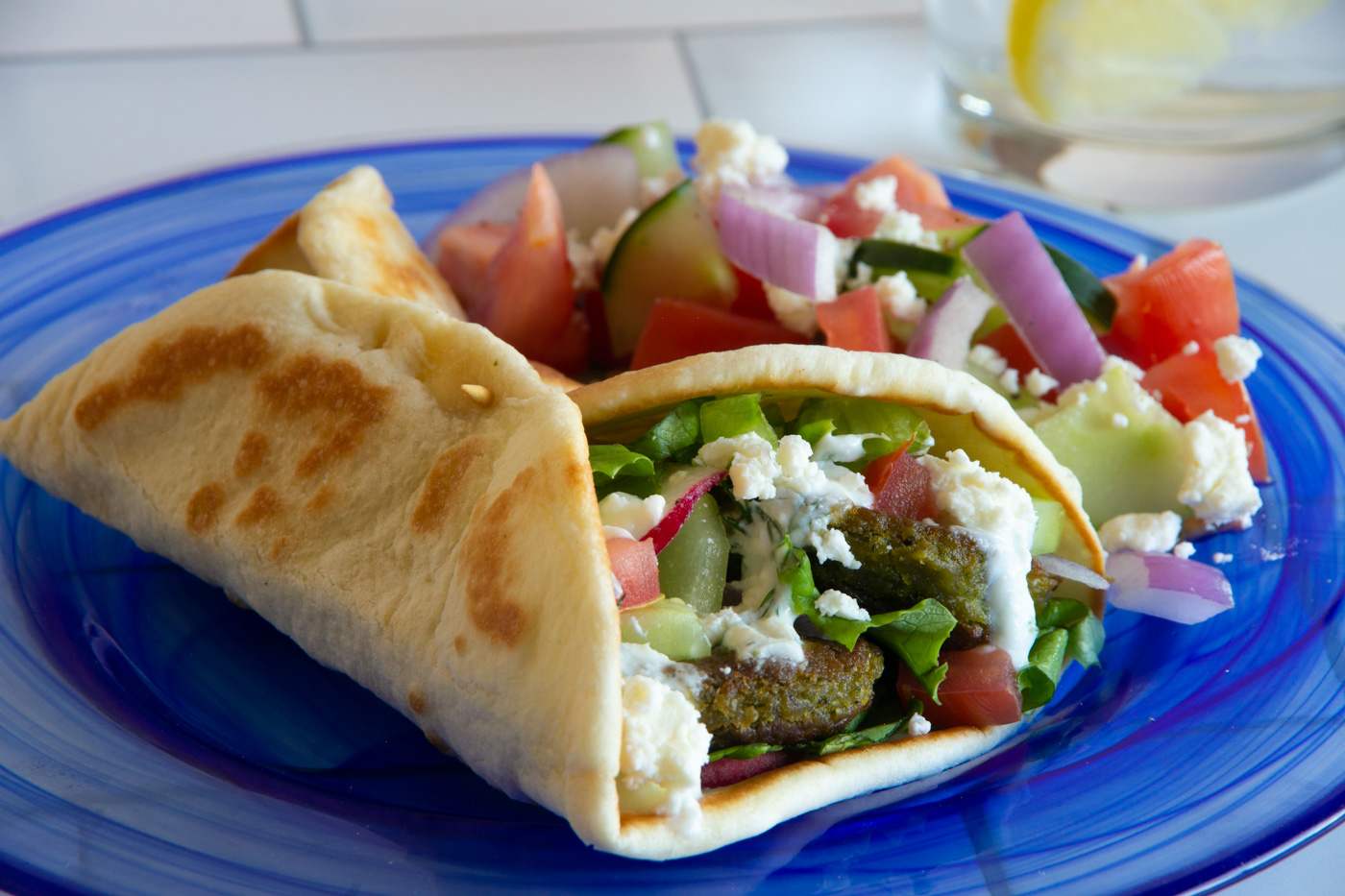 Falafel Wrap

Enjoy tasty falafel made out of chickpeas and herbs, complimented with fresh veggies and a tangy yogurt sauce all wrapped up in pillowy soft and warm Rhodes flatbread.
Ingredients
8 Rhodes White Dinner Rolls, dough thawed to room temperature
Falafel:
1 15.5 oz can chickpeas, drained and rinsed
1/2 cup diced white onion
1 cup fresh parsley
1 cup fresh cilantro
1/4 cup water
1 Tbsp lemon juice
2 tsp baking powder
1 Tbsp cumin
1 tsp salt
5 cloves garlic, crushed
1/2 cup flour
Toppings:
hummus
tomatoes, diced
radishes, sliced
cucumber, sliced
feta cheese
tzatziki sauce (homemade option below)
Tzatziki Sauce:
1 cup Greek yogurt
2 Tbsp fresh dill, diced
2 Tbsp cucumbers, diced
1 tsp crushed garlic
2 tsp lemon juice
salt, to taste
Instructions
In a blender or food processor, blend chickpeas, onion, parsley, cilantro and water until completely combined. Then add lemon juice, baking powder, cumin, salt, and garlic. Blend to combine. Add in flour and pulse again to combine. Heat a pan to medium heat and add oil to pan fry (2 Tbsp oil per 5 falafel). Portion falafel filling into 2 Tablespoon balls and fry on each side until golden brown. When frying the ball, it will slightly flatten to a thick disk shape. Fry all the portioned falafel and place it on a cooling rack over a paper towel to drain.
Roll out each roll on a sprayed surface to a 6 inch circle. Cover with sprayed plastic wrap and heat a pan on the stove top to a low heat. Spray the pan with nonstick spray and place one of the rolled out rolls onto the pan, cook for 5 minutes or until golden brown. Flip to cook the other side. Place on the cooling rack and repeat with remaining rolls.
Assemble wraps with ingredients to your liking.