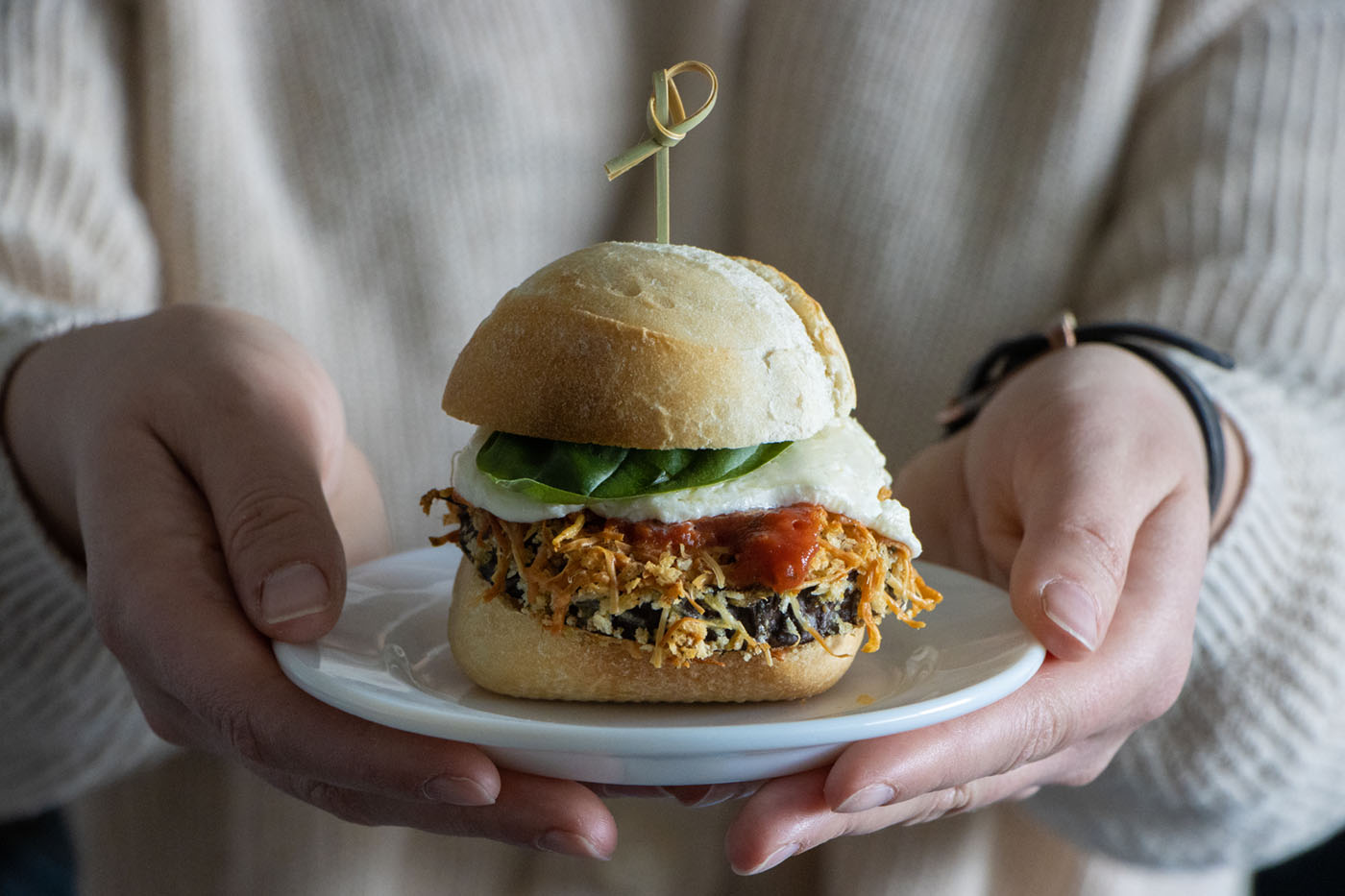 Eggplant Parmesan Slider
Servings: 6 (2 sliders per person)
This Eggplant Slider is delicious and topped off with parmesan, fresh mozzarella and basil.
Ingredients
12 Rhodes Artisan French Rolls or Sourdough Rolls, baked according to package instructions
1 eggplant
3 eggs
1/2 cup flour
1 cup panko crumbs
1/2 cup shredded parmesan
2 tsp garlic salt
1 Tbsp Italian seasoning
1 large fresh mozzarella ball, sliced into 12 slices
1 bunch fresh basil
1 cup marinara
Instructions
Cut the eggplant into 12 1/2 inch slices. Salt both sides of each slice of eggplant and let them sweat for 5-10 minutes. Dab off the water with paper towels.
Crack the eggs in a shallow bowl and whisk together. In a separate bowl, place the flour. In a third bowl, combine panko, parmesan, Italian seasoning and garlic salt.
Spray a baking pan with nonstick spray. Preheat the oven to 425ºF.
Take one slice of eggplant and place it in the flour to coat. Next, place the flour coated eggplant in the egg and drench it. Shake off the excess egg. Last, place the eggplant in the bowl with the panko and the parmesan. Coat the eggplant in the panko mixture and place on the baking sheet.
Repeat step four with the remaining eggplant.
Bake the eggplant at 425ºF for 25-30 minutes or until they are well browned. Remove from the oven.
Slice each roll in half and place a large spoonful of marinara on the bottom half of the roll. Top the marinara with one of the slices of eggplant. Top the eggplant with another dollop of marinara and a slice of fresh mozzarella.
Repeat step 7 with the remaining ingredients.
Place the sandwiches, opened with the cut side facing up on a sprayed baking sheet. Bake at 350ºF for 5 minutes, just until the cheese is melted.
Remove from the oven and place fresh basil on the top of the melted cheese. Close the sandwich.