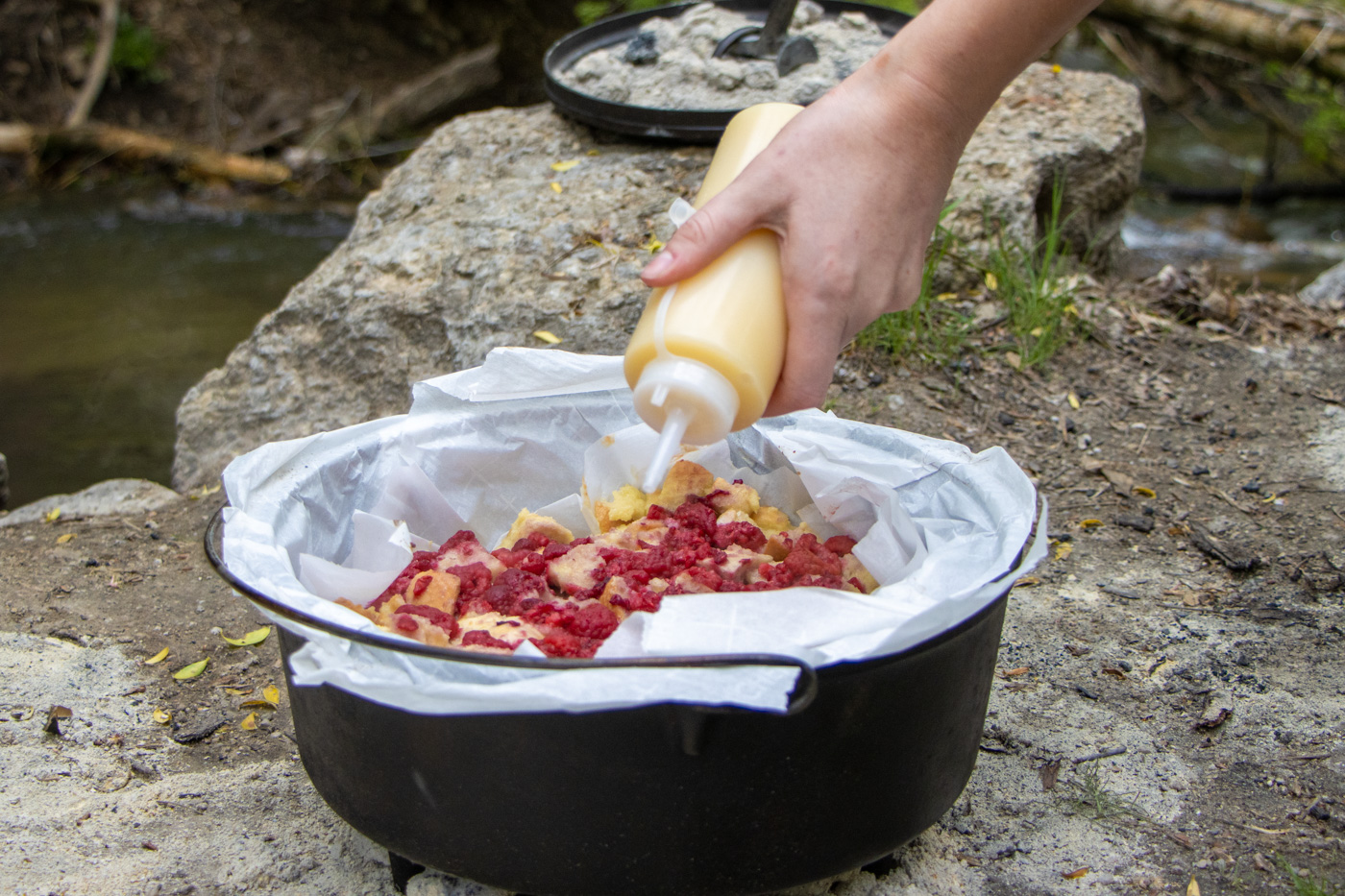 Dutch Oven Raspberry Bread Pudding
Take a classic Raspberry Bread Pudding outdoors with this Dutch Oven recipe. Here's a secret: the Vanilla Cream Sauce is divine!
Ingredients
12 Rhodes Artisan French Rolls, thawed and cut into 1½ inch pieces
2 cups heavy cream
1/2 cup sugar
2 eggs
1 tsp. vanilla
Raspberry Mixture
2 1/2 cups raspberries, fresh or frozen
1/4 cup sugar
1/4 cup apple juice
Vanilla Cream Sauce
1 cup granulated sugar
1/2 cup butter (1 stick)
1 cup heavy whipping cream
2 teaspoons vanilla extract
1. In a large bowl, combine cream, sugar, egg and vanilla and beat until well combined.
2. Cut rolls into 1½ inch pieces and add to cream mixture, stirring to coat the bread well.
3. Let the bread sit in the cream mixture for 30 minutes.
4. In a separate bowl mix raspberries, sugar and juice until the sugar is dissolved.
5. Line a 10-12 inch Dutch Oven with parchment paper for easy cleanup.
6. Place bread cubes in the bottom of the Dutch Oven. Spoon fruit over the top, spreading into an even layer.
7. Bake at 350ºF for about 35-45 minutes; for a 10" Dutch Oven 350ºF place 15 coals on top & 9 on the bottom for a 12" Dutch Oven 350ºF place 16 coals on top & 10 on the bottom. Allow to cool before serving.
For the Vanilla Cream Sauce:
1. Add sugar, butter and cream to a medium saucepan over medium heat. Cook, stirring occasionally until the butter has melted.
2. Bring mixture to a boil and boil, stirring frequently, for 3-5 minutes. Remove from heat and add vanilla.
Tip: If you plan to make this recipe while camping without a RV, make the Vanilla Cream Sauce ahead.