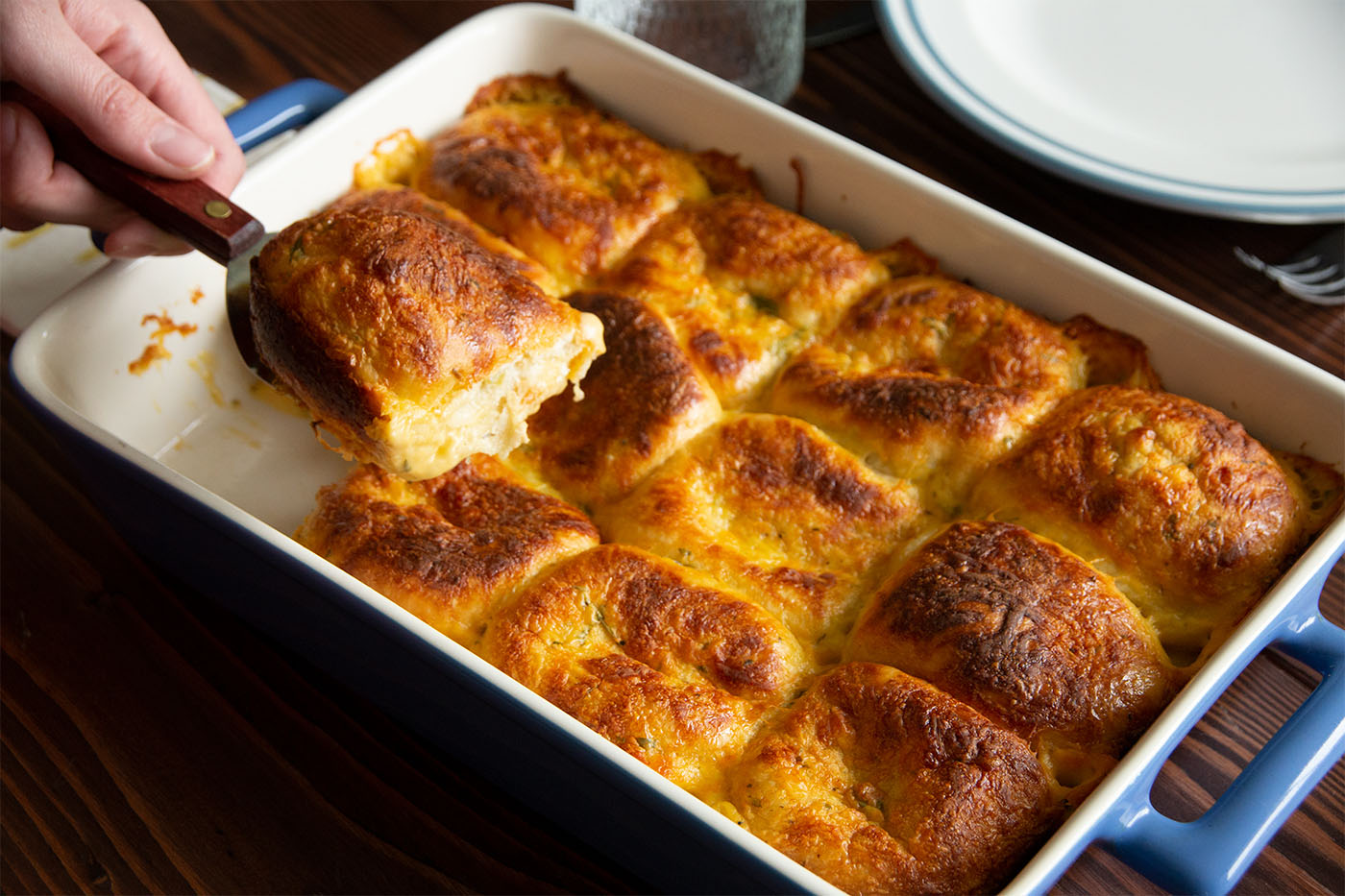 Cheesy Chicken Rolls
These delicious rolls resemble Chicken Enchiladas. A great brunch, lunch or dinner recipe.
Ingredients
12 Rhodes Dinner Rolls, thawed to room temperature
1 10 3/4 ounce can cream of chicken soup with herbs
2 1/2 cups grated cheddar cheese, divided
1/2 cup milk
2 tablespoons chopped fresh cilantro
4 ounces cream cheese, softened
2 tablespoons butter, softened
1 teaspoon garlic powder
1 teaspoon onion powder
2 chicken breasts cooked and diced
1 small can diced green chilies
1/2 teaspoon salt
1 teaspoon pepper
Instructions
Sauce:
Combine soup, 3/4 cup cheese, 1/2 cup milk and 1 tablespoon fresh cilantro. Mix together and drizzle 1/2 cup of mixture in the bottom of a sprayed 9×13-inch baking pan.
Filling:
In a bowl combine cream cheese and butter until smooth. Add garlic powder, onion powder, chicken, green chilies, 3/4 cup cheese, remaining cilantro and mix well. Season with salt and pepper.
On a counter lightly sprayed with non-stick cooking spray, press each dinner roll into a 5-inch circle. Divide filling equally between the 12 circles. Pull dough up around filling and pinch together to seal. Place each roll into the baking pan pinched sides down. Pour remaining sauce on top of the rolls. Sprinkle with remaining cheese. Bake at 350 degrees F 35 minutes. Cover with foil the last 5 minutes if necessary to prevent over browning.