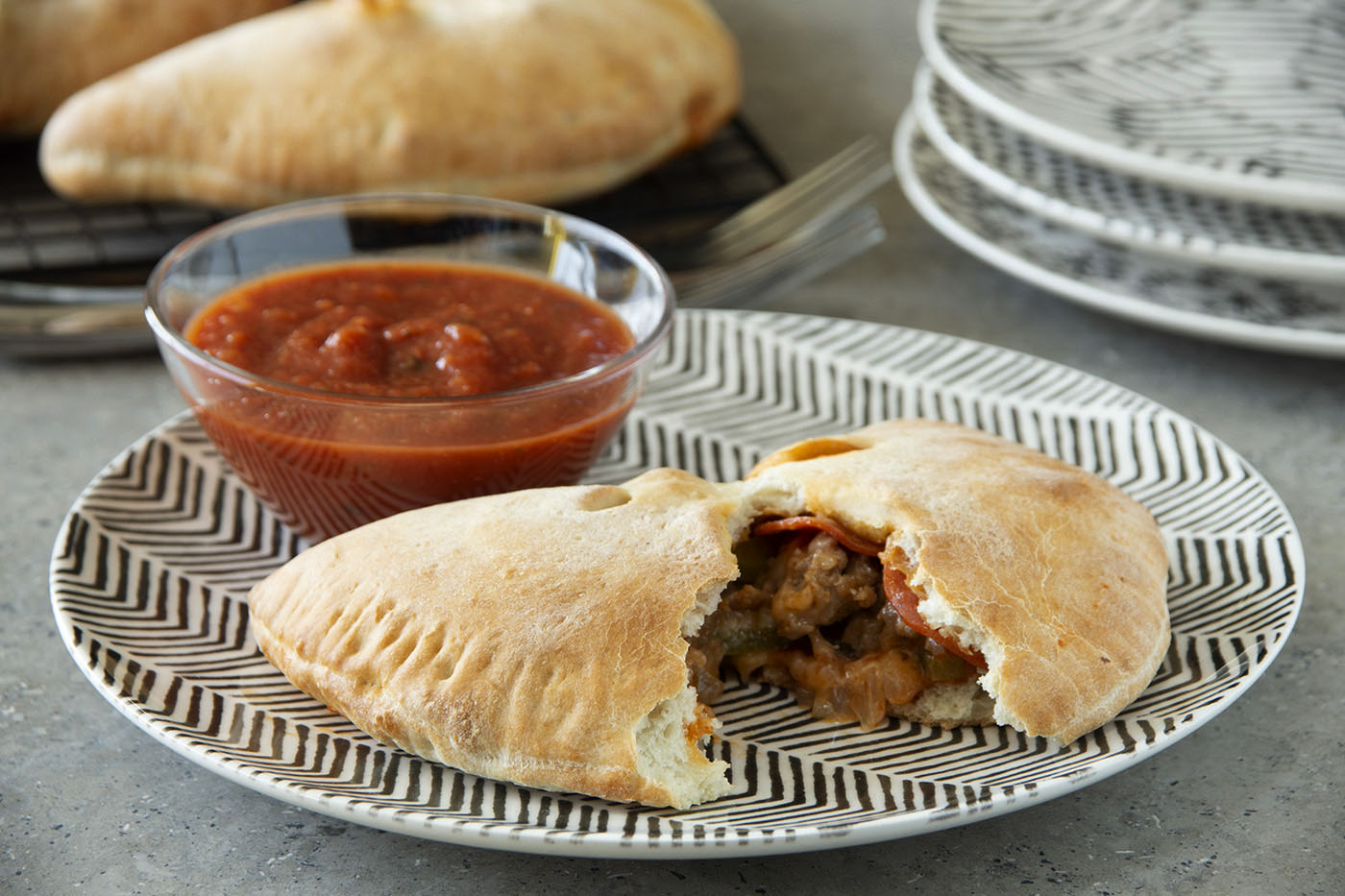 Calzone
With frozen dough you can make an easy kid friendly meal that your whole family will love.
Ingredients
3 Rhodes Dinner Rolls, dough thawed to room temperature
1-2 tablespoons pizza sauce
1/4 cup grated mozzarella cheese
1 teaspoon minced onion
1/4 cup browned sausage
3-4 strips thinly sliced green bell pepper
3-4 pepperoni slices
Instructions
Spray counter lightly with non-stick cooking spray. Combine rolls together and roll into a 7-inch circle.
Spread pizza sauce on half of the circle staying one inch away from the edge. Cover pizza sauce with cheese. Sprinkle on onion and sausage. and green pepper evenly, then top with pepperoni.
Wet the edge of the dough with the fillings on it. Fold the other half of the dough over the filled half and use a fork to press edges together to seal. Cut a few half-inch holes in the top to vent. Gently lift and place on a sprayed baking sheet.
Bake at 350 degrees for 15-20 Minutes until golden brown. Serve with pizza sauce for dipping.
Freezer Meals
Complete the entire recipe. To freeze, let calzones cool completely, then wrap each individual calzone tightly in plastic wrap and place in a plastic freezer bag. This will keep calzones from freezing together.
Microwave
From frozen, wrap calzone in a damp paper towel and microwave 1- 1 ½ minutes.
Air Fryer
Wrap the calzone in foil. Air fry at 325ºF for 6-8 minutes.
Oven
Wrap the calzone in foil. Bake at 375ºF for 15-20 minutes.