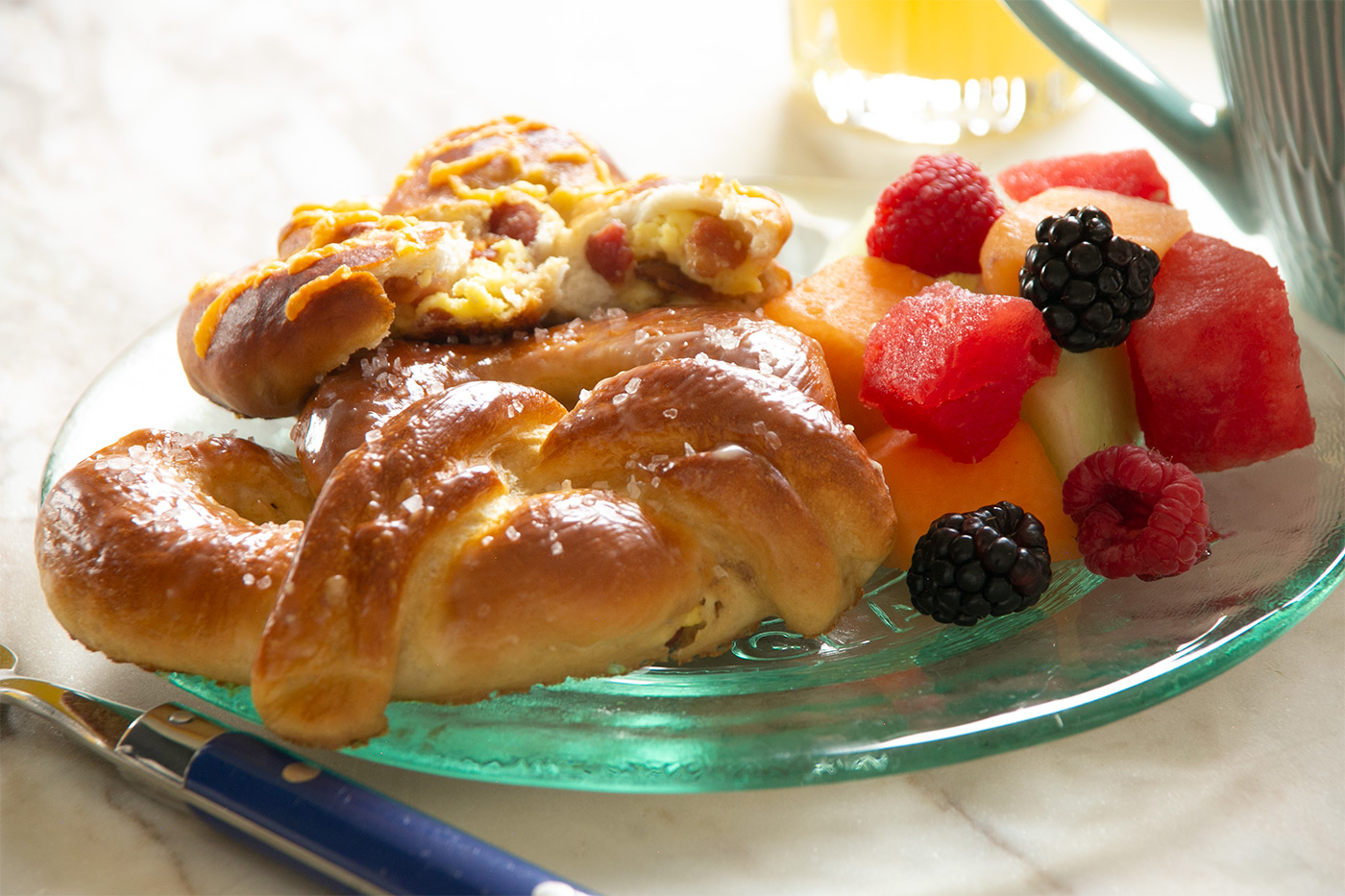 Breakfast Stuffed Pretzels
What's better than a breakfast sandwich? A breakfast pretzel!
Ingredients
12 Rhodes White Dinner Rolls, dough thawed to room temperature
2 Tbsp butter
3 eggs
4 strips of bacon, cooked and crumbled
2 Tbsp baking soda
cheese
1 Tbsp butter
course salt
Instructions
1. Melt 2 Tbsp butter in a pan on the stove over medium-low heat. Whisk together the eggs and pour into the melted butter on the pan. Scramble the eggs and add in the bacon crumbles. Salt and pepper to taste.
2. On a sprayed surface roll out 1 roll into a 10-inch rope. Flatten the rope. Place 1 to 2 Tablespoons of the egg and bacon mixture along to inside of the flattened rope. Wrap the dough around the egg mixture to encase it.
3. Form the filled rope into a pretzel shape. Place on a sprayed baking sheet.
4. Repeat steps 2 and 3 with remaining ingredients.
5. Cover the pretzels with sprayed plastic wrap and let rise for 30 minutes.
6. Place a pot on the stove and fill it with 3 inches of water. Add in the baking soda and stir to combine. Bring the water to a simmer.
7. Place each pretzel in the simmering water for 30 seconds on each side. Return to baking sheet. Top with cheese if desired.
8. Bake at 350ºF for 15-20 minutes or until the pretzels are a deep brown.
9. Remove from oven and top with melted butter and course salt.
Baking Notes
These pretzels can be reheated in the toaster or toaster oven. Make them on the weekend, store them in the fridge and heat them all week for a quick and filling breakfast.
For Freezer Meals
Prepare the pretzels finishing at step 8. Let them cool to room temperature before freezing them individually with freezer bags or plastic wrap.
Microwave
Wrap a damp paper towel over the pretzels and microwave for 1 minute. Top with butter and coarse salt.
Oven
Preheat oven to 350ºF and let the pretzel rest on a sprayed baking sheet one the counter while preheating. Bake for 7 minutes. Top with butter and coarse salt.
Air Fryer
Place pretzel or pretzels in the air fryer basket and fry at 350ºF for 5 minutes. Top with butter and coarse salt.