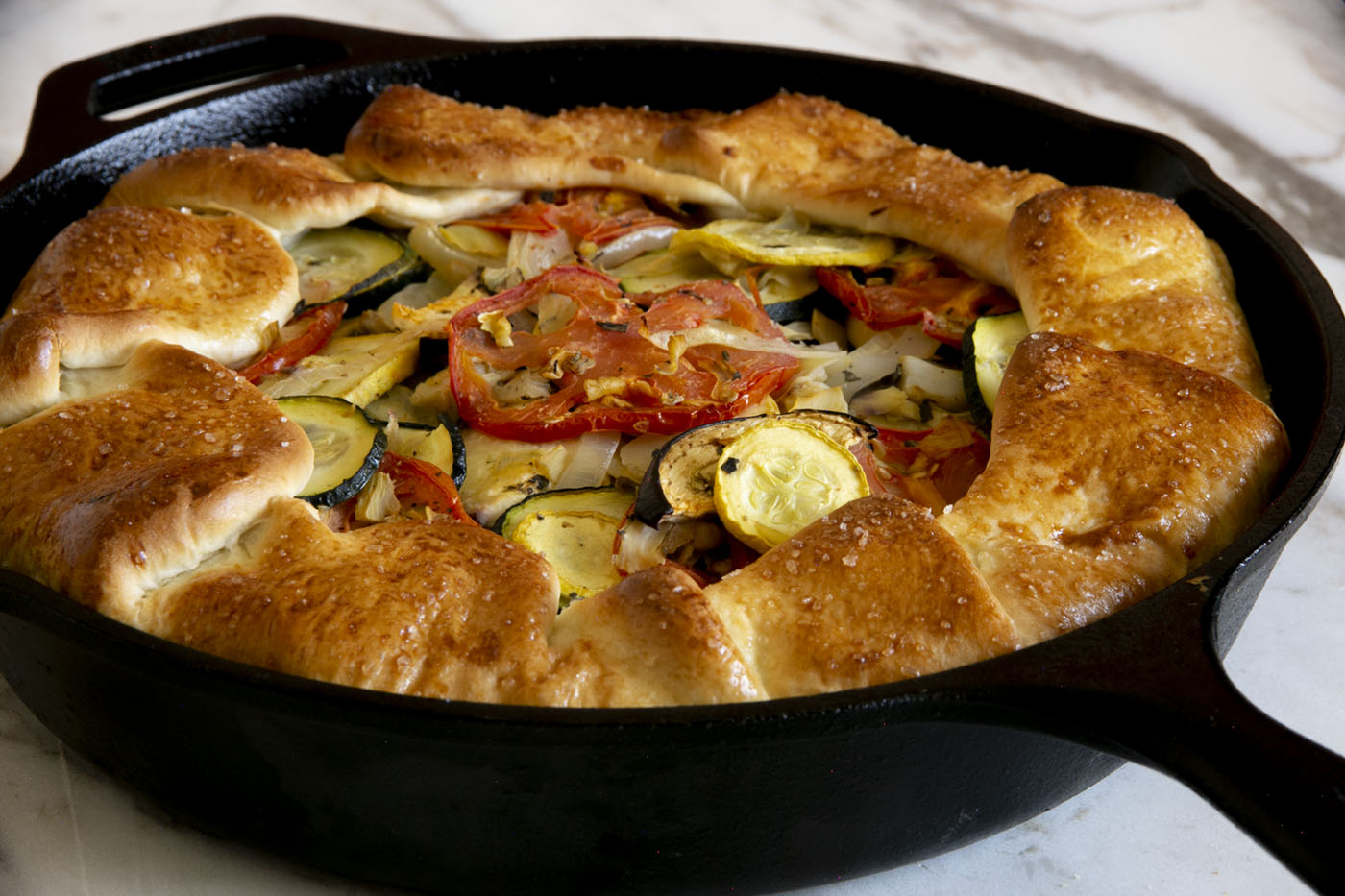 Vegetable Tart

Inspired by ratatouille, this tart uses delicious summer veggies and cheese so bring warmth into your home.
Ingredients
7 Rhodes White Dinner Rolls, dough thawed but still very cold
8 oz cheese of your choice
2 tomatoes, sliced
1/4 eggplant, sliced
1 yellow zucchini, sliced
1 green zucchini, sliced
1 yellow onion, sliced
artichoke hearts, chopped
salt and pepper, to taste
1 Tbsp olive oil (or oil of choice)
1 tsp salt
Instructions
1. Place all of the sliced vegetables in a bowl and drizzle them with olive oil. Season the vegetables with salt and pepper and herbs de province. Place the veggies on a aluminum foil lined baking sheet. Place the tray of veggies in a 400ºF oven and bake until roasted, about 30 minutes. After done baking, remove from oven and set aside to cool while preparing crust and cheese.
2. Combine rolls and roll out on a sprayed surface to a 15 inch circle. Place in an oiled cast iron skillet (ours has a 9 inch bottom and two inches deep). Press the dough into the bottom of the skillet and smooth the cheese on the base of the dough.
3. Pour all of the roasted veggies on top of the cheese and arrange in an even layer.
4. Fold the outer edges of the dough over the veggies. Brush the dough with egg and then sprinkle 1 tsp of salt over the dough.
5. Bake at 350ºF for 40 minutes or until golden brown. Serve warm.