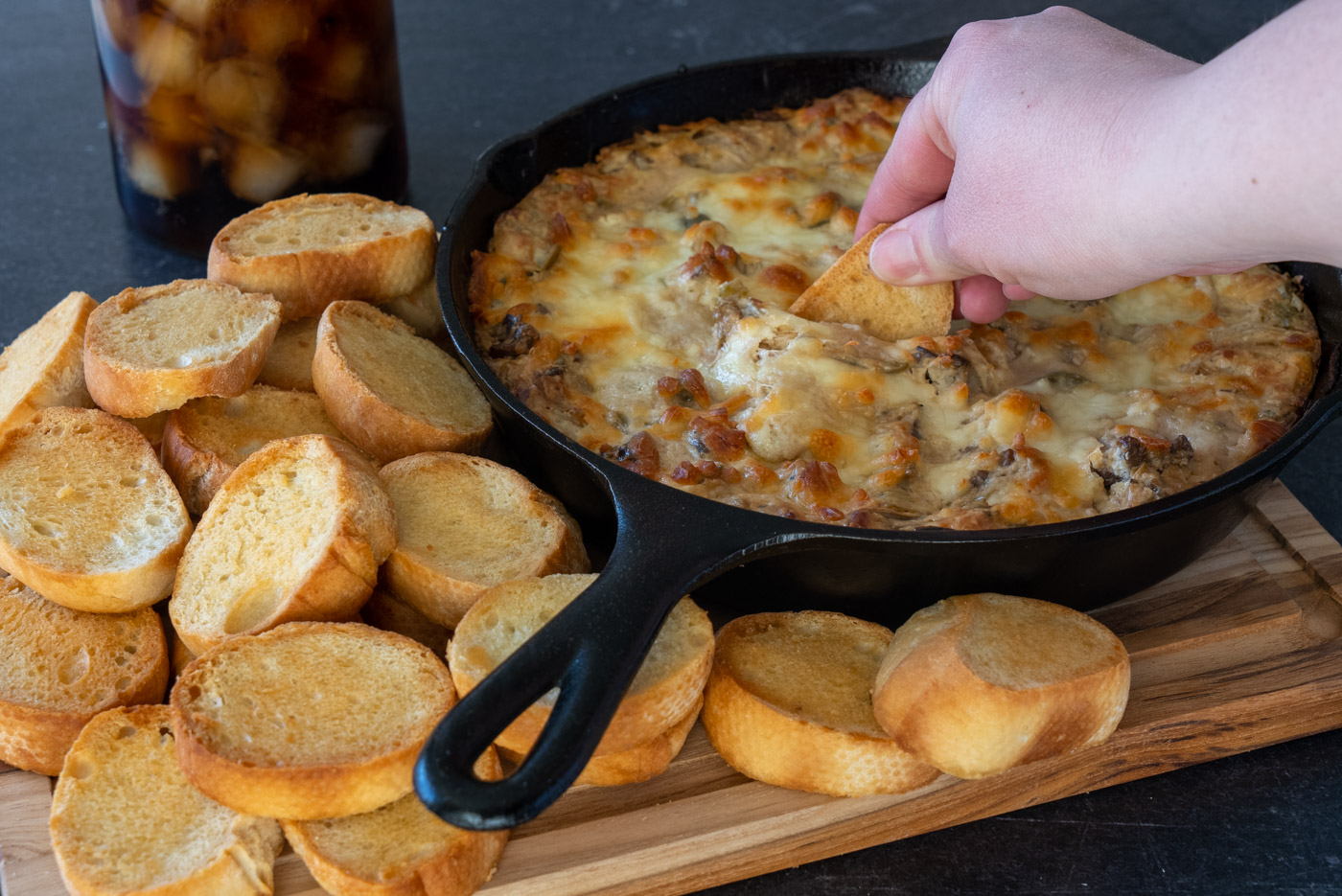 Philly Cheesesteak Dip
Dip into this savory Philly Cheesesteak Dip with crostini made from Rhodes Warm & Serve Artisan French Rolls.
Ingredients
12 Rhodes Warm & Serve Artisan French Rolls
3 Tbsp butter
1lb Steak
1 onion, thinly sliced
2 green bell peppers, thinly sliced
3 cloves of garlic, minced
2 cups of shredded mozzarella cheese, 1/2 cup set aside
16oz cream cheese
⅓ cup of mayonnaise
1 Tbsp balsamic vinegar
Salt and pepper
Preheat your oven to 375ºF.
Slice Artisan French Rolls into 4 slices each. Brush each side with butter and place on a baking sheet. Bake in the oven for 10 minutes until toasted.
While the crostini bake, pat steak dry with paper towels. Season liberally with salt and pepper.
Heat 1 Tbsp oil in a skillet over medium-high heat. Add steak and sear on each side for 3 minutes. (Do not over cook, the steak will continue to cook in the dip in the oven.)
Let the steak rest for at least 3 minutes. Cut into thin bite-size strips.
In the same pan add 1 Tbsp of butter and the onions and peppers. Season with salt and pepper. Cook until soft; about 5 minutes. Then add minced garlic. Saute for one minute or until fragrant.
Next mix the cream cheese, 1 1/2 cups of shredded cheese, mayo and vinegar. Then combine with the onions, peppers and sliced steak. Top the dip with the remaining cheese.
Cook the dip for 15-20 minutes until toasted and bubbly.