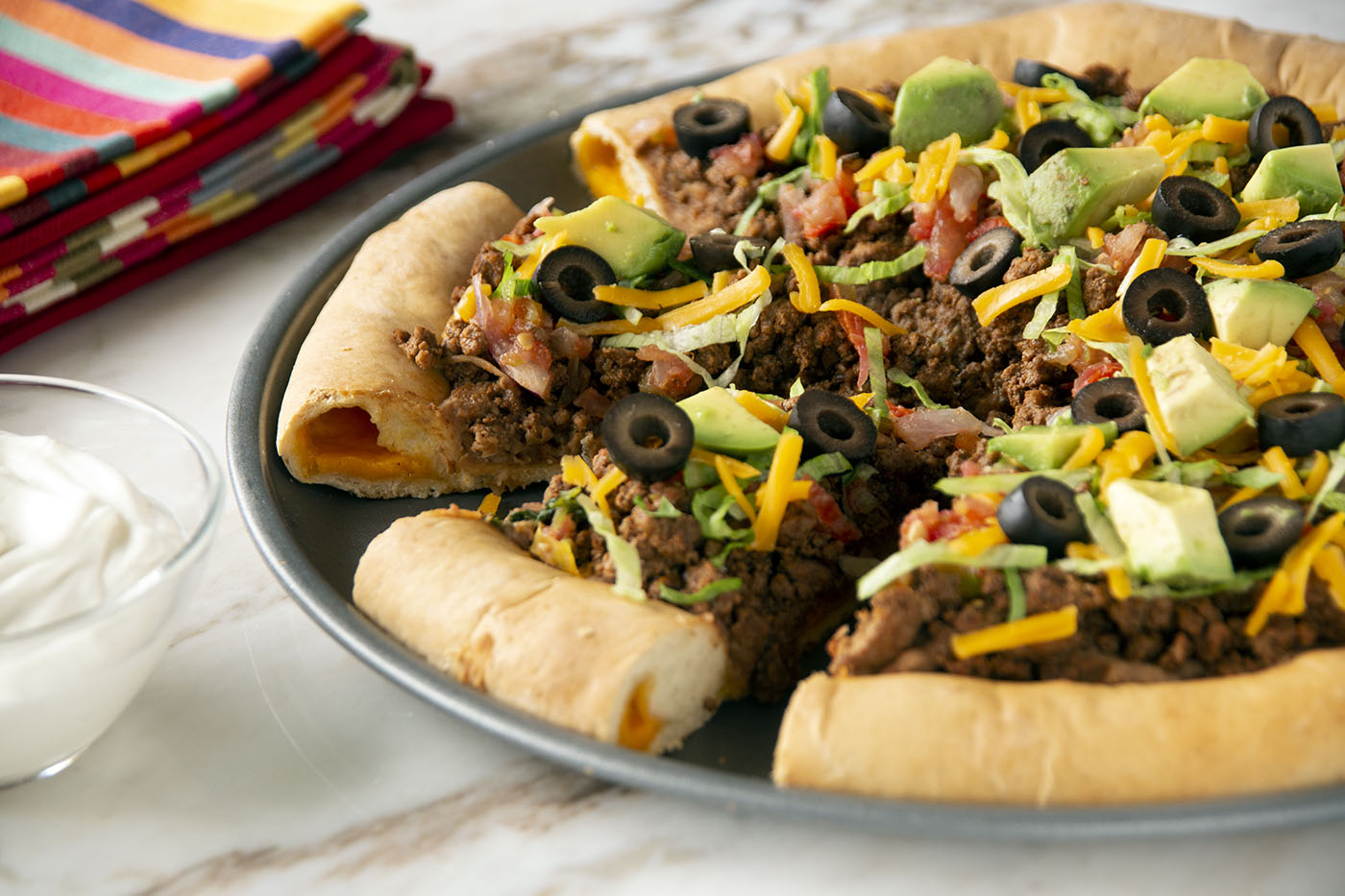 Stuffed Crust Taco Pizza
Switch up your Taco Tuesday with this Stuffed Crust Taco Pizza.
Ingredients
10 Rhodes Yeast Dinner Rolls, thawed to room temperature
6-7 cheddar cheese sticks, cut in half
1 cup shredded cheddar cheese
1 pound ground beef
2 teaspoons chili powder
1 teaspoon cumin
salt to taste
1 tablespoon tomato paste
1/2 cup water
1 cup refried beans, warmed
1/2 cup pico de gallo
1/2 cup lettuce, finely shredded
1 medium avocado, diced
sour cream
1.4 cup black olives, sliced
Instructions
Spray counter lightly with non-stick cooking spray. Combine rolls together and roll into a 15-inch circle. Cover with plastic wrap and let rest for 15 minutes. Remove wrap and place dough on a 13-inch sprayed pizza pan.
Cut each string cheese in half lengthwise and arrange on the dough around the edge of the pan. Brush the edge with water and fold it over the cheese and press to seal it inside. Press seams a second time to make sure they are fully sealed.
Poke with a fork several times to prevent bubbles from forming. Bake at 350°F 12-15 minutes until crust is golden brown. Remove from oven.
While baking, brown hamburger and drain if necessary. Mix chili powder, cumin, and salt. Add tomato paste and 1/2 cup water and allow to simmer until water is reduced. Keep meat warm.
Spread beans over warm crust. Then layer, meat, pico de gallo, lettuce, shredded cheese, avocado and olives. Serve with a dollop of sour cream, if desired.