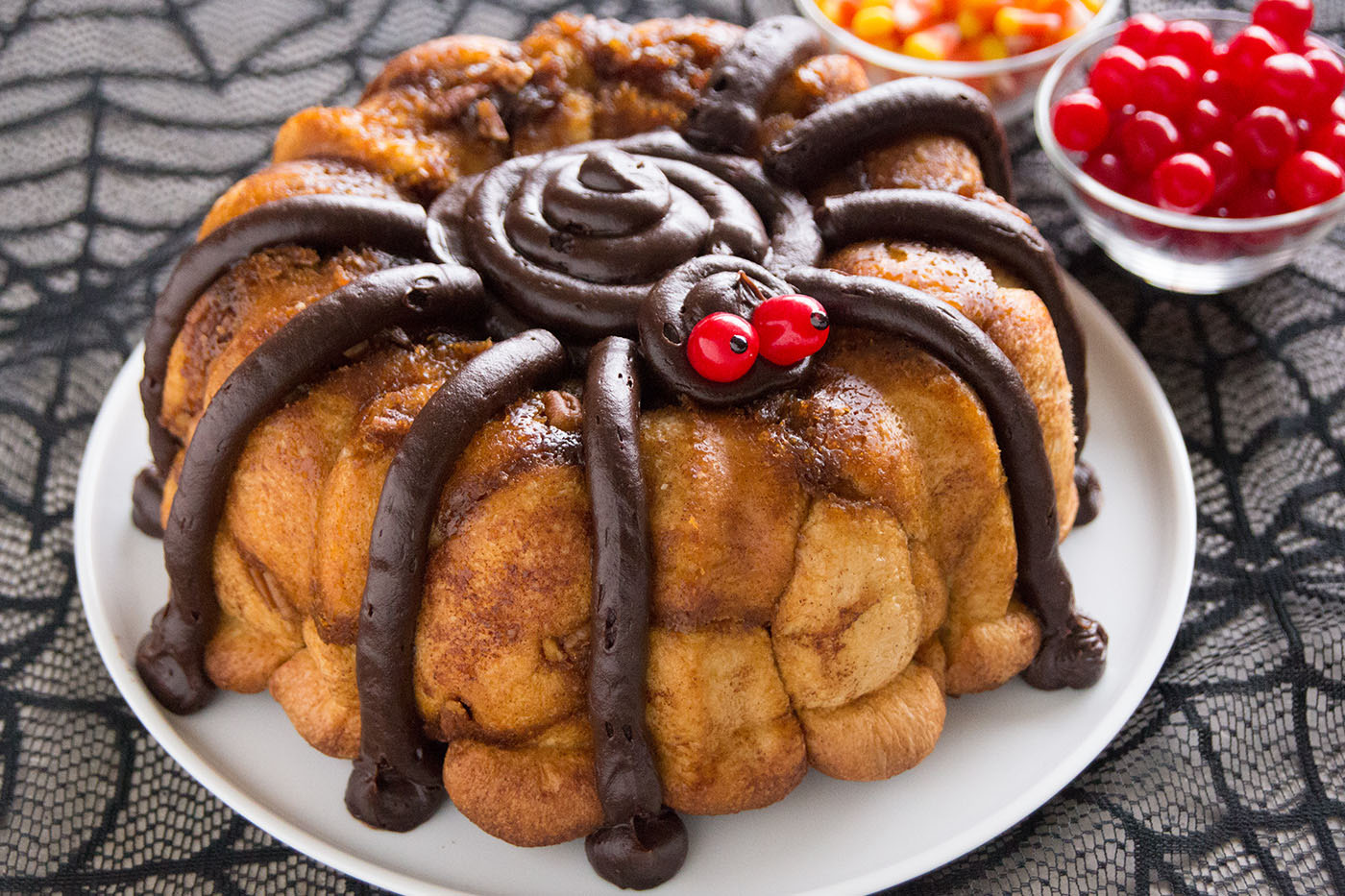 Spider On A Bundt
This delicious pumpkin spiced bundt, with a chocolate frosting spider on top, will be the hit of your Halloween Party!
Ingredients
1/2 cup butter, melted
1 tablespoon pumpkin spice
1 cup crushed ginger snap cookies
1/3 cup sugar
1/2 cup pecans
1/2 cup brown sugar
1/4 cup butter or margarine
1/3 cup heavy cream
1/2 cup pumpkin pie mix
1 can chocolate fudge frosting
candy for eyes
Instructions
Combine 1/4 cup butter and 1/2 cup brown sugar on stove. Slowly stir in 1/3 cup heavy cream. Remove from stove and fold in 1/2 cup canned pumpkin pie pix. Set aside.
Cut rolls in fourths. Combine crushed ginger snap cookies, 1/3 cup sugar and pumpkin pie spice. Dip each roll fourth in melted butter and then in cookie mix. Arrange in sprayed bundt pan, alternately with pecans and pumpkin caramel sauce.
Cover with sprayed plastic wrap. Let rise until even with the top of the pan. Carefully remove wrap and bake at 350°F 30-35 minutes. Cover with foil last 10-15 minutes to prevent over browning.
Immediately after baking, loosen from sides of pan with a knife and invert onto a serving platter. When cool, place plastic cup, upside down, in center of bundt to support the body of the spider. Spoon frosting into a pastry bag and spiral frosting to make spider body and head. Add spider legs from the body down to the bottom of the bundt. Place candy for eyes.