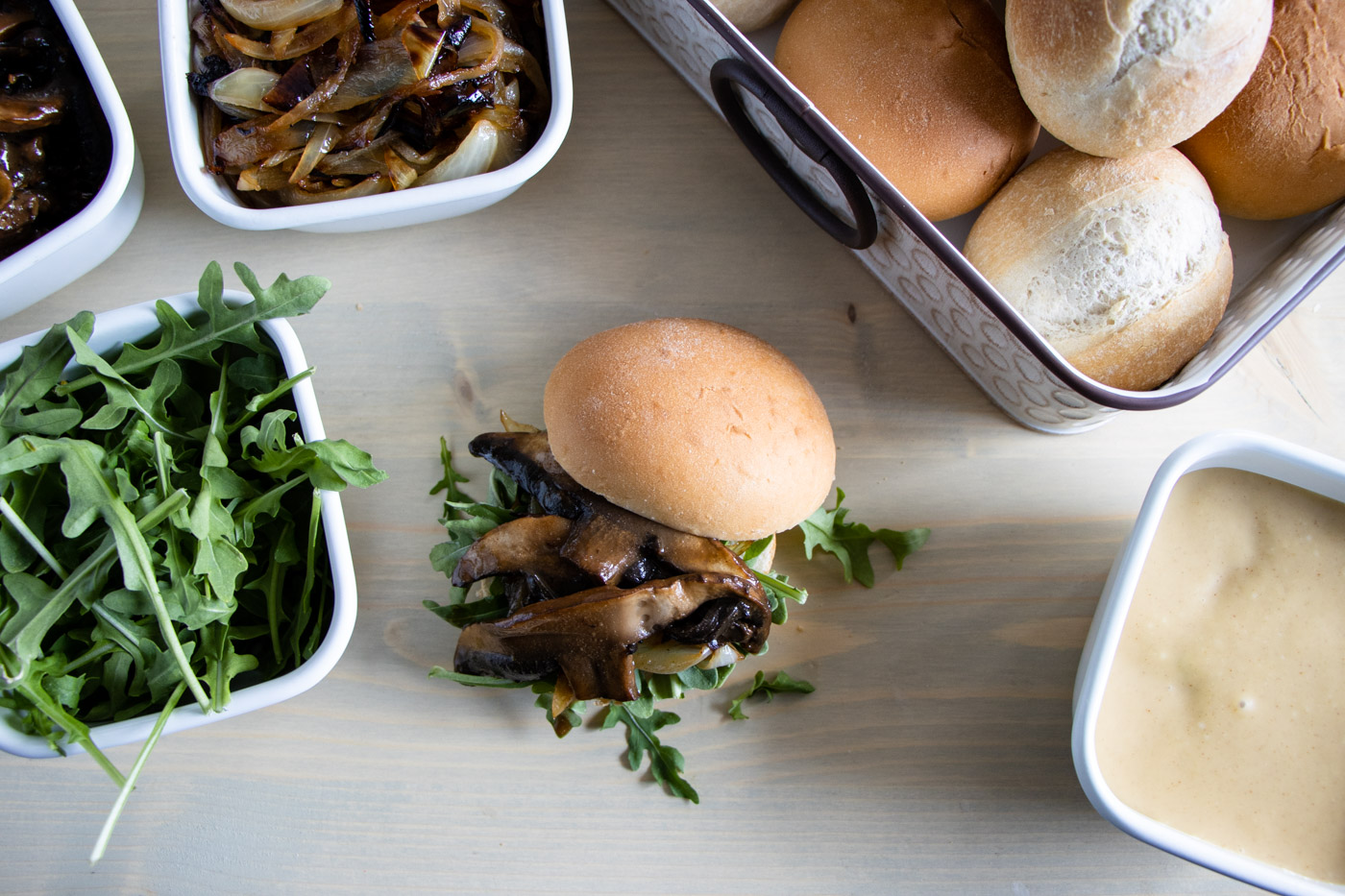 Portobello Sliders
Your taste buds will burst with excitement from the bold flavors packed into this Portobello Mushroom Slider.
Ingredients
6 Rhodes Soft White Rolls, Sourdough Rolls or  Artisan French Rolls
Portobello Mushrooms
2 portobello mushrooms
½ cup balsamic vinegar
3 tablespoons Dijon mustard
2 tablespoons olive oil
1/4 tsp Salt
Caramelized Onions
2 cups sliced onion
2 tablespoons olive oil
1/4 tsp Salt
Maple Dijon Mayo
¼ cup mayonnaise
2 tablespoons Dijon mustard
2 tablespoons maple syrup
1-2 cups fresh arugula for topping
Instructions
Slice the mushrooms into 1/4 inch slices. In a bowl or a bag, add balsamic vinegar, dijon mustard, salt, and olive oil. Add in the sliced mushrooms and stir to coat the mushrooms. Set aside.
Place olive oil in a large frying pan. Then add onion to the frying pan and saute on low for 20-30 minutes.
While the mushrooms marinate and the onions caramelize, bake the rolls according to package instructions. Combine mayonnaise, maple syrup and dijon mustard for the maple dijon mayo.
When the onions are caramelized. Remove them from the pan.
Add the mushrooms and the marinade into the frying pan at medium heat. Stir the mushrooms over medium heat for 3-5 minutes. Remove the mushrooms from the marinade. Leave marinade on medium heat for 2-3 more minutes, until it reduces into a glaze. (If you scrape the bottom of the pan, you should see a clean part of the pan before the sauce fills back in.) Then add mushrooms back in and remove from heat.
Slice a roll in half. Assemble sandwich with the maple dijon mayo, mushrooms, onions and arugula on the Soft White or Artisans French Rolls.
Baking Note
For a vegan option, use Rhodes Thaw Rise and Bake Dinner Rolls that have already been baked according to instructions. Swap a plant base mayo for the mayonnaise in the sauce.