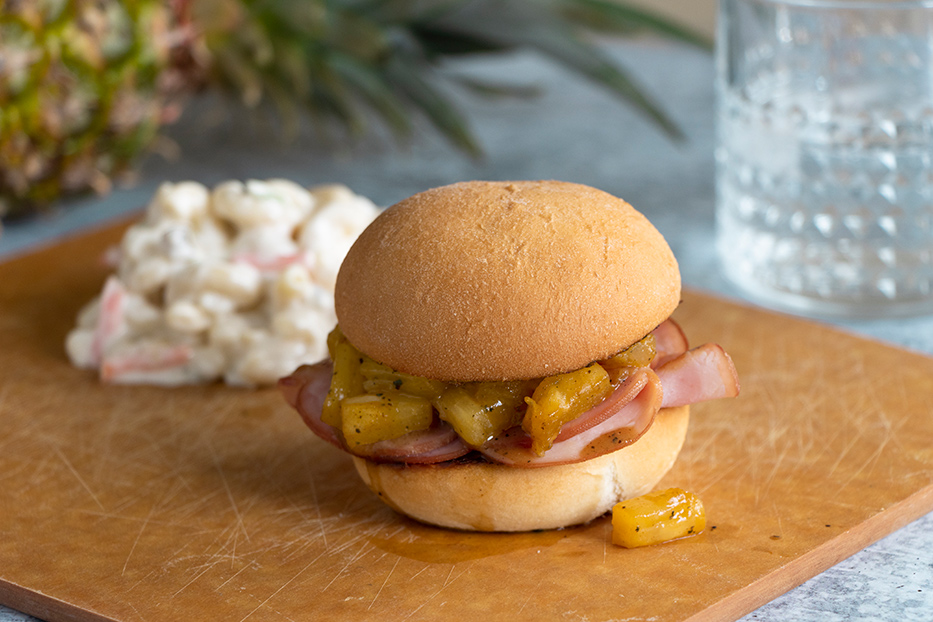 Hawaiian Sliders
This slider will prove to you that ham and pineapple are delicious on more than just pizza.
Ingredients
6 Rhodes Soft White Rolls
1 lb  deli sliced ham
1 20 oz can pineapple tidbits, drained
4 Tablespoons dijon mustard
2 Tablespoons brown sugar
Instructions
Bake roll at 350ºF in oven for 10 minutes or microwave each roll for 25 seconds. Slice roll in half.

Brush the cut sides of the roll with butter. Placing cut sides down, toast the roll on a frying pan on medium heat until they are golden brown. Set aside.

Warm the ham in the frying pan, about 15 seconds on each side. Set aside.
Place pineapple, brown sugar, and dijon in the pan. Cook the pineapple sauce on medium heat, until sauce is well combined and bubbling. About 4 minutes.
Place as much ham as you desire on the bottom half of the roll, and layer pineapple sauce on top. Top with the top of the roll. Repeat with remaining ingredients.
Baking Note
For a dairy free option, use Rhodes Thaw Rise and Bake Dinner Rolls that have already been baked according to instructions. Brush the rolls with olive oil or margarine instead of butter. Follow all other instructions above.