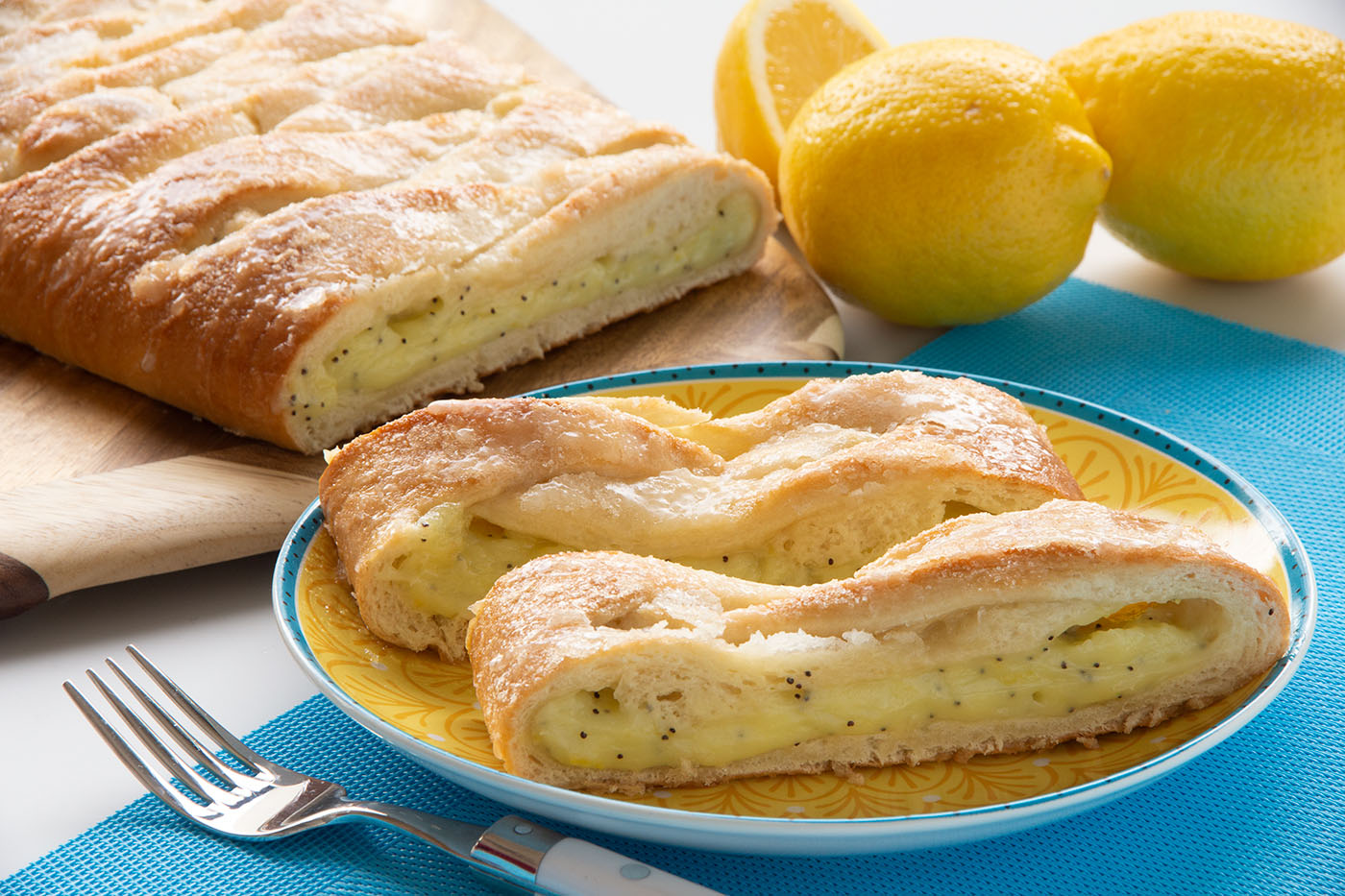 Lemon Almond Poppyseed Braid
A beautiful braid that will stun the table. Filled with a sweet and tart lemon filling accented with the flavor of almond.
Ingredients
18 Rhodes dinner rolls, dough thawed to room temperature
1 cup lemon curd
1/2 cup sugar
8 ounces cream cheese, softened
1 lemon, zested and juiced
1 Tablespoon poppyseed
1 teaspoon almond extract
1 egg, beaten
1/4 cup of sugar
Icing:
1 cup powdered sugar
2 Tablespoons of lemon juice
Instructions
Mix together lemon curd, sugar, cream cheese, lemon zest, poppyseeds, and almond extract.
Spray counter lightly with cooking spray. Combine rolls and roll into a 13 x 18-inch rectangle. Leaving 2 inches at the top and bottom clean, spread lemon filling lengthwise in a 4-inch strip down the center of the dough.
Make cuts 1 1/2 inches apart on long sides of dough to within 1/2-inch of filling. Begin braid by folding top and bottom strips toward filling. Then braid strips left over right. Finish by pulling last strip over and tucking under braid.
Lift braid with both hands and place on a large sprayed baking sheet. Brush with egg and top with 1/4 cup of sugar.
Bake at 350ºF 30-35 minutes.
While baking, mix together powdered sugar and lemon juice to make icing. Remove braid from oven and ice while warm. Refrigerate braid until cooled. Slice and serve cold.