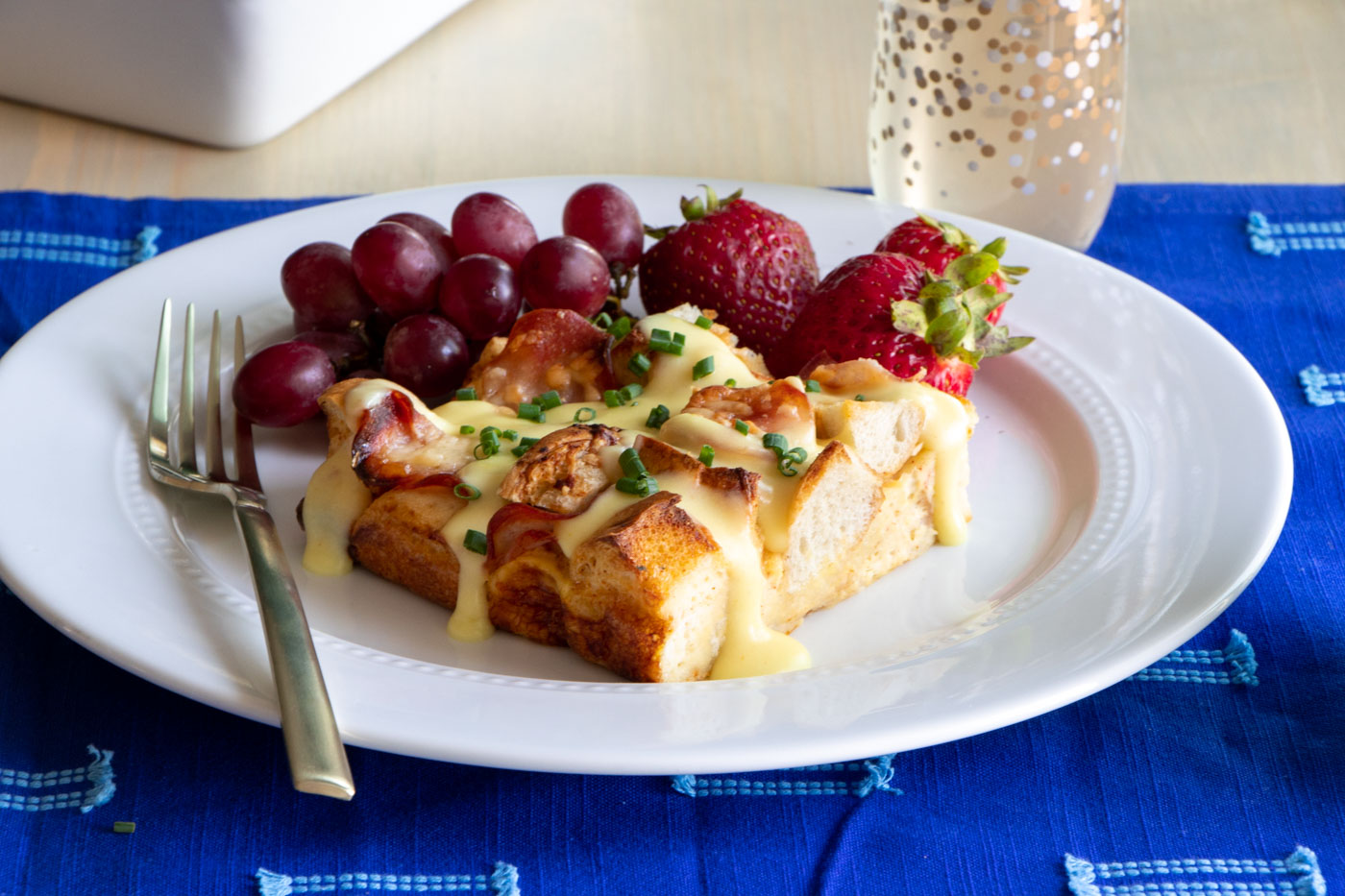 Eggs Benedict Casserole
Bring the flavors of your favorite breakfast into a hearty, family style Eggs Benedict Breakfast Casserole.
Ingredients
6 Artisan French Rolls or Sourdough Rolls, baked according to package instructions
3.5 ounces Canadian bacon, chopped
8 large eggs
2 cups milk
1 teaspoon onion powder
1/4 teaspoon paprika
1 cup grated white cheddar
Hollandaise Sauce (see baking note)
4 large egg yolks
1/2 cup heavy whipping cream
2 tablespoons lemon juice
1 teaspoon Dijon mustard
1/2 cup butter, melted
Instructions
Cut each Artisan French Roll into small 1 inch chunks.
Place half of the Canadian bacon in a 9×13″ baking pan greased with nonstick spray or butter. Top with Artisan French Rolls and remaining bacon. In a large bowl, whisk eggs, milk, onion powder, and paprika. Pour the egg mixture over the casserole. Top with cheese. Refrigerate, covered, overnight.
Preheat oven to 350°F. Remove casserole from refrigerator while oven heats. Bake for 40-45 minutes, cover with aluminum foil if browning too quickly.
Hollandaise Sauce
On top of a double boiler or a metal bowl over simmering water, whisk egg yolks, cream, lemon juice and mustard until blended. Cook until the mixture is just thick enough to coat a metal spoon and temperature reaches 160°F, whisking constantly. Reduce heat to very low. Very slowly drizzle in warm melted butter, whisking constantly. Serve immediately with casserole.
Baking Notes
If making Hollandaise from scratch seems overwhelming, you can purchase a Hollandaise seasoning packet that you just heat with butter and water.