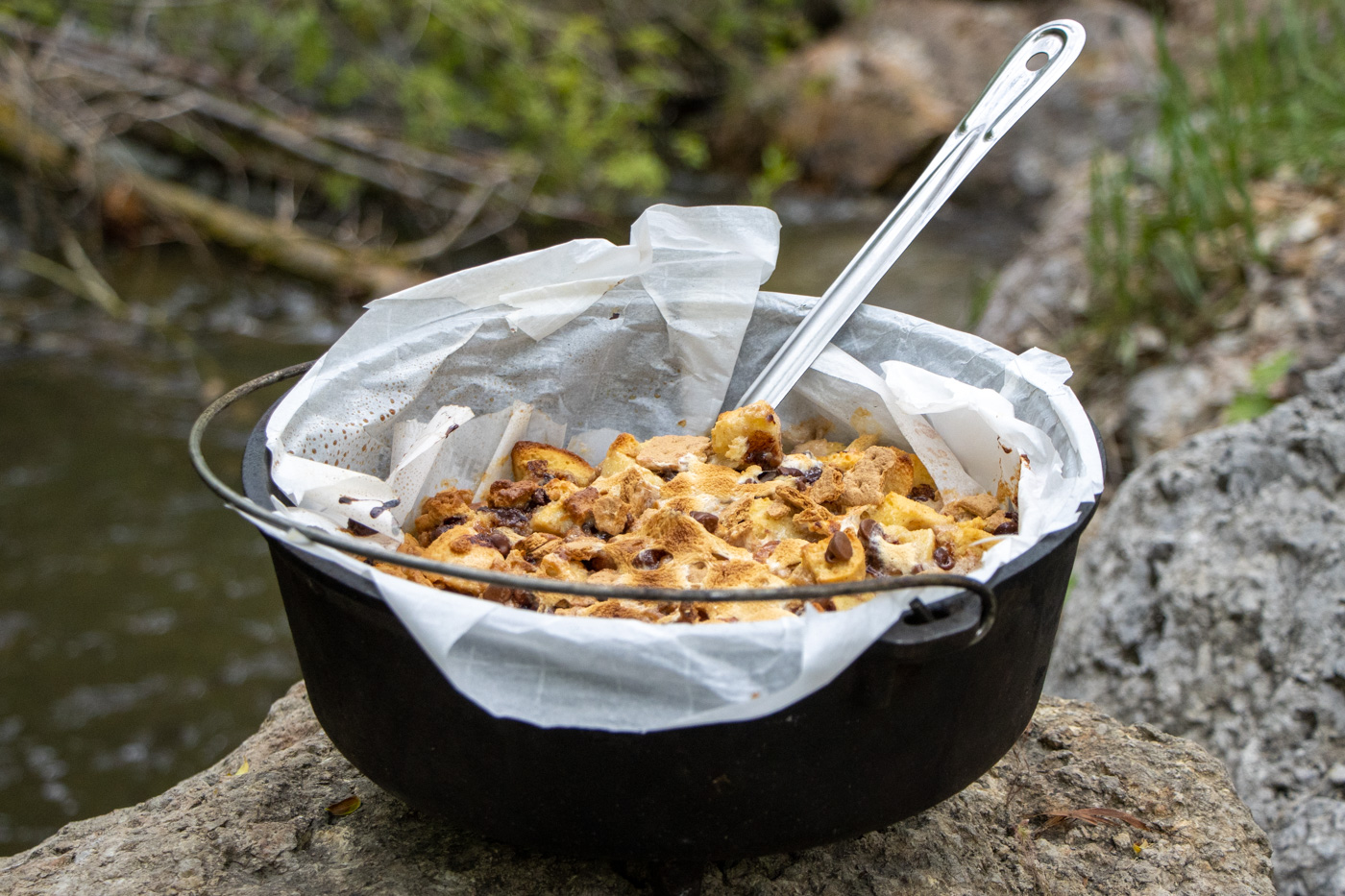 Dutch Oven S'mores Bread Pudding
Bake up a big batch of s'mores in your Dutch Oven with this S'mores Bread Pudding recipe.
Ingredients
6 Rhodes Warm & Serve Artisan Rolls cut into 1-inch cubes
4 eggs
1 (14 ounce) can sweetened condensed milk
¾ cup milk
1½ teaspoons vanilla
3 cups mini marshmallows, divided
2 cups milk chocolate chips, divided
1 1/2 cups coarsely broken graham crackers, divided
Line Dutch Oven with a liner or parchment paper for easy cleanup.
Cut thawed Artisan Rolls into 1" pieces. Places bread cubes in the bottom of the Dutch Oven.
In a medium bowl combine eggs, sweetened condensed milk, milk and vanilla; mix well.
Sprinkle 1½ cups of marshmallows and 1½ cups of chocolate chips over the bread. Pour the egg mixture over the bread and lightly press the bread down to make sure all the bread is coated with the egg mixture.
Let stand for 10-15 minutes then sprinkle 1 cup of graham cracker over the top.
Bake at 350ºF for about 35-40 minutes; for a 10" Dutch Oven 350ºF place 15 coals on top & 9 on the bottom for a 12" Dutch Oven 350ºF place 16 coals on top & 10 on the bottom.
Sprinkle the remaining marshmallows, chocolate chips and graham crackers over the top and continue baking until the marshmallows are toasted; about 5-10 minutes.