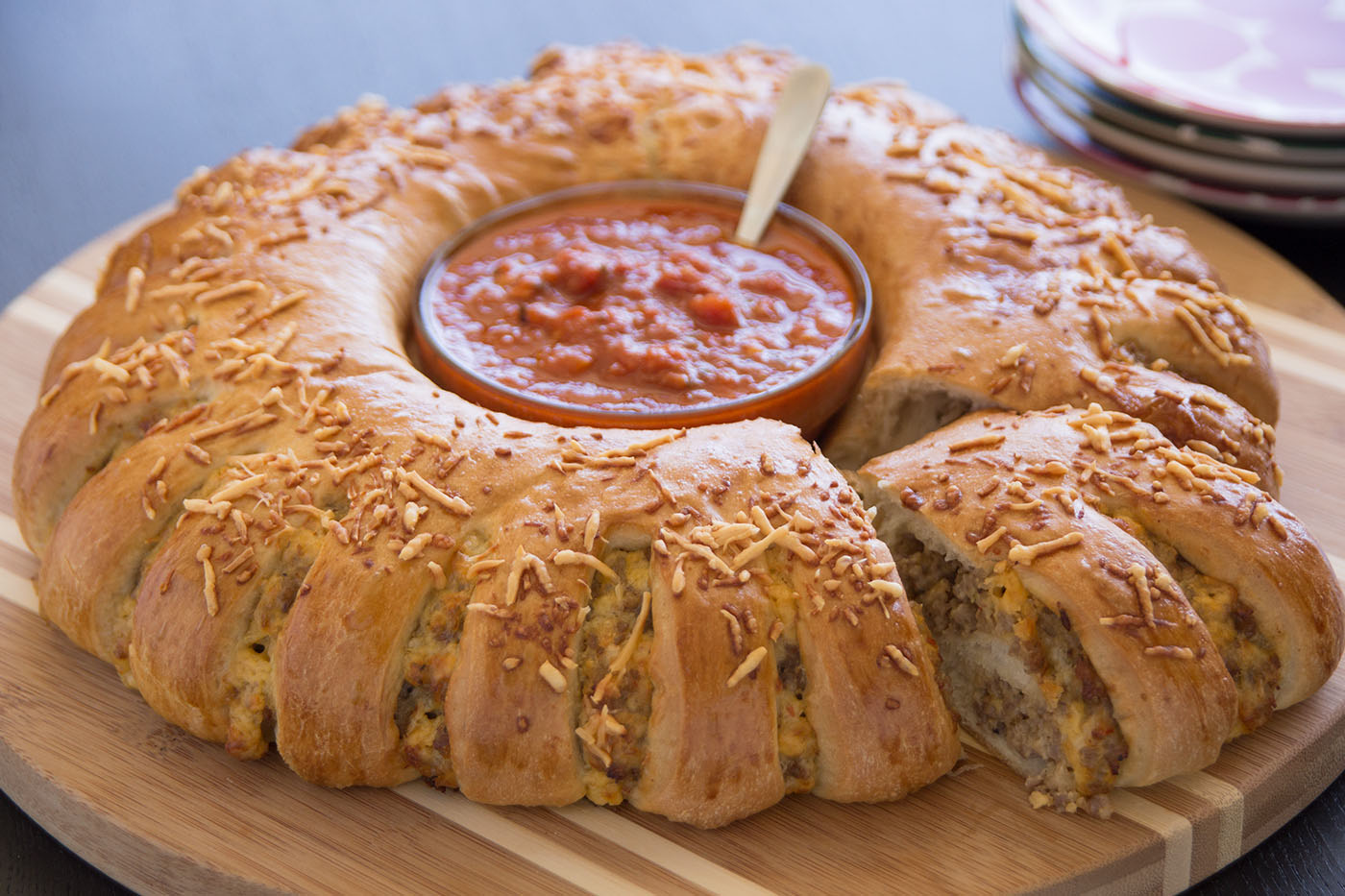 Sausage Stromboli
A delicious stuffed sandwich to feed the whole family.
Ingredients
1 Loaf Rhodes Bread Dough, 12 Rhodes Yeast Dinner Rolls, dough thawed to room temperature
1 pound ground Italian Sausage
1 1/2 cups grated cheddar cheese
2 eggs
1/2 teaspoon Italian seasoning
parmesan cheese, to sprinkle on top
marinara sauce for dipping
Instructions
Brown sausage and drain. Stir in cheese, 1 of the eggs, beaten, and Italian seasoning. Set aside while preparing dough.
On a counter sprayed with non-stick cooking spray roll loaf or combined rolls into an 18×16 inch rectangle. Spoon sausage mixture onto dough and spread evenly to within 1/2 inch of edge. Roll dough up starting on a long side. Pinch to seal seam. Place, seam side down, on sprayed baking sheet to form a circle. Pinch ends together.
Make cuts with scissors all the way around the outside of the ring. The cuts should be about 1 inch apart and two thirds of the way into the ring (place an oven safe bowl in the center of the ring to help retain the circle in the middle). Whisk the remaining egg and brush it over the ring. Sprinkle with parmesan cheese and cover with sprayed plastic wrap. Let rise until double in size.
Remove wrap and bake at 350 degrees F 25-30 minutes or until golden brown. Serve with marinara sauce for dipping.