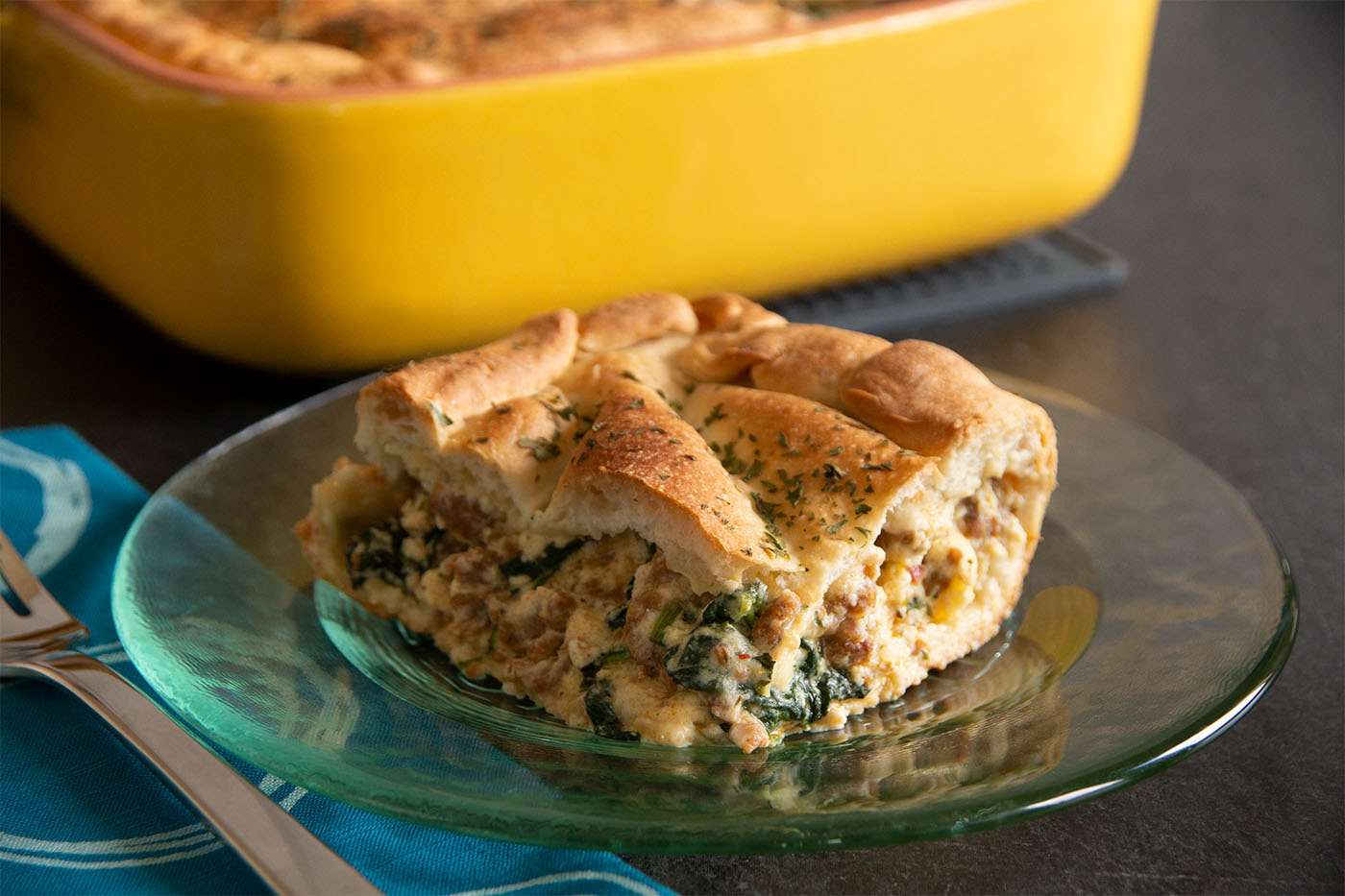 Sausage and Three Cheese Deep Dish Pie
This will be your, "Oh-so-good, can't wait to eat it" recipe.
Ingredients
9 Rhodes Yeast Dinner Rolls, thawed to room temperature
Filling:
1 pound Italian sausage
1 15 ounce carton ricotta cheese
1 bag spinach
1 cup grated mozzarella cheese
1 cup grated Romano cheese
1/4 cup dried parsley flakes
1 teaspoon fresh ground pepper
1 teaspoon salt
1/2 teaspoon fresh, minced rosemary
1 teaspoon fresh, minced basil
1 teaspoon fresh, minced garlic
Instructions
Spray counter lightly with non-stick cooking spray. Combine 6 rolls and roll into an 12×12-inch square. Then combine remaining 3 rolls and roll into a 9×9-inch square. Cover both with plastic wrap and let rest.
Brown the sausage. Combine the sausage with all the remaining ingredients and mix well until spinach is wilted. Remove plastic wrap from dough and place larger square of dough in a sprayed 9×9-inch pan, so it comes up the sides of the pan.
Fill the crust evenly with the sausage mixture. Lay the smaller rectangle of dough on top of the filling. Press the edges of dough together to seal. Cut several vents on top.
Bake at 350 degrees F 55-60 minutes. Cover with foil after 30 minutes to prevent over browning. Let sit for 10 minutes before cutting into squares.