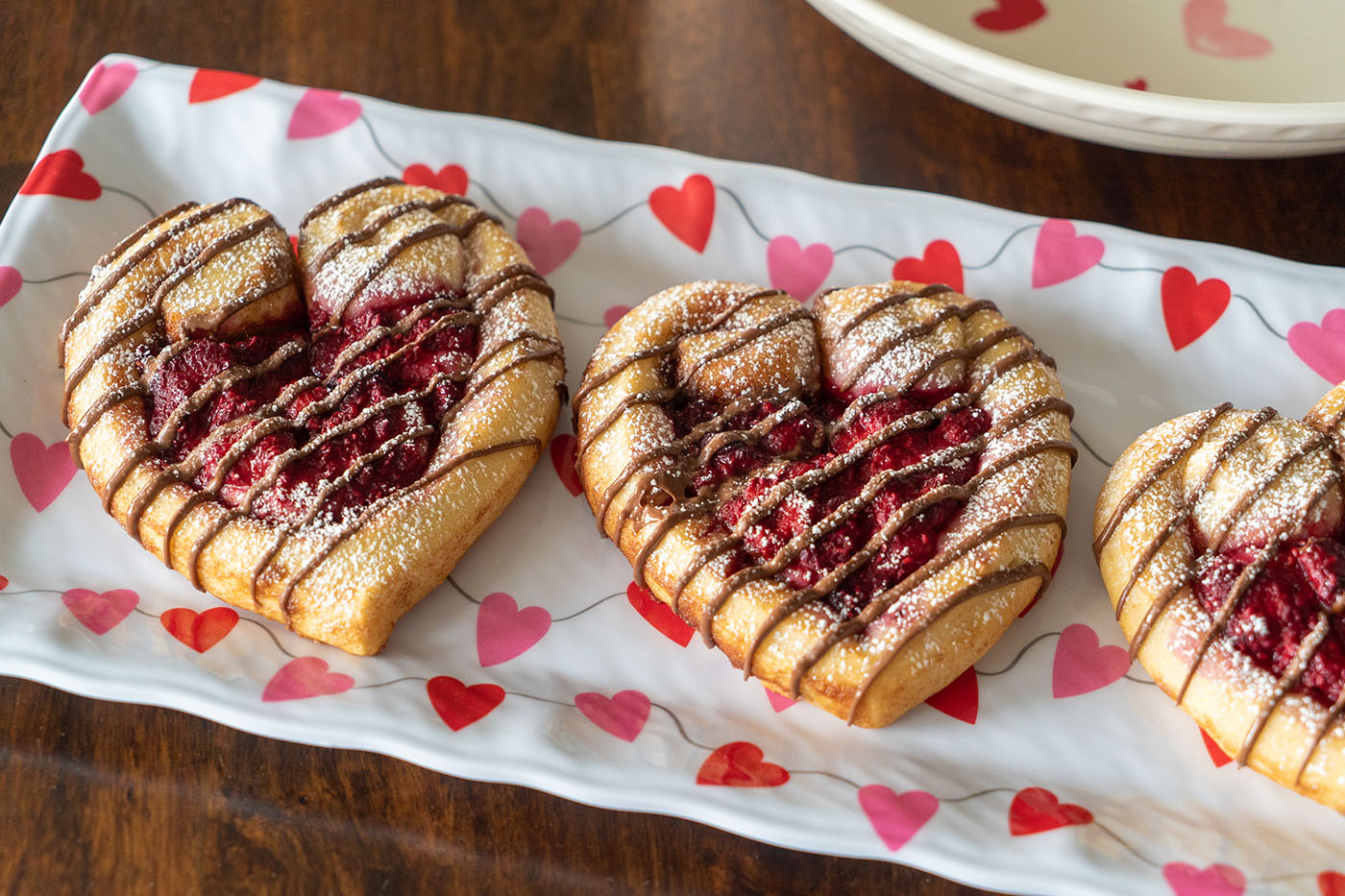 Heart Shaped Raspberry Cinnamon Rolls
Make this indulgent dessert for your loved ones or just yourself this Valentine's Day
Ingredients
12 Rhodes Cinnamon Rolls, thawed but still cold
12 oz package frozen raspberries, thawed
2 tablespoons sugar (optional)
1 1/2 teaspoons cornstarch
chocolate hazelnut spread
powdered sugar
Instructions
Set 3 thawed cinnamon rolls aside. Unwind the remaining 9 cinnamon rolls, leaving the center still coiled. Coil the unrolled end to match the center.
With each roll, place the two coiled ends together and pull the middle down to make the point of the heart. Pinch point tightly. Place on a sprayed baking sheet.
Take the three remaining cinnamon rolls and unwind completely. Cut each into 5 inch pieces. (Giving you nine 5 inch strips.)  Flatten the cut pieces and fold each one into a V-shape. Press one V-shape piece into the center of each heart to make a base for the filling.
Cover with sprayed plastic wrap and let cinnamon rolls rise until double in size.
Mix sugar, cornstarch and raspberries.
When rolls are risen, carefully fill the center of the hearts with raspberry filling.
Bake at 350º F 10-15 minutes.
Using a spatula, transfer the cinnamon rolls to a baking rack to cool.
Slowly warm chocolate hazelnut spread  in the microwave. Drizzle on the cinnamon roll hearts, then dust with powdered sugar.