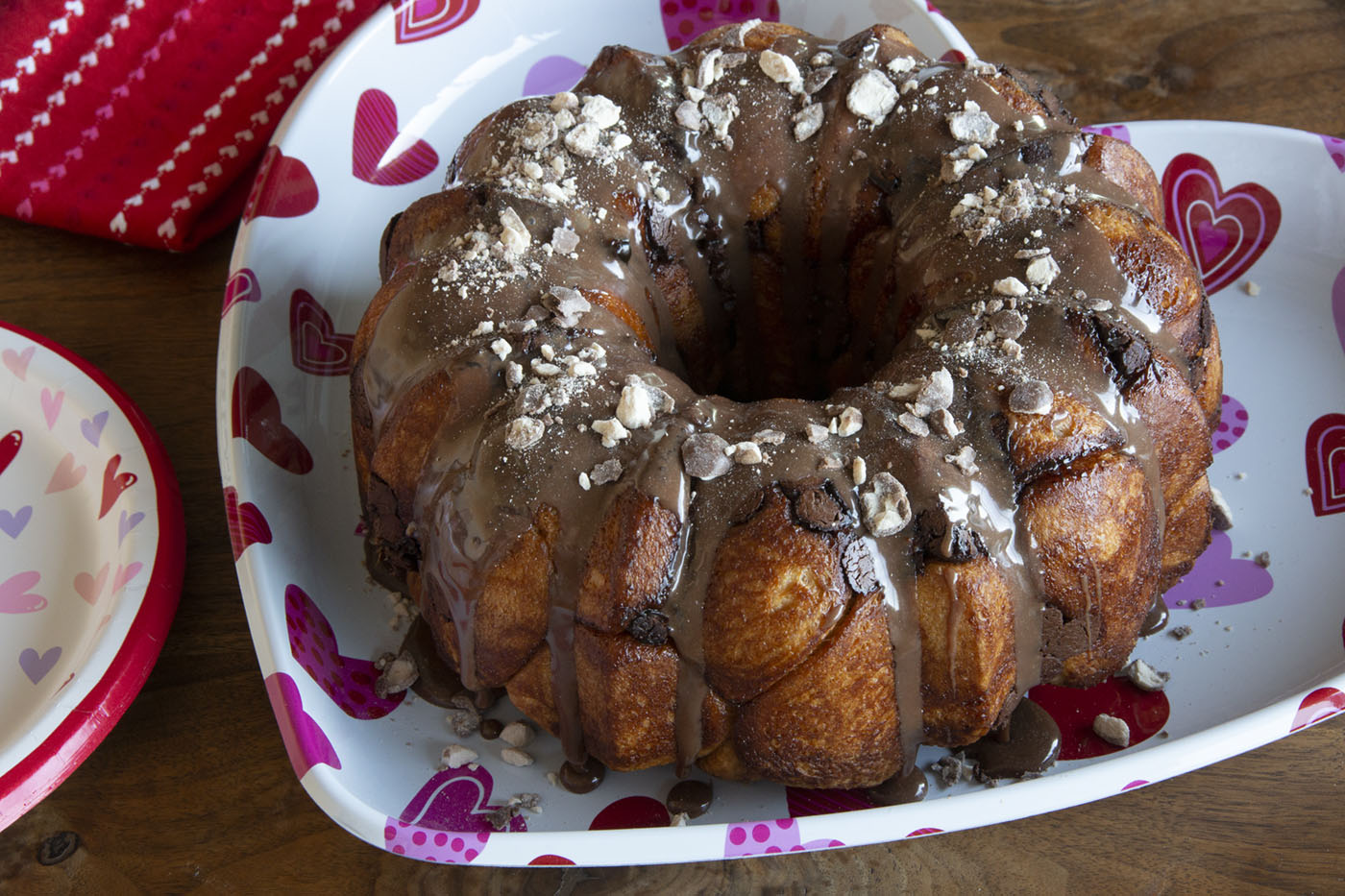 Chocolate Malt Bundt
Chocolate and bread swirled together make this loaf just as beautiful as it is delicious.
Ingredients
24 Rhodes White Dinner Rolls, dough thawed to room temperature
1/4 cup butter, melted
1/2 cup Ovaltine™ Classic Malt Mix or Nesquik® Chocolate Milk Powder
3/4 cup chocolate chips
For the topping:
1 14oz can sweetened condensed milk
1/4 cup chocolate chips
4 Tbsp Ovaltine™ Classic Malt Mix or Nesquik® Chocolate Milk Powder
1/2 cup crushed malt balls
Instructions
Cut rolls in halves. Place Malt Mix in one bowl and melted butter in another. Spray bundt pan with nonstick spray and sprinkle 1/8 cup chocolate chips at the bottom of the pan. Roll each roll piece in butter then in the Malt Mix. Place 24 of the coated pieces in the bottom of the bundt pan and sprinkle with 1/3 cup chocolate chips. Layer the remaining pieces over top and sprinkle with remaining 1/3 cup chocolate chips. If any is left, sprinkle the remaining melted butter and Malt Mix over the top of the bundt. Cover with sprayed plastic wrap and let rise approximately 30-60 minutes until dough is level with the top of the pan.  Remove plastic wrap and bake at 350ºF for 35-40 minutes, covering with foil halfway through baking. Remove from oven and wait 3-5 minutes before inverting onto serving tray.
Place Malt Mix, sweetened condensed milk, and chocolate chips in a microwave safe bowl. Heat on high for 30 seconds. Stir mixture until fully combined. Pour over top of the bundt. Top with malt balls.