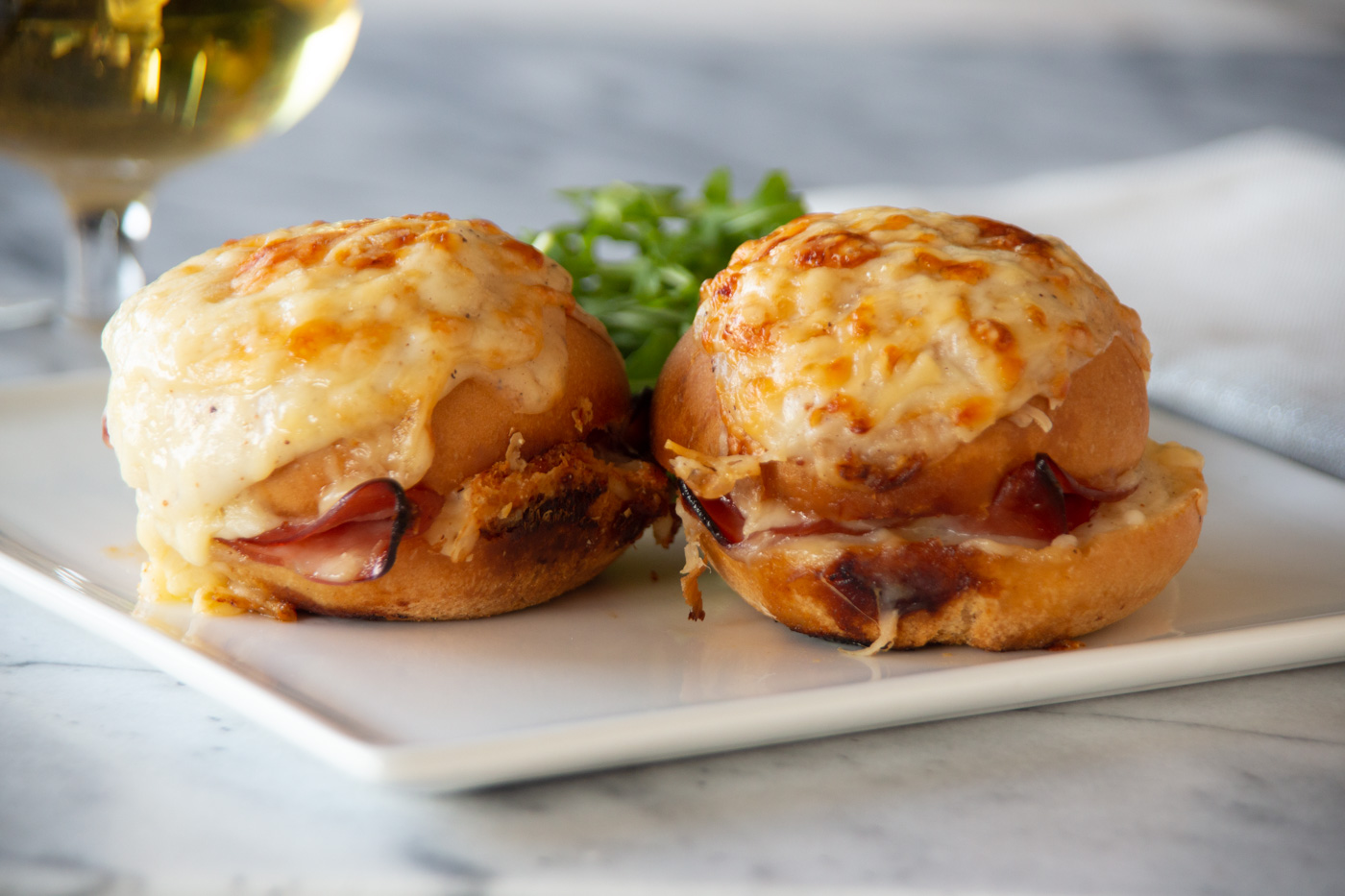 Croque Monsieur
This classic French cafe staple is really just a fancied up ham and cheese sandwich and so easy to make at home! Oui Oui!
Ingredients
5 Rhodes Warm & Serve Soft White Rolls, thawed to room temperature
5 oz Gruyere cheese
5 slices of ham
2 Tbsp butter, melted
1/3 cup milk
1 Tbsp flour
1 Tbsp butter
1 tsp nutmeg
Instructions
First make a white sauce also known as a béchamel. To make the béchamel, place a small pot on the stove at medium heat. Melt 1 Tablespoon of butter in the pot until it bubbles, whisk in the flour until its combined. Slowly pour in the milk as you whisk to avoid clumping. Continue to whisk until thickened, about 3-5 minutes. Remove from stove and whisk in the nutmeg. Set aside.
Slice each of the rolls in half to make the sandwiches. Spray a 9×9 pan with nonstick spray. Arrange the bottoms of the five rolls in the pan. Brush each of the sliced rolls with butter. Layer ham on each of the rolls. Top with 2 1/2 ounces of the shredded Gruyere. Place once tablespoon of béchamel on top of each of the sandwiches. Brush each of the top halves of the rolls with some butter and close the sandwiches. Pour the remaining béchamel over the sandwiches and top with remaining cheese.
Bake at 350ºF for 20 minutes or until the cheese is golden and bubbly. Remove from oven and serve warm.
Note: top each sandwich with a fried egg to make a croque madame.