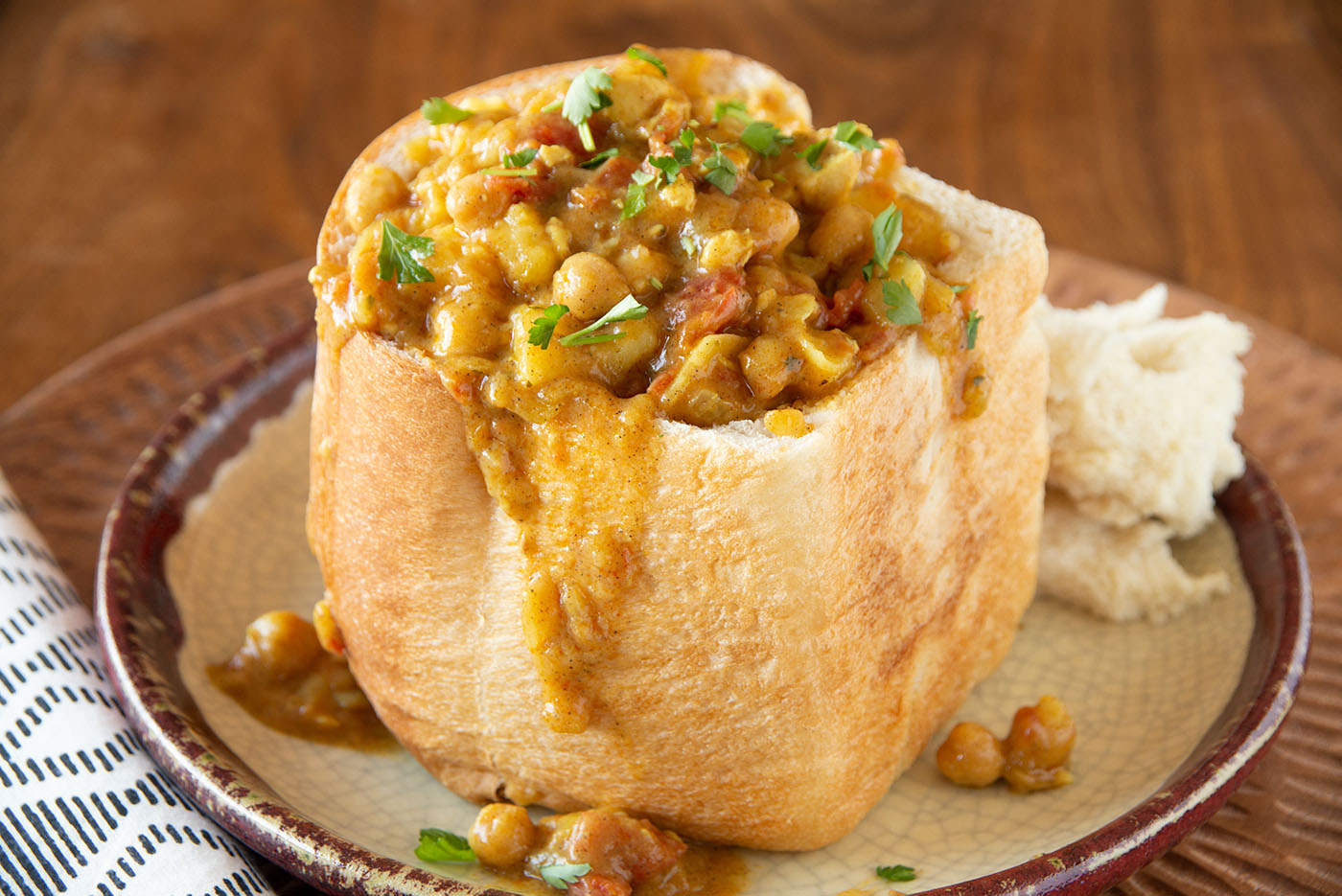 Chicken Curry Bunny Chow
Love curry and bread? This delicious and unique dish is called Bunny Chow and is a South African street food favorite.
Ingredients
1 loaf Rhodes Bread, or 12 Rhodes dinner rolls
2 chicken breasts, chopped into bite-size pieces
1 can chickpeas, drained
1 can cream of chicken soup
1 can green chilis and tomatoes
3 medium Yukon potatoes, peeled and cubed
1 tbsp Curry powder
1 tsp Cinnamon
1 tsp Cumin
1 tsp Cardamom
1 large yellow onion, diced
3 cloves garlic, diced
2 tbs vegetable oil
Instructions
Bake bread according to package directions. If using Dinner Rolls, place 12 rolls in the bottom of a sprayed 8 1/2 x 4 1/2 x 2 1/2 inch bread pan. Cover with plastic wrap and let rise until double in size. Remove wrap and bake at 350°F 20-25 minutes. Cut loaf in half and hollow out; creating a bread bowl for curry.
Warm a large skillet with vegetable oil. Sauté onion until translucent. Add in spices and garlic.
Add chicken breast to the skillet and sauté until outside is cooked, but inside is not. Add in chickpeas, tomatoes and chilis, chicken soup, and potatoes. Fill up the chicken soup can with water and add the water to the skillet as well. 
Bring bunny chow to a simmer for 30 minutes or until potatoes are fork tender.