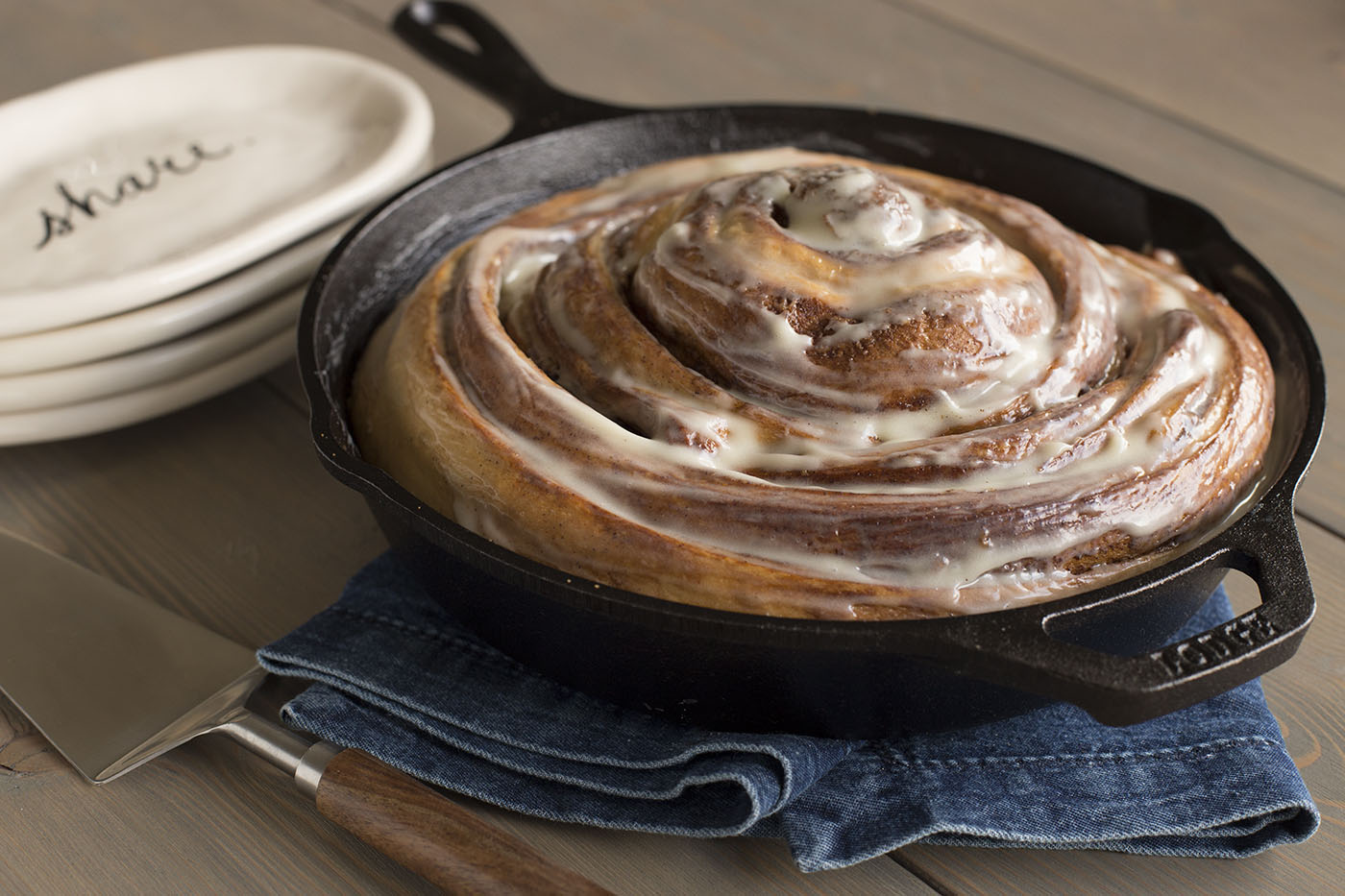 Cast Iron Cinnamon Roll
There are not many things better than a GIANT Cast Iron Cinnamon Roll.
Ingredients
18 Rhodes Yeast Dinner Rolls, dough thawed to room temperature
3 Tablespoons butter, melted
3/4 cup light brown sugar
5 teaspoons cinnamon
Icing
1 1/2 cups powdered sugar
3-4 Tablespoons milk
1 1/2 Tablespoons butter, softened
1/2 teaspoons vanilla or almond flavoring
Instructions
Combine rolls, on a lightly sprayed counter. Roll dough into a 10×24 inch rectangle. Brush with melted butter. Combine sugar and cinnamon and sprinkle evenly over butter. With a pizza cutter, divide the dough into 5 long strips 2 x 24 inches.
Starting from a 2 inch side, roll the first strip up, making a cinnamon roll. Place the roll at the beginning of the second strip, rolling the same direction. Repeat with remaining strips making one giant cinnamon roll. Roll loosely to leave room for the dough to rise out rather than up.
Place the roll in the center of a sprayed 9 inch skillet or cake pan. Cover with plastic and let rise until roll fills the pan.
Cover with foil to prevent over browning. Bake at 350 for about 50 minutes or until center is done. Remove foil and allow to brown about 10 minutes. Remove from oven and let rest.
Combine icing ingredients and spread over roll while still warm.
Baking Notes
This can be made on a pellet smoker, such as a Traeger Grill. Simply follow all instructions but bake only for 40-50 minutes, covering halfway through.