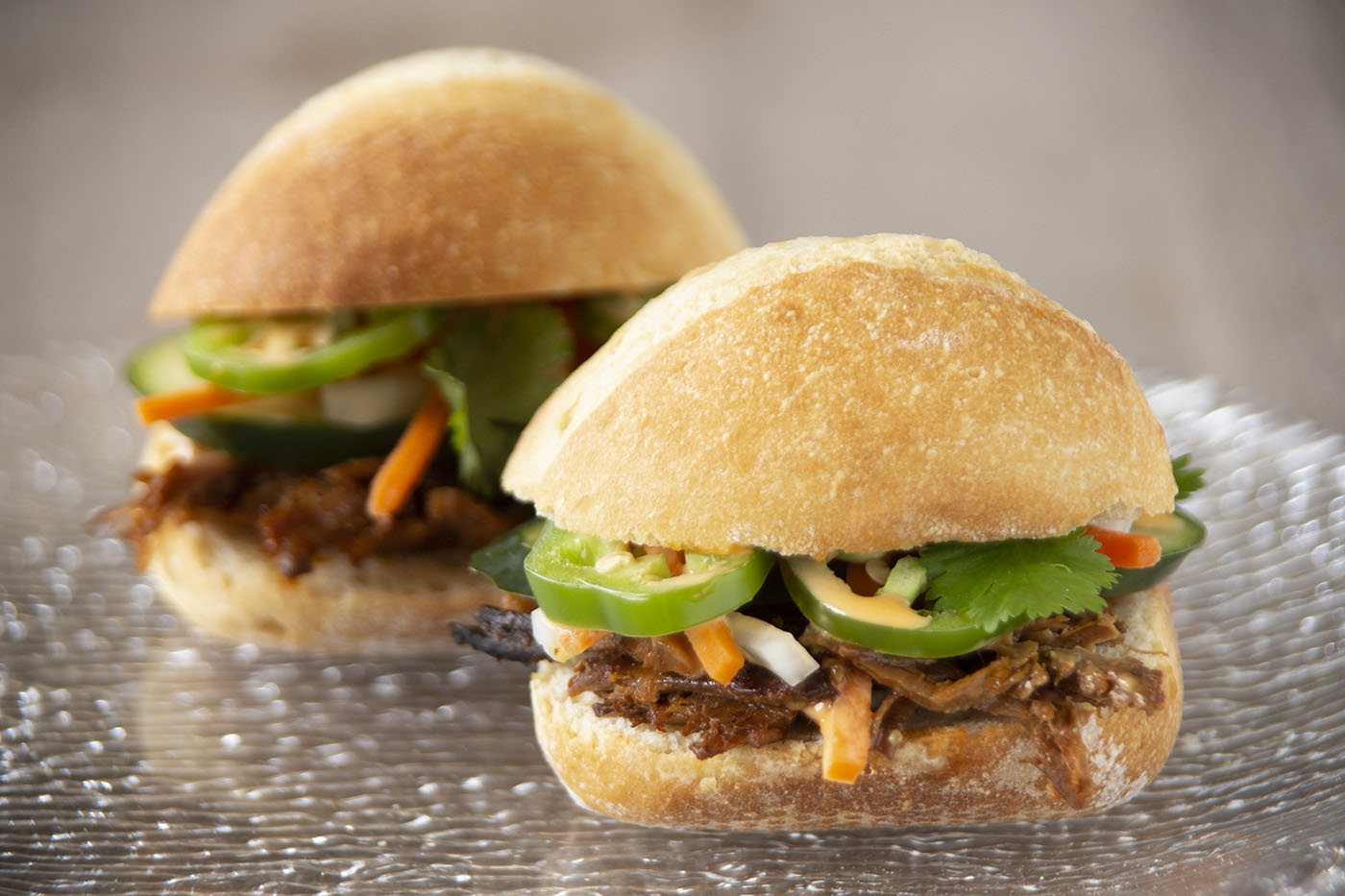 Banh Mi Sliders
Switch up dinner with this vibrantly flavored, Vietnamese sandwich. Perfectly balanced spicy, sweet and salty flavors sandwiched between a delicious French roll.
Ingredients
24 Rhodes Warm & Serve Artisan French Rolls, baked according to directions on package
Pork
2.5 lbs pork roast
1/2 cup barbecue sauce
2 Tbsp fish sauce
2 Tbsp hoisin sauce
1/4 cup water
1  Tbsp salt
3 diced green onion
Pickled Vegetables
Daikon Radish, cut into sticks
Carrot, cut into sticks
1 cup vinegar
1 cup water
1 Tbsp sugar
1 tsp salt
Toppings
Cucumber, sliced
Cilantro
Jalapeño, sliced
Sriracha Mayo
Instructions
Sear the pork roast on all sides until golden brown, about 2 minutes per side. Mix barbecue sauce, fish sauce, hoisin sauce, water, salt and green onions together and pour into a Crockpot or an Instapot. Place the seared roast in the pot and roll the roast to cover completely in the sauce. Cook in a crockpot on low for 8 hours, or in the Instapot for 90 minutes on high.
While pork is cooking, bake rolls according to package instructions. Mix vinegar, water, sugar and salt together. Submerge veggies in the mixture for a minimum of 5 minutes. Drain when they have reached your desired pickled flavor.
If using an Instapot let the pressure release naturally for 10 minutes. Shred the pork in the sauce.
Slice rolls in half and pull the center of the bread out of the roll. Layer pork, cucumber, pickled vegetables, jalapeno and cilantro on a roll. Top with Sriracha mayo and the other half of the roll. Serve while pork is still warm.