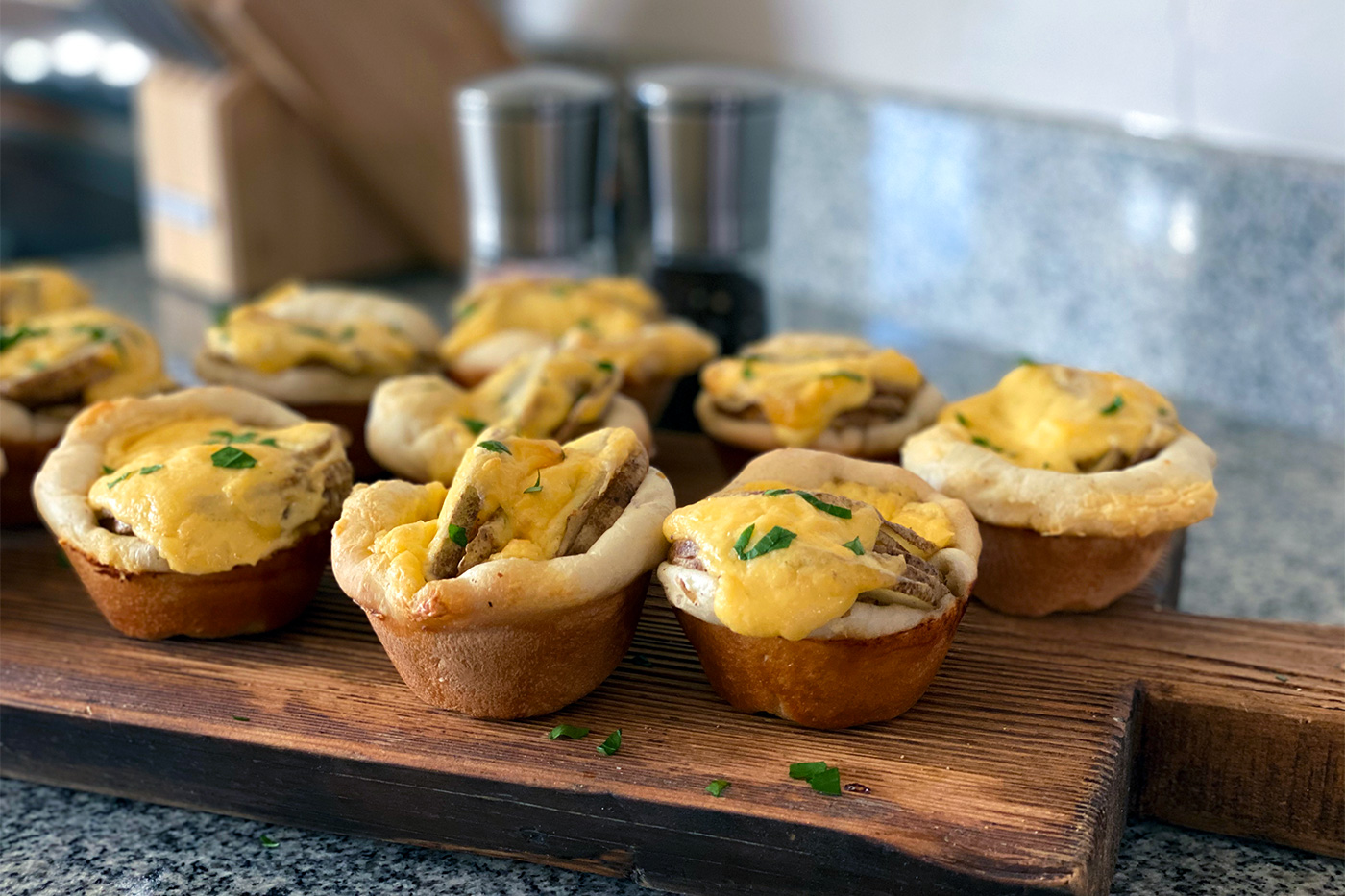 Scallop Potato Cups
Make your scalloped potatoes a handheld treat with Rhodes. These cheesy potatoes are sure to disappear from your table!
Ingredients
12 Rhodes White Dinner Rolls, dough thawed to room temperature
2 medium russet potatoes, sliced thinly
3/4 cup cheddar, shredded and divided
1 Tbsp oil
1 clove garlic, minced
1 Tbsp butter
3/4 cup milk
1 Tbsp flour
Salt and pepper to taste
Instructions
Place all of the sliced potatoes in a bowl, drizzle with oil and add salt pepper and garlic. Toss to combine.
Spray a muffin pan with non stick spray. Roll out each roll to a 5 inch circle. Place each rolled out roll in each cup.
Using 1/4 cup cheddar, evenly distribute cheese in the bottom of the cups. Evenly distribute potato slices by standing them up in each cup.
Melt butter in a pot on the stove over medium heat. Once melted and bubbling, whisk in flour. Once the flour is combined with butter and there are no clumps, slowly whisk in milk.
Let the mixture thicken while stirring, this should take around 3-5 minutes. Whisk in 1/2 cup cheddar.
Evenly distribute the cheese sauce among the potato cups.
Bake at 350ºF for 30-35 minutes, or until the cheese sauce has become golden on top. Remove and serve warm.
Baking Notes
8-12 hours before making, place 12 Dinner Rolls in a sprayed muffin tin. Cover with sprayed plastic wrap and place in a fridge. By the time it is time to make these Scalloped Potato Cups, the rolls will be thawed and ready to roll out.
These can be baked on a smoker or grill over indirect heat at 350ºF for 30 minutes. Watch the temperature closely to make sure heat isn't getting too hot or cold. Keep the lid closed as much as possible.