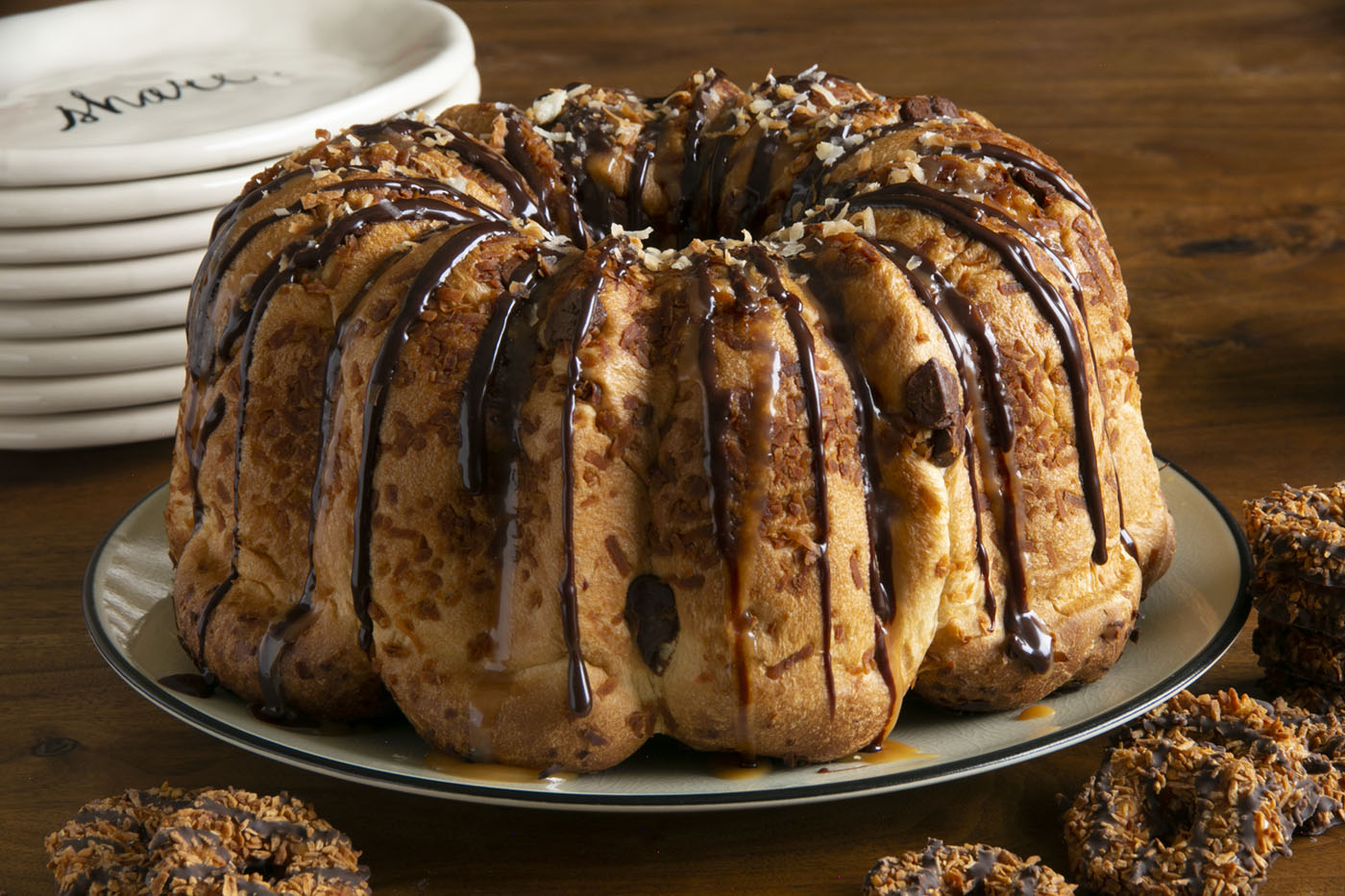 Samoa Bundt
Chocolate, coconut and caramel layered together in a delicious Samoa Bundt.
Ingredients
24 Rhodes White Dinner Rolls, dough thawed to room temperature
1 cup sweetened coconut flakes
1/2 cup chocolate chips
24 soft caramels, unwrapped
4 Tbsp butter, melted
Chocolate sauce:
1/8 cup chocolate chips
1/8 cup heavy cream
Caramel sauce:
1/8 cup caramels
1/8 cup heavy cream
Instructions
Spread coconut flakes on a baking sheet and place in an oven at 350ºF for ten minutes to toast the coconut. Remove from oven and mix it around then place it in the oven for 5 more minutes. Remove from oven and let cool.
Flatten out one roll. Roll one caramel in the toasted coconut and place in the center of the flattened roll. Wrap the roll around the caramel. Repeat with remaining rolls and caramels.
Spray a bundt pan with nonstick spray. Roll each roll in the melted butter and then in coconut flakes, place in bundt pan. Once all rolls are in the bundt pan, sprinkle the 1/2 cup chocolate chips over the rolls. Cover with sprayed plastic wrap and let rise for 30 to 50 minutes.
Remove plastic wrap and bake at 350ºF for 35-40 minutes or until the rolls turn a deep golden brown. Remove from oven and invert onto a serving plate.
Make topping sauces: To prepare ganache, melt chocolate in a microwave safe bowl in 10 second intervals. Stir every 10 seconds. Keep microwaving until it is mostly melted. In a spall sauce pot on the stove place the heavy cream. Heat the heavy cream over medium heat until bubbles start to climb the edges of the pot. Pour the heavy cream slowly into the chocolate while whisking the chocolate. Keep stirring until the heavy cream and chocolate have fully combined.
To make the caramel sauce follow the same instructions as the chocolate sauce but with caramels.
Drizzle the sauces over the bundt and top with some of the remaining toasted coconut.