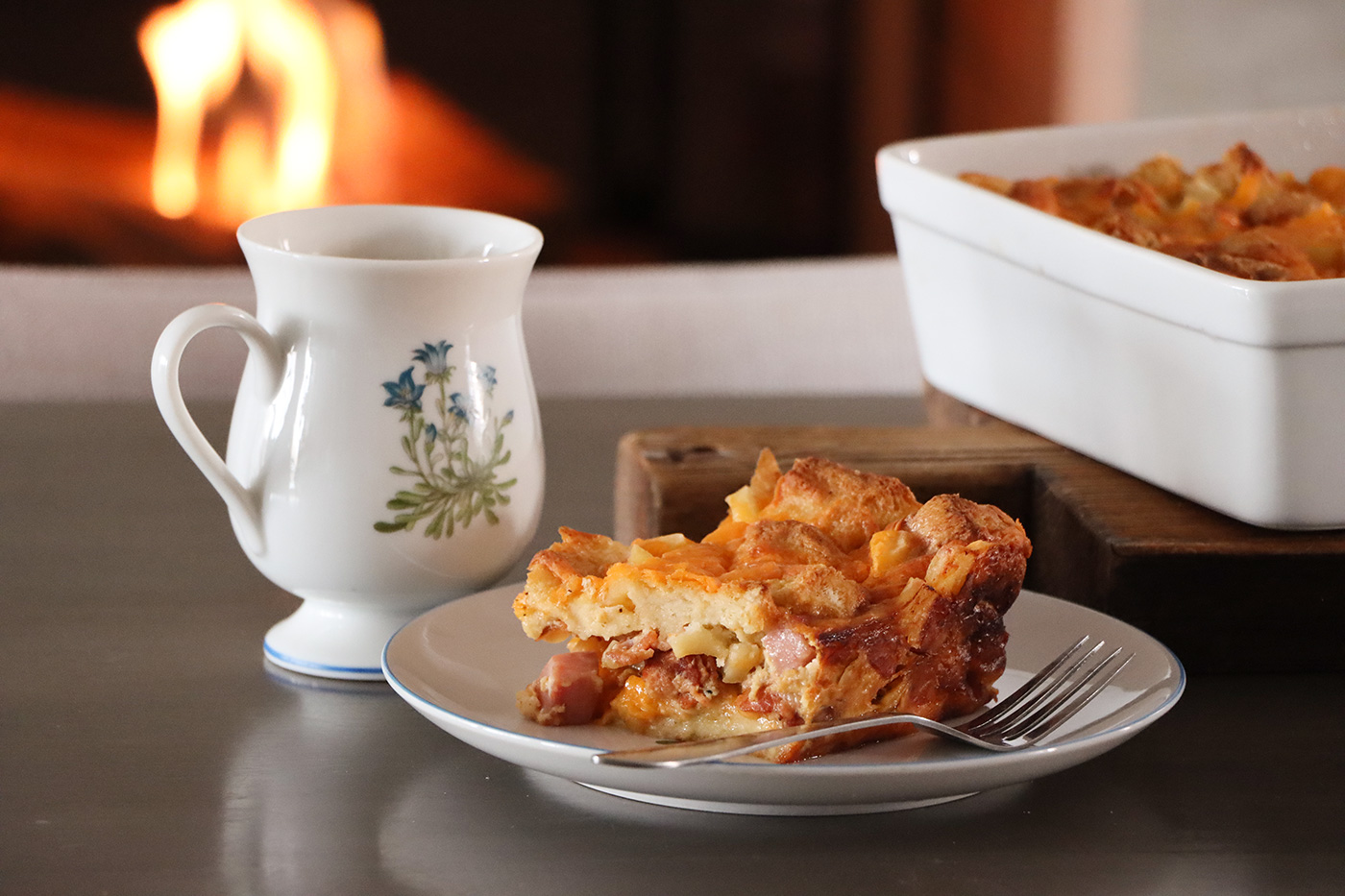 Farm Breakfast Casserole
The most flavorful and delicious breakfast casserole around!
Ingredients
1 loaf
Rhodes Bread Dough
, baked and cooled
1 pound sliced bacon, diced
1 small yellow onion, chopped
2 1/2 cups chopped fully cooked ham
2 cups southern style frozen hash brown potatoes
3 cups shredded Cheddar cheese
8 large eggs
3 cups milk
1 tablespoon Worcestershire sauce
1 teaspoon ground mustard
1/4 teaspoon salt
1/4 teaspoon pepper
Instructions
Slice and cube baked bread. Set aside.

In a skillet, cook bacon until crisp; add onion. Cook and stir until onion is tender; drain and add ham.

In a sprayed 9×13-inch pan, layer half the bread cubes, potatoes and cheese. Top with all of the bacon mixture. Repeat layers of bread, potatoes and cheese.

In a bowl, beat eggs; add milk, Worcestershire sauce, mustard, salt and pepper.

Pour egg mixture over bread layers. Cover and refrigerate overnight or at least 4 hours.

Remove from refrigerator 30 minutes before baking.

Remove covering and bake at 325°F 65-70 minutes or until a knife inserted near the center comes out clean. Cover with foil last 15-20 minutes of baking, if necessary, to prevent over browning.
Baking Notes
Cooked ground sausage can be substituted for the ham and bacon.
Make It A Freezer Meal
Complete the recipe up to step 6. Cover the casserole and freeze it.
When ready to bake, place frozen casserole in preheated oven uncovered. Bake at 350 for 1 1/2 – 2 hours.
Or
Partially thaw at room temp or overnight in the refrigerator. Bake at 350 for 1 hour.
Be sure you are using freezer to oven safe dishes or opt for disposable foil pans that make clean up.