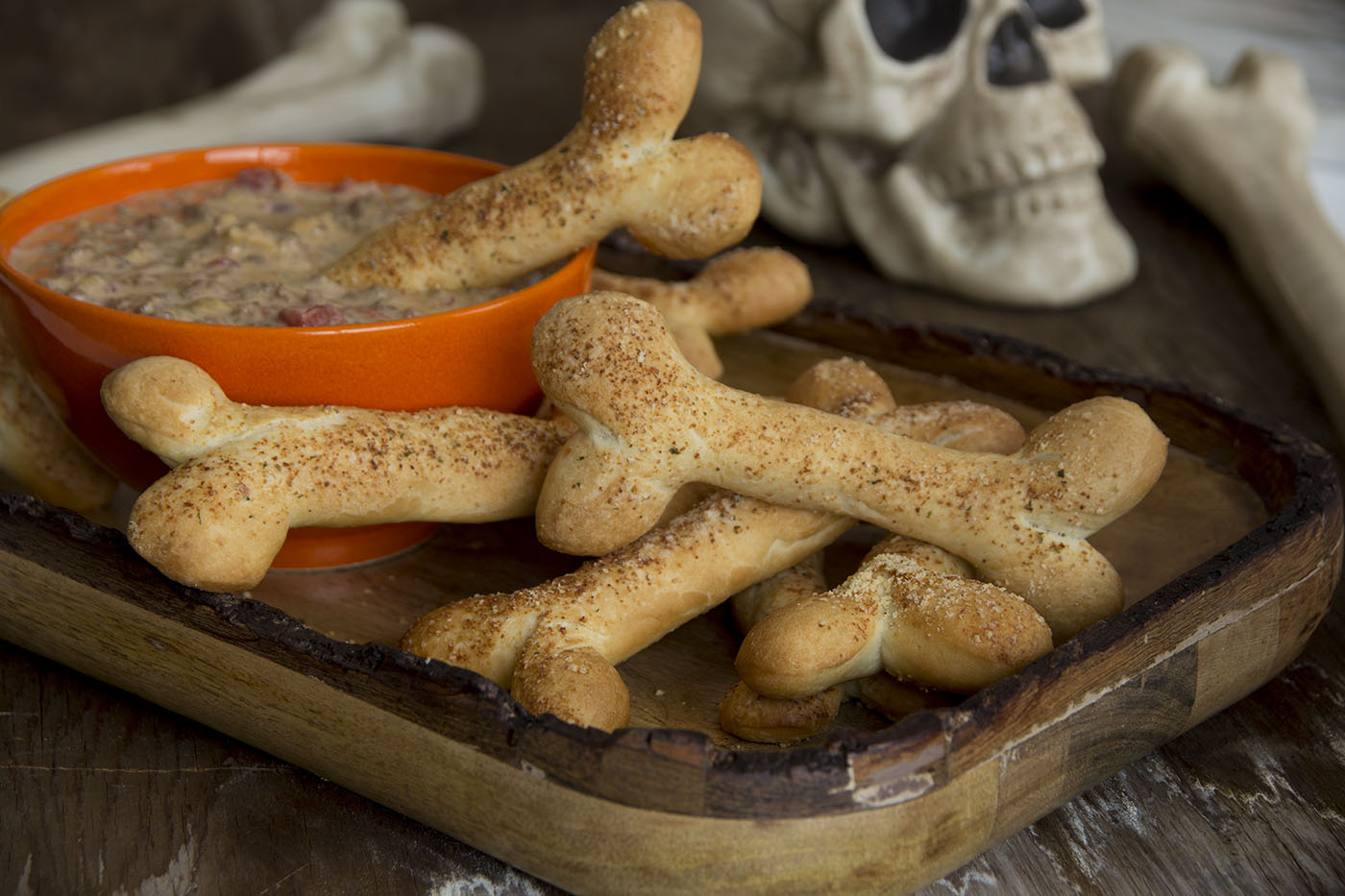 Bone Chillin Breadsticks
When little trick-or-treaters are chilled to the bone, warm them up with hot Bone Chillin Breadsticks fresh from the oven! Break one of these bones, and they're ready for dippin in a hip Halloween dip!
Ingredients
12 Rhodes Yeast Dinner Rolls or 1 Loaf Rhodes White Bread, thawed but still cold
1/4 cup butter, melted
Parmesan cheese
garlic salt
Halloween Cheese Dip:
1 pound lean ground beef
1 pound processed cheese, Mexican style
10 ounce can diced tomatoes with green chilies, undrained
4 ounce can diced green chilies, undrained
Instructions
Using the flat of your hand, roll the center part of a roll into a 6-inch rope leaving both ends large and rounded.
With scissors, clip 1 1/2 inches into the center of each end. Separate and lay the cut sides flat on a large sprayed baking pan. They will look like bones. Brush well with melted butter and sprinkle with Parmesan cheese and garlic salt.
Cover with plastic wrap and let rise about 20-30 minutes. Remove wrap and bake at 350°F 15-20 minutes. Serve with Halloween Dip, if desired.
Halloween Cheese Dip:
In a frying pan, brown ground beef until completely cooked. Drain and set aside. Cut cheese into 1-inch cubes and place in microwave safe bowl. Microwave until melted. Add tomatoes and green chilies and mix well. Combine cooked ground beef with cheese mixture and serve warm.