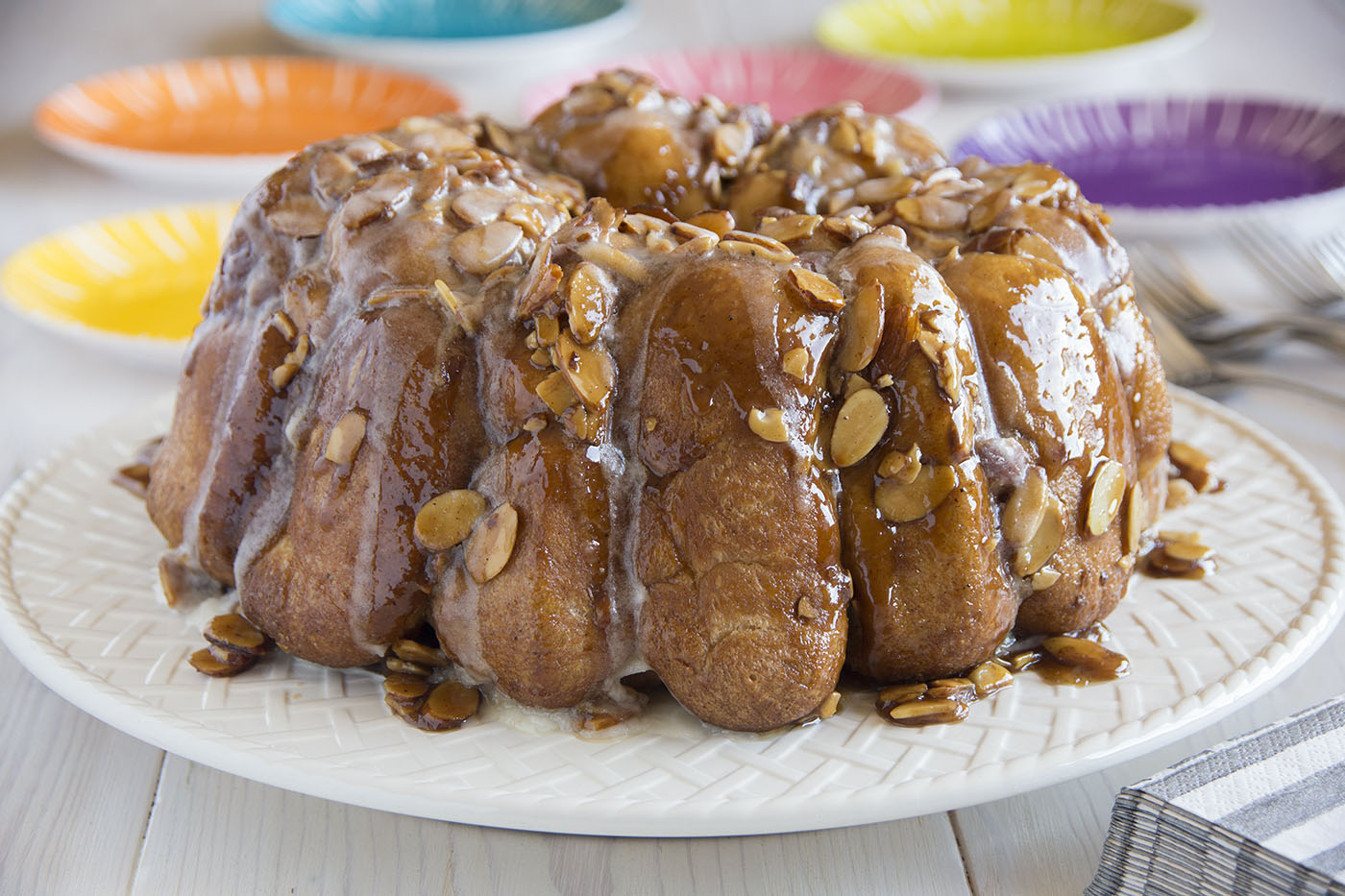 Almond Cream Cheese Bundt
This beautiful bundt makes a delicious dessert that any hostess would be proud of.
Ingredients
24 Rhodes Dinner Rolls, thawed but still cold
1 cup sliced almonds, divided
8 ounces cream cheese
1/4 cup sugar
1/2 teaspoon cinnamon
1/2 teaspoon nutmeg
1/2 cup butter or margarine, melted
1 cup brown sugar
Glaze:
1 tablespoon butter, melted
1 cup powdered sugar
2 tablespoons water
1/2 teaspoon almond extract
Instructions
Sprinkle 1/4 cup almonds in a sprayed bundt pan. Cut cream cheese into 24 equal cubes.
In a small bowl mix sugar, cinnamon and nutmeg. Roll cream cheese cubes in sugar mixture and coat completely.
Wrap a flattened roll around each cube and completely enclose. Dip each roll in sugar mixture until coated. Place 12 rolls in bundt pan and sprinkle with half of the remaining almonds.
Stir together butter and brown sugar in a small, microwave-safe bowl. Microwave 30 seconds. Stir well and pour half over the 12 rolls. Place remaining 12 rolls in the bundt pan and sprinkle with remaining nuts and any remaining sugar, cinnamon, nutmeg mixture. Top with remaining butter, brown sugar mixture.
Cover with plastic wrap and let rise until almost to the top of the pan.
Remove wrap and bake at 350°F 45 minutes. Cover with foil last 15 minutes of baking. Invert immediately onto serving platter (it is natural for the bundt to settle). Mix glaze ingredients together and drizzle over bundt while still warm.