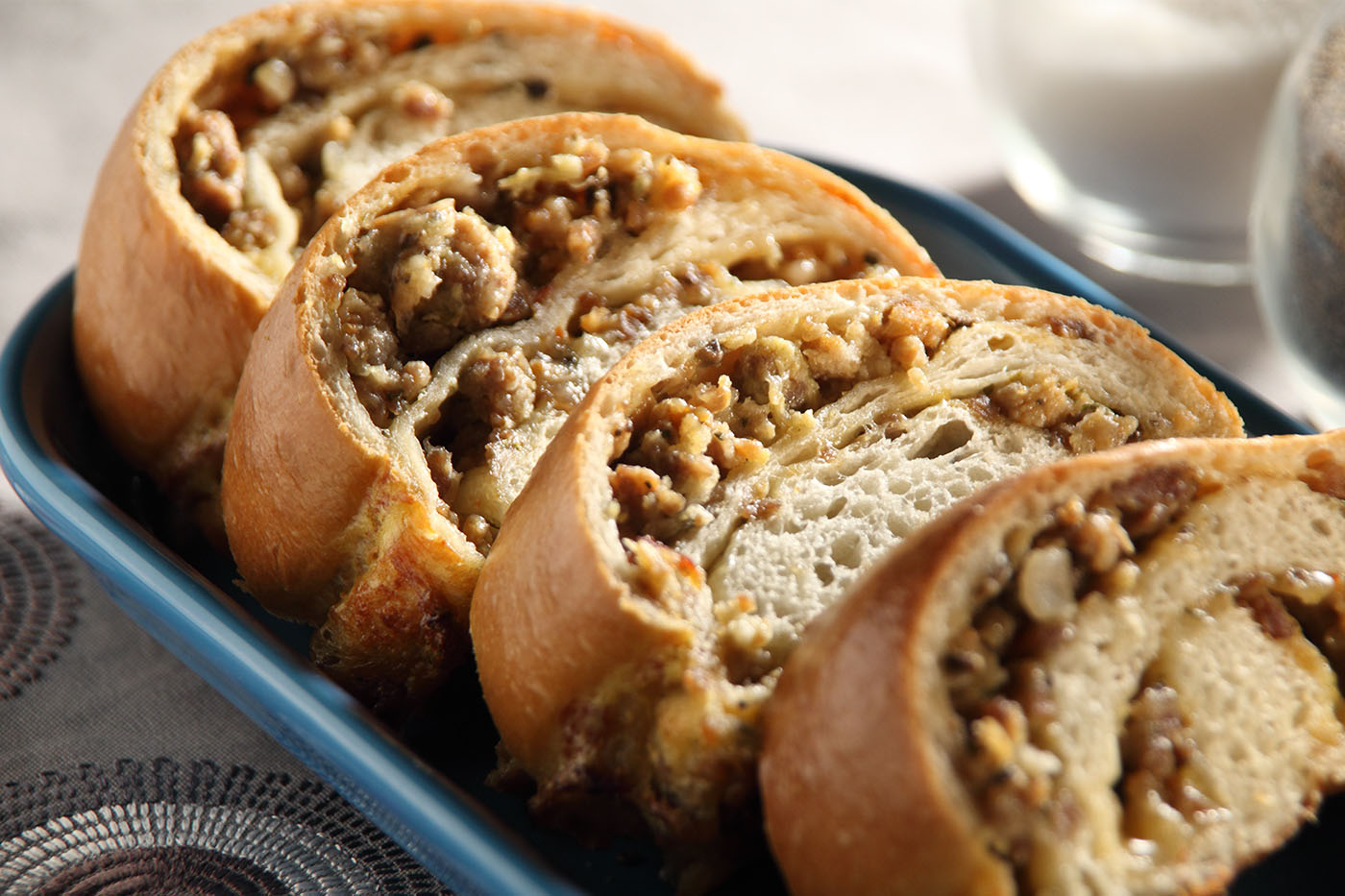 Texas Breakfast Roll Up
A hearty sausage breakfast filling all wrapped up in Rhodes. Another contest winning recipe for you to try at home.
Ingredients
1 Loaf Rhodes Bread Dough, or 8 Rhodes Texas Rolls, dough thawed to room temperature
6 ounces bulk mild pork sausage
6 ounces bulk spicy pork sausage
1 1/2 cups chopped, button mushrooms
1/4 cup chopped onion
2 eggs, divided
1/2 teaspoon dried basil
1/2 teaspoon dried rosemary
1/2 teaspoon garlic powder
1/4 teaspoon onion powder
1 1/4 cups grated mozzarella cheese
Instructions
Spray counter lightly with non-stick cooking spray. Roll loaf or combined rolls into a 12 x 16-inch rectangle. Cover with plastic wrap and let rest.
Brown sausages in a skillet over medium heat until barely pink. Add mushroom and onion. Continue cooking until mushrooms and onions are tender and sausage is completely browned. Place in a large bowl to cool.
In another bowl, beat one egg and add basil, rosemary, garlic powder and onion powder. Beat until well combined. Pour over the cooled sausage mixture. Add cheese and blend all ingredients.
Remove wrap from dough and spread sausage mixture over dough, leaving 1-inch on one long edge uncovered. Start with the covered long edge and roll toward the uncovered edge. Brush the uncovered 1-inch of dough with water and press to seal the edge. Seal the ends also. Place seam side down on a sprayed baking sheet.
Bake at 350 degrees F 18-20 minutes.
While baking beat the remaining egg in a small bowl. Remove from oven and brush with beaten egg. Return to oven for 5-10 minutes or until golden brown.
Let stand for 10 minutes before cutting into slices.