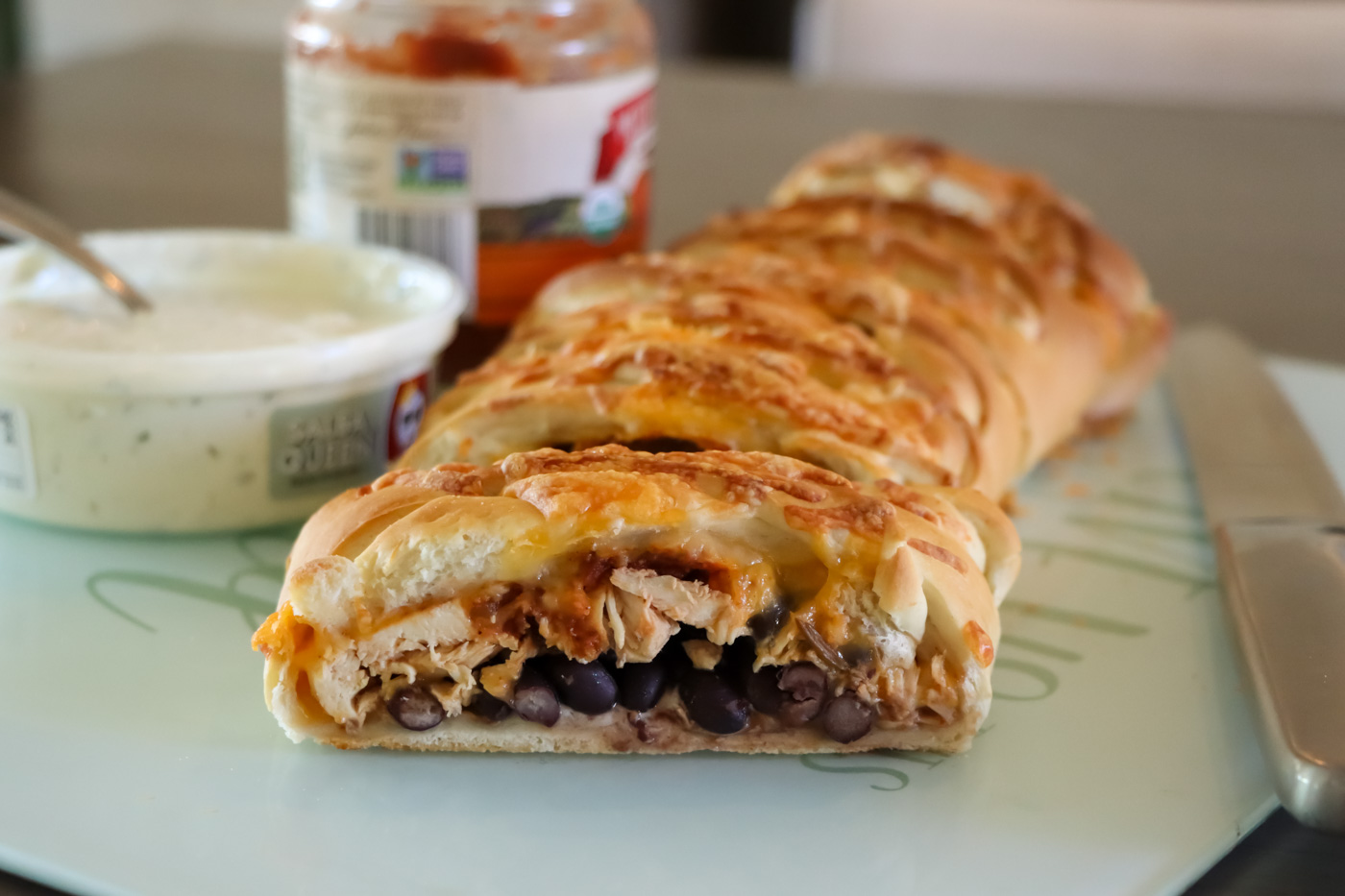 Chicken Taco Braid
Simple ingredients baked into a delicious taco braid. A delicious one-dish weeknight dinner!
Ingredients
9 Rhodes White Dinner Rolls, dough thawed but still cold
1 Cup cubed cooked chicken
1 cup black beans
2 cups shredded cheese
1/2 cup salsa
1 Tbsp taco seasoning
Instructions
Combine rolls and roll out onto a sprayed surface to a 12×16 inch rectangle. Cover with sprayed plastic wrap and let rest while preparing remaining ingredients.
Remove plastic wrap. Place black beans in a 4 inch strip down the center of the 16 inch length. Top beans with chicken, then salsa. Sprinkle with taco seasoning. Top filling with 1 3/4 cup cheese.
Make cuts 1 1/2-inches apart on long sides of dough to within 1/2-inch of filling.
Begin braid by folding top and bottom strips toward filling. Then braid strips alternately over filling. Finish by pulling last strip over and tucking under braid. Lift braid onto a sprayed baking sheet and top with remaining cheese.
Bake at 350ºF for 25-30 minutes.
For Freezer Meal
Prepare the Chicken Taco Braid finishing at step 4. Place the entire meal, covered in plastic wrap into the freezer.
When you're ready to serve, preheat the oven to 350ºF and let the meal rest on the counter while preheating. Bake for 45 minutes to an hour, depending on your oven and how frozen your braid was when you placed it in the oven. The braid will be well browned.