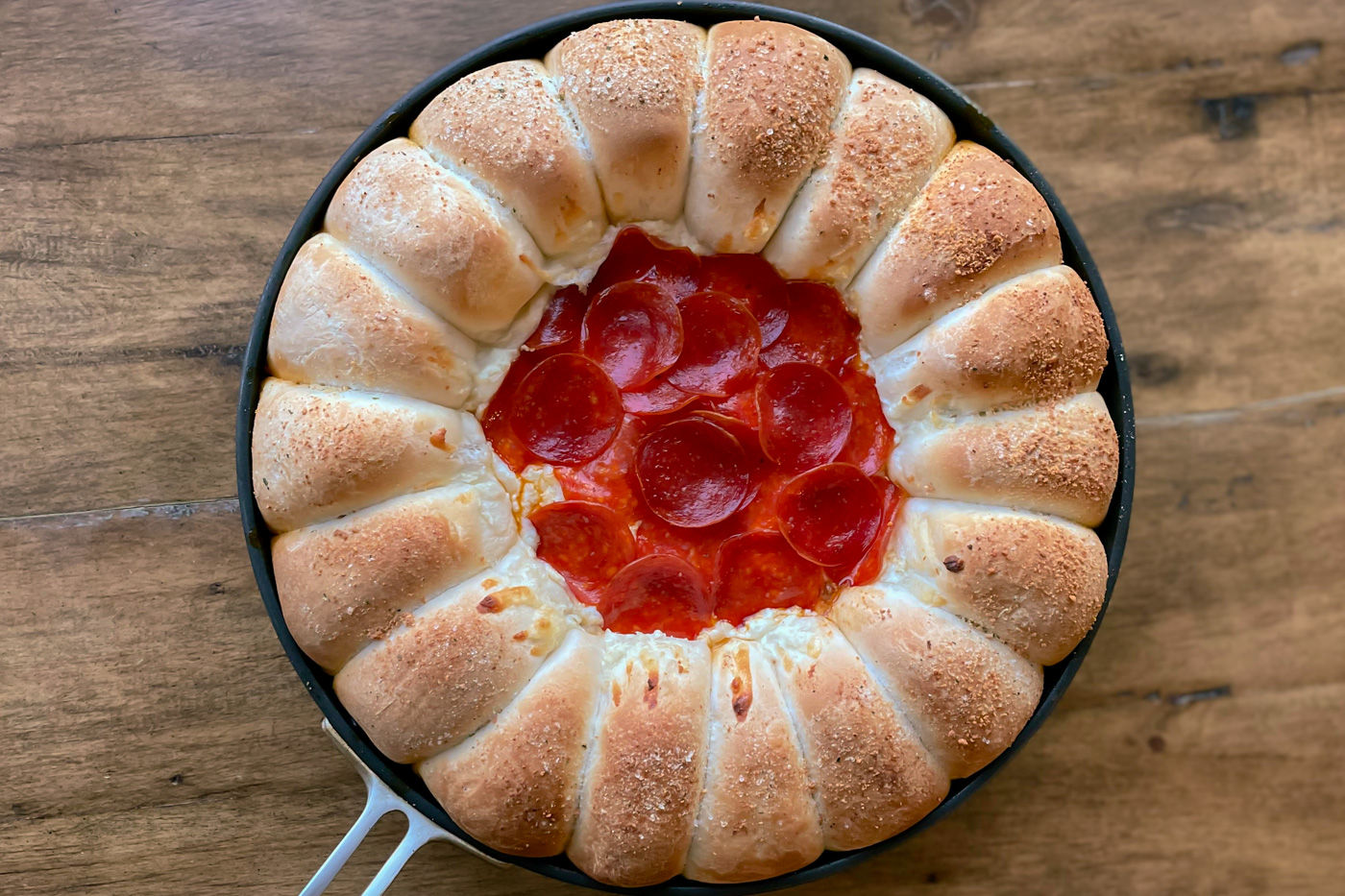 Cheesy Pizza Skillet Dip
Circle around and dip your heart out into this Cheesy Pizza Skillet Dip.
Ingredients
18 Rhodes White Dinner Rolls, dough thawed to room temperature
Sauce:
8 ounces ground hot Italian sausage
1 1/2 cups marinara
Pinch of crushed red pepper flakes
Ricotta Mixture:
1 cup mozzarella grated or cubed
1 cup fresh ricotta
1/4 cup Parmesan
1 1/2 tsp. garlic, divided
1 ounce sliced pepperoni (about 1/4 cup)
3 tablespoons butter, melted
Preheat the oven to 350ºF.
For the sauce: Cook sausage breaking it up with a wooden spoon, until lightly browned, 2 to 3 minutes. Stir in the marinara and red pepper flakes. Bring to a simmer; reduce the heat to medium-low and cook, stirring often, until thick, 8 to 10 minutes. Remove from the heat and set aside.
For the ricotta mixture: Shred mozzarella into a medium bowl. Stir in the ricotta, Parmesan and 1 tsp garlic until combined. Set aside.
Around the edge of the skillet, make a ring of roll dough on top of the sauce.
Next, add the ricotta mixture on top of the meat sauce in the center of the skillet. Distribute the pepperoni over the top of the ricotta mixture.
Stir together the butter and remaining ½ tsp garlic in a small bowl and brush on the dough.  Let dough rise until double in size.
Bake 35 to 40 minutes (Rolls should be golden brown and the ricotta mixture melted and bubbly.) Let rest for 15 minutes before serving.