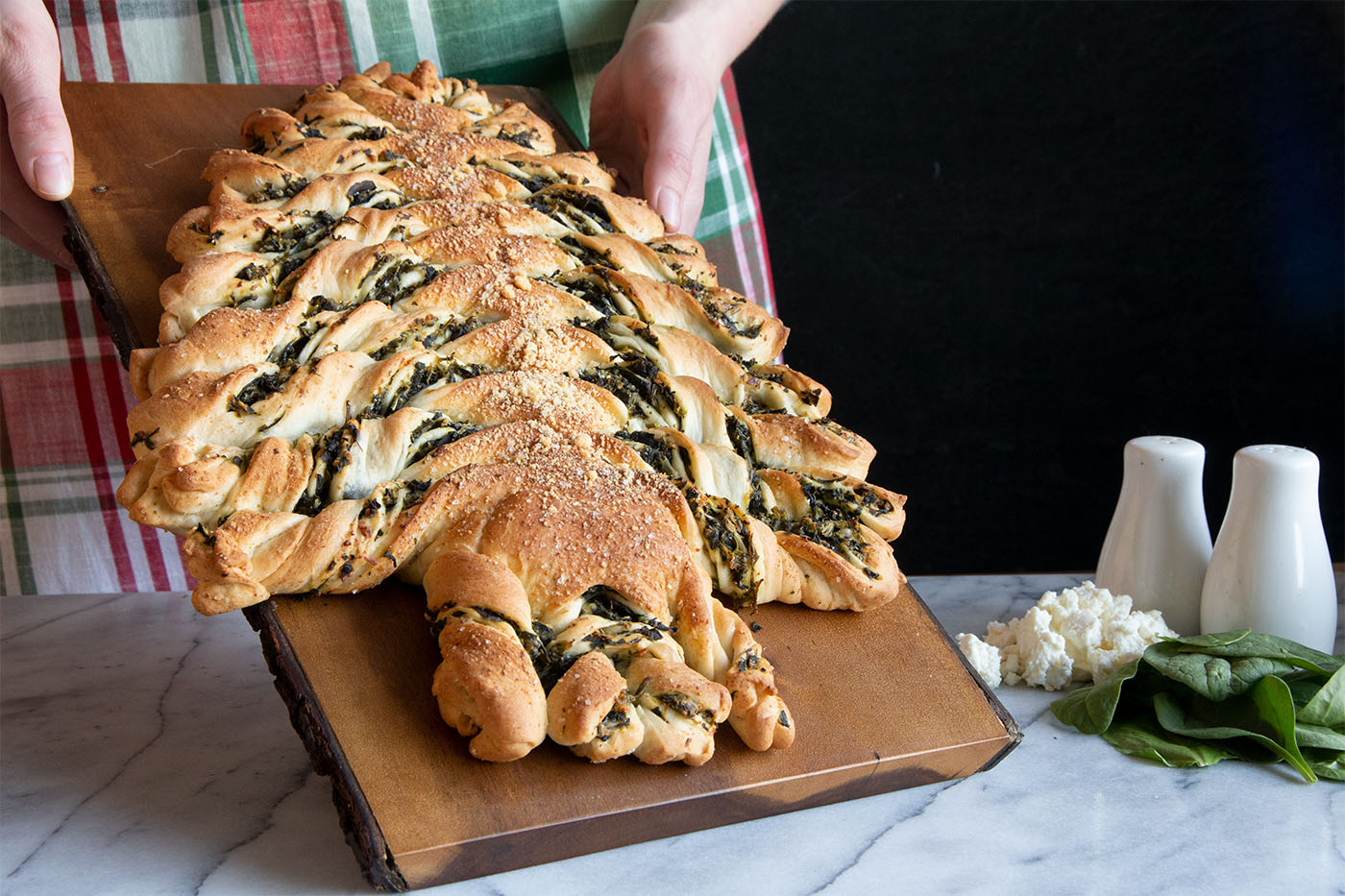 Spinach and Feta Christmas Tree
A festive spinach and feta Christmas tree inspired by Greek Spanakopita!
Ingredients
13  Rhodes Yeast Dinner Rolls, dough thawed to room temperature
12 ounces frozen chopped spinach
8 ounces feta
1/2 cup grated parmesan
1/3 cup basil, chopped
1/3 cup dill, chopped
1 clove garlic, crushed
zest of one lemon
salt and pepper, as desired
red pepper flakes, as desired
1 Tablespoon butter, melted
3 Tablespoons grated parmesan
1 Tablespoon garlic salt
Instructions
Combine 3 rolls together and roll out onto a sprayed surface to a 10×13 inch triangle. Repeat three more times to have 4 triangles. Cut the remaining roll into 4 pieces and roll each piece into a 3×3 inch rectangle. Put a trunk on each of the triangles and pinch to combine. Cover all of the trees with sprayed plastic wrap and let rest while preparing the filling.
On the stove top, using a large skillet with a lid, thaw the spinach over medium heat with the lid on. When the spinach is thawed, strain using fine mesh and press the spinach with a spatula to remove as much moisture as possible, return to pan. Add the feta, parmesan, basil, dill, lemon zest, garlic, salt and pepper, and red pepper flakes. Return skillet to stove and heat on medium heat until the mixture is incorporated and the cheese is melted. Remove from heat.
Using both hands move the first christmas tree onto a sprayed baking sheet. Evenly distribute 1/3 of the spinach mixture over the dough. Place the second christmas tree over the first layer on the pan and press down. Repeat layering the spinach mixture with the dough, ending with dough on top. Brush with melted butter and sprinkle with parmesan and garlic salt.
Begin shaping tree branches by cutting 1 inch apart down each side of the tree, leave one inch uncut down the middle of the tree. Make four cuts vertically on the trunk. Twist each branch downwards 2 1/2 times, curl up the top three branches on each side to emphasize the top of the tree. Twist the trunk pieces in opposite directions. Bake at 350 degrees F 2o minutes. Cover with tinfoil and bake another 10-15 minutes or until lightly golden brown.