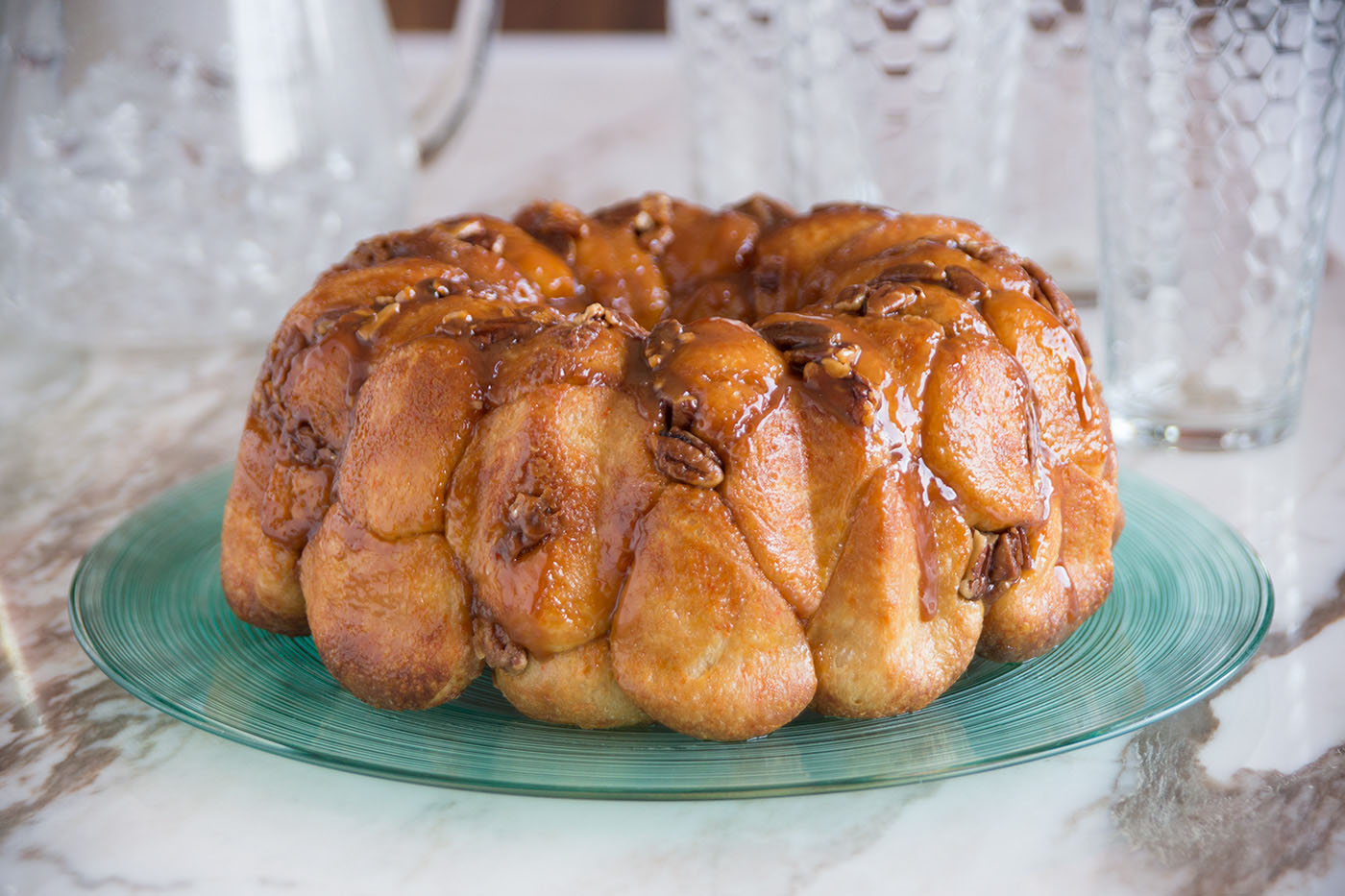 Butterscotch Bubble Loaf
Rhodes' famous Butterscotch Bubble Loaf is our most requested recipe every year. Watch how easy it is to make this "sticky buns" classic, and you too will be hooked on baking this bundt!
Ingredients
24 Rhodes Dinner Rolls, dough thawed but still cold
1 (3.4 ounce) box butterscotch or vanilla cook and serve pudding mix (not-instant)
1/2 cup pecans, chopped
3/4 cup brown sugar
1/2 cup butter
Instructions
Cut dinner rolls in half and dip in dry pudding mix. Sprinkle a handful of pecans in the bottom of a greased bunt pan. Arrange rolls in the pan along with the remaining pecans. Sprinkle any remaining pudding mix over the top.
Combine brown sugar and butter. Heat together until butter is melted and a syrup is formed (microwave about 1 1/2 minutes). Pour syrup over rolls. Cover with sprayed plastic wrap. Let rise until double in size or even with top of bundt pan.
Carefully remove wrap. Bake at 350 degrees F for 35-45 minutes with a pan on the rack below to catch any caramel drippings. The caramel sauce should be bubbling when it is finished baking. Cover with foil the last 15 minutes of baking if browning too quickly.
Immediately after baking, loosen from sides of the pan with a knife and invert onto a serving plate.
Baking Notes
OVERNIGHT METHOD: Complete steps 1 and 2. Place your pan in the refrigerator overnight. Take the pan out of the refrigerator. Make sure dough does not exceed the top of the pan. You may need to let it continue to rise slightly at room temperature. This is a great time to preheat your oven. Follow regular baking instructions on steps 3 and 4.