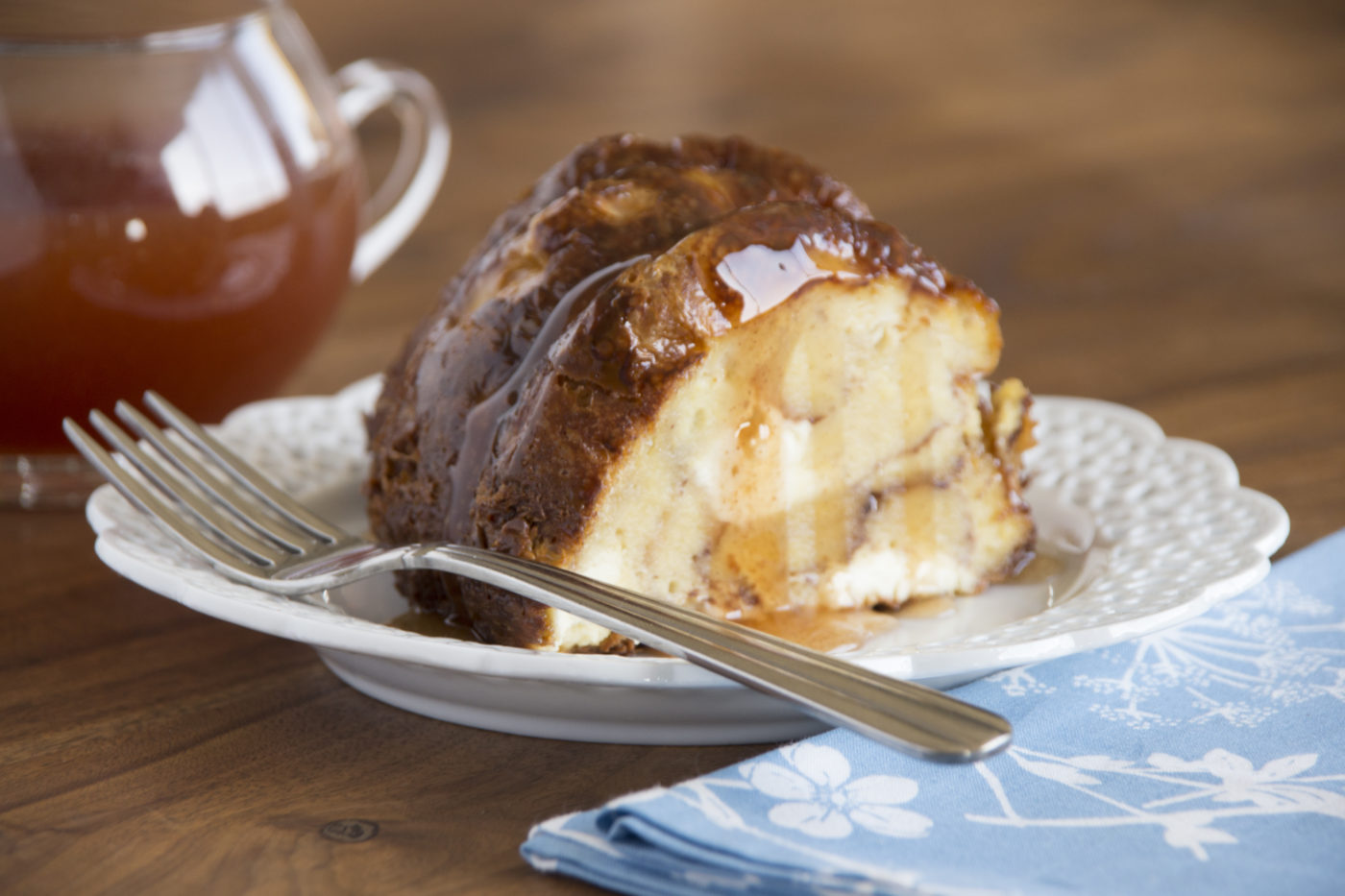 Cinnamon Cream Cheese Souffle

This sticky, gooey sweetness can be left in the fridge overnight and be ready to cook first thing the next morning. Who can resist something as easy as that?
Ingredients
6 Rhodes AnyTime!® Cinnamon Rolls, baked & cubed (do not frost)
8 ounce package cream cheese, cut into small cubes
12 large eggs, beaten
1/2 cup butter, melted
1/4 teaspoon salt
3 cups half & half
1/2 cup maple syrup
Instructions
Thoroughly spray a 12-cup bundt pan or 9×13-inch glass pan. Sprinkle a layer of cinnamon roll cubes into the pan followed by a layer of cream cheese cubes. Add another layer of cinnamon roll cubes followed by the rest of the cream cheese.
Blend eggs, butter, half & half, syrup and salt until smooth. Pour mixture over cream cheese and cinnamon cubes. Cover with plastic wrap and refrigerate overnight (or at least 4 hours).
Remove wrap. Bake in a preheated 350°F oven 60-70 minutes. Do not under bake. If made in a bundt pan, invert immediately onto a serving platter. Let cool 8-10 minutes before serving. Slice and serve with Apple Cider Syrup.
Apple Cider Syrup:
1 cup sugar
2 tablespoons cornstarch
1/8 teaspoon salt
1 teaspoon cinnamon
2 cups apple cider
2 tablespoons lemon juice
Mix dry ingredients together in a sauce pan. Add cider and lemon juice. Cook over medium heat, stirring until thickened. Serve warm.